And the winners are ...
Shows with Most 2011 Emmy Wins

| | | |
| --- | --- | --- |
| 1 | Boardwalk Empire (HBO) | 8 |
| 2 | Downton Abbey (PBS) | 6 |
| 3 | Mildred Pierce (HBO) | 5 |
|   | Modern Family (ABC) | 5 |
Sunday night, the winners of the 63nd Primetime Emmy Awards were announced in a ceremony televised live on Fox. Combined with the statues handed out the previous weekend in a separate "creative arts" ceremony, the biggest winner of the year was HBO's first-year drama Boardwalk Empire, which picked up eight Emmys, while Modern Family was last night's single-biggest winner with 5 victories.
HBO once again led all networks with 19 total awards this year, though that figure was well off the net's 2010 total of 25. PBS finished second with 14 trophies, and CBS was the top commercial broadcast network winner with 11.
In just a moment, we'll reveal just how accurate Metacritic users were in making their Emmy predictions, and we'll also sample the critical reaction to the Jane Lynch-hosted broadcast, which at the very least, was the rare awards show to end on time. First, let's look at the evening's winners and losers, with the former group containing an unusual mix of predictable repeat winners and complete surprises.
Listed below are this year's winners in each of the major categories (including some of the creative arts winners named last weekend). A complete list of winners in every category can be found at the official Emmy website.
Comedy Winners - 63rd Primetime Emmy Awards

| Category | Winner |
| --- | --- |
| Best Comedy | Modern Family (ABC) |
| Lead Actor | Jim Parsons, The Big Bang Theory (CBS) |
| Lead Actress | Melissa McCarthy, Mike & Molly (CBS) |
| Supporting Actor | Ty Burrell, Modern Family (ABC) |
| Supporting Actress | Julie Bowen, Modern Family (ABC) |
| Guest Actor | Justin Timberlake, Saturday Night Live (NBC) |
| Guest Actress | Gwyneth Paltrow, Glee (Fox) |
| Writing | Steven Levitan & Jeffrey Richman, Modern Family (ABC) |
| Directing | Michael Spiller, Modern Family (ABC) |
Well, that was surprising. If you could pick any one "sure thing" entering the evening—as every expert did—it would be Steve Carell finally winning that elusive Emmy for his farewell season of The Office. Instead, Jim Parsons repeated his surprise lead actor victory of last year, leaving five-time nominee Carell the night's biggest snub. Meanwhile, a meager 4% of the experts and Metacritic users we polled predicted Melissa McCarthy to take home the trophy for lead actress in a comedy, but that didn't stop the star of the freshman hit Mike & Molly from doing so (which led to one of the evening's better acceptance speeches); Laura Linney and Amy Poehler had been the two favorites in the category won last year by Edie Falco.
In the supporting categories, it wasn't so much a question of whether a Modern Family cast member would win, but which one(s) would do so. It was the first win for both Ty Burrell and Julie Bowen, with last year's winners Eric Stonestreet and Jane Lynch (Glee) looking on. That show also repeated its victories in the best comedy and writing categories (the former being one of the night's least surprising results), while also adding one in directing, though the show's five total victories were one shy of its 2010 total.
Drama Winners - 63rd Primetime Emmy Awards

| Category | Winner |
| --- | --- |
| Best Drama | Mad Men (AMC) |
| Lead Actor | Kyle Chandler, Friday Night Lights (DirecTV/NBC) |
| Lead Actress | Julianna Margulies, The Good Wife (CBS) |
| Supporting Actor | Peter Dinklage, Game of Thrones (HBO) |
| Supporting Actress | Margo Martindale, Justified (FX) |
| Guest Actor | Paul McCrane, Harry's Law (NBC) |
| Guest Actress | Loretta Devine, Grey's Anatomy (ABC) |
| Writing | Jason Katims, Friday Night Lights (DirecTV/NBC) |
| Directing | Martin Scorsese, Boardwalk Empire (HBO) |
Though Boardwalk Empire earned more Emmy Awards than any other program this year, the HBO series could not unseat Mad Men as the overall best drama winner; as most experts correctly predicted, AMC's 1960s-era drama picked up its fourth win in four tries. Many experts also picked Mad Men's Jon Hamm to win his first Emmy after being shut out in his first three attempts, but, in one of the night's biggest surprises, neither Hamm nor Boardwalk Empire's Steve Buscemi won. Instead, Friday Night Lights' Kyle Chandler earned his first Emmy, surprising even himself, as his impromptu acceptance speech revealed (though he earned one of the night's biggest ovations from the crowd at the Kodak Theatre).
As widely expected, Julianna Margulies—whom many observers felt was snubbed at last year's ceremony—earned her second career Emmy trophy and first for her performance on The Good Wife. Justified's Margo Martindale was also the favorite to win in the supporting actress category (the Emmy was her first), while Martin Scorsese surprised no one by winning his first-ever Emmy for directing the Boardwalk Empire pilot. Another rookie Emmy winner was Game of Thrones' Peter Dinklage, who was correctly picked by Metacritic users but not by most experts in what appeared to be one of the most competitive races of the year, supporting actor.
Movie/Miniseries Winners - 63rd Primetime Emmy Awards

| Category | Winner |
| --- | --- |
| Best Miniseries or Made-for-Television Movie | Downton Abbey (PBS) |
| Lead Actor | Barry Pepper, The Kennedys (Reelz) |
| Lead Actress | Kate Winslet, Mildred Pierce (HBO) |
| Supporting Actor | Guy Pearce, Mildred Pierce (HBO) |
| Supporting Actress | Maggie Smith, Downton Abbey (PBS) |
| Writing | Julian Fellowes, Downton Abbey (PBS) |
| Directing | Brian Percival, Downton Abbey (PBS) |
As expected, the movie and miniseries categories were dominated by just two titles:
Downton Abbey
, which earned six Emmys in total, and
Mildred Pierce
, a winner of five trophies. The big surprise here was the victory for Barry Pepper, who portrayed Robert F. Kennedy in the mildly controversial ReelzChannel miniseries
The Kennedys
.
Other Winners - 63rd Primetime Emmy Awards

| Category | Winner |
| --- | --- |
| Reality Program | Deadliest Catch (Discovery) |
| Reality Competition | The Amazing Race (CBS) |
| Reality Host | Jeff Probst, Survivor (CBS) |
| Variety, Music or Comedy Special | The Kennedy Center Honors (CBS) |
| Variety, Music or Comedy Series | The Daily Show with Jon Stewart (Comedy Central) |
| Writing for a Variety, Music or Comedy Series | The Daily Show with Jon Stewart (Comedy Central) |
| Animated Program | Futurama (Comedy Central) |
| Nonfiction Film | Freedom Riders (PBS) |
| Nonfiction Series | American Masters (PBS) |
| Nonfiction Special | Gettysburg (History) |
If you are looking for surprises, this is probably the wrong place to do so. It was the ninth consecutive win for The Daily Show in the variety category, while The Amazing Race topped all reality competition programs for the eighth time in nine years (with only last year's victory by Top Chef blemishing the CBS show's perfect record). The Daily Show also picked up its seventh victory in the past decade in the writing category.
How accurate were the predictions?
Earlier this summer, we polled Metacritic users on their predictions in 24 Emmy categories. As a whole, the user consensus picks were correct in just 11 of the 24 categories (46%), which was down from last year's 55% accuracy level. The individual Metacritic users with the most correct guesses this year were:
[Anonymous] (15 out of 24 correct)
Victor Ferreira, Horace Lee, Ted Rogers, and two anonymous users (14 correct)
As for the 24 experts we polled in our predictions roundup last week, The Daily Beast's Jace Lacob led the pack with 10 out of 16 (63%) correct predictions.
How was the telecast?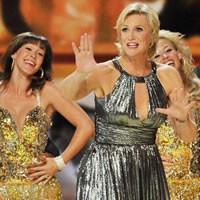 This year's show—which was produced by reality-master Mark Burnett—opened with a pre-recorded musical number featuring Emmy host Jane Lynch, and also included several other taped segments (the best taking place on the set of The Office), a live performance by Lonely Island (with Akon and Michael Bolton joining in), and an odd group of sung introductions by the "Emmytones," a doo-wop group of actors including Joel McHale and Zachary Levi. How did it go over with critics?
Not so great. The common complaints were that it was overlong (despite finishing in its allotted three hours), dull, and poorly written, though some reviewers minded the broadcast less than others.
AOL TV critic Maureen Ryan, for one, didn't hate the show:
"What's usually a three-hour slogfest passed by relatively quickly and mostly painlessly this time around."
At NPR, Linda Holmes had fewer good things to say about the ceremony:
"Watching Sunday night's Emmy Awards was a little bit like going to the very bad wedding of people you really love: the happiness you feel for the people involved almost makes up for how otherwise unremarkable the experience is. It was, in a word, a dud."
Gawker's Brian Moylan also used the word "dud," adding:
"It was slow and dated and every opportunity for excitement landed with a great thud. ... Not only did the jokes at the beginning fall flat, but so did all of the "canned banter" that the presenters had to spew before they opened the envelopes."
At the St. Louis Post-Dispatch, Gail Pennington didn't seem to enjoy the proceedings:
"The extravaganza of awkwardness, produced by Mark Burnett, was more often painful than funny, with a few great moments (all spontaneous) that couldn't redeem hours of scripted stupidity."
Critic David Bianculli also dismissed the broadcast at his TV Worth Watching blog:
"Bad writing, and equally bad production decisions, really slowed down the awards show Sunday night. ... The Emmy telecast's overall tone was unsettlingly schizoid: belittling TV on the one hand, extolling it on the other."
AP's David Bauder also noticed that same split personality and found that it hurt the program:
"There's something a little off-putting about a musical number proclaiming television 'a vast wonderland' and 'joy in a box' when it's drenched in irony. ... The problem with using irony as the dominant comedic theme is that undercuts other moments."
That critic also felt that parts of this broadcast felt like a "rerun" of last year's show, most notably in the opening musical number, but where "Fallon's opening felt fresh and funny. Lynch's felt hashed-over." Over at Variety, however, reviewer Andrew Wallenstein seemed to be watching a different—and much better—show:
"Executive producer Mark Burnett took good care of the Emmys by sticking to all the elements that have made the show work in recent years: a strong host, an increasing reliance on musical numbers and clever skits, and a few things you just can't plan: inspired acceptance speeches and underdog winners."
At Entertainment Weekly, Ken Tucker also generally liked the broadcast, and Lynch in particular:
"Lynch was excellent, and even better in her quick, throwaway moments than in the funny taped pieces."
The New York Times' Alessandra Stanley found Lynch's performance a mixed bag:
"Ms. Lynch occasionally stepped up in an appealing way ... But a little like the show, she couldn't be calmed down."
In the Chicago Sun-Times, Lori Rackl also wasn't fully impressed with the host:
"Overall, I'd say Coach Sue got a C. It wasn't a train wreck, but it wasn't Jimmy Fallon's 'Born to Run,' either."
Added NPR's Holmes:
"Her performance was a good reminder that some actors are more comfortable in character. In fact, her well-known gift for improvisation is consistent with the idea that what makes her great is how seamlessly she can slide into a character so completely that it overtakes her. Here, she was working without a character other than 'Jane Lynch, awards host,' and she didn't seem to know who that person was supposed to be."
Time's James Poniewozik didn't blame Lynch (who turned in a "game" performance); instead, he pointed fingers at the material she had to work with:
"While it was a mediocre production—the best thing about it was that it was well-paced and came in on time—it wasn't disappointing in any especially novel way. ... Maybe next time, the wonderful world of TV could even give Jane Lynch some better material to work with."
That opinion was shared by IMDb's Melanie McFarland:
"The actress did the absolute best with the pedestrian jokes and the workmanlike scripted segments. She didn't stumble over the inadequate material and, in fact, got in a few gentle zingers of her own. Lynch did what a good host is supposed to do, which is keep the ball rolling and get out of the way of the presenters and the nominees. But we knew it was going to be a rough night about a minute or so into the opening montage."
What else didn't critics like? No observers seemed to enjoy the Emmytones in concept or execution, while Charlie Sheen—who brought the proceedings to a near-halt when he humorlessly presented the award for lead actor in a comedy—was also a lowlight for some critics. And all but a few reviewers disliked the attention-grabbing singing of Leonard Cohen's "Hallelujah" during the "In Memoriam" segment by the Canadian Tenors. Tweeted Time critic Poniewozik of the latter bit, "I believe that was the first time that an In Memoriam actually killed the song played during it."
What do you think?
Were you happy with the Academy's selections? Did you like the broadcast, and Jane Lynch as host? Let us know in the comments section below.