30 Rock, Episodes 712/713: "Hogcock!"/"Last Lunch"

Original airdate: January 31, 2013 on NBC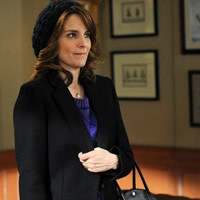 After seven seasons, NBC's TV comedy about TV comedy drew to a close last night with an hour-long episode (really, two episodes screened back-to-back) that saw the brief return of guests like Julianne Moore and saw 30 Rock's ongoing storyline (to the extent that there was one) stretched to its logical conclusion decades in the future, with a classic TV finale reference thrown in for good measure.
What did critics think of the series finale? A sampling of comments appears below. (Of course, what you are really looking for are the lyrics to Jenna's "Rural Juror" song, which Vulture has helpfully compiled.)
A.V. Club / Pilot Viruet
If you thought last week's ending was special, this week may have been even better. [Grade: A]
HitFix / Alan Sepinwall
Before we got to the last 15 minutes or so, which were genuinely sweet and emotional at a much more extended length than the show has ever attempted before, the finale mainly functioned as just one more kick-ass episode of "30 Rock." ... But even more special was the way the finale gave these ridiculous cartoon characters three dimensions for at least a few moments so they could say proper goodbyes to each other, and to us.
IGN / Roth Cornet
30 Rock had the rare ability to provide both comedy and earned sentiment. That has never been more true than in these final two episodes, which really feel like one flawlessly rendered farewell. [Grade: 10/10]
Paste / Amy Amatangelo
It's hard to create a series finale that will make every fan happy. But 30 Rock, which is going out still very close to the top of its game, came very close. [Grade: 9.3/10]
People / Tom Gliatto
The 30 Rock finale was one of the most delightful series wrap-ups I can remember. ... A light sentimentality in this last hour gave everything just enough of an emotional underpinning – which the show has sometimes needed.
Philadelphia Daily News / Ellen Gray
As someone who's dropped in only sporadically during for the past couple of seasons, I thought it one of the better series finales I've seen - funny, focused and with just the right touch of sentiment.
Pittsburgh Post-Gazette / Rob Owen
Mixed in with the gags -- and there are many and most of them hit their target -- are a few heartfelt farewells between Liz and Jack, Liz and Tracy and Jenna and her mirror.
Screen Rant / Ethan Anderton
Honestly, tonight's finale of 30 Rock was no different than any other episode, and perhaps that's the way it should be. ... It just might be one of the most perfect series finales that I've ever seen.
ShowBuzzDaily / Mitch Salem
Tina Fey's 30 Rock left the building very much the way it entered 7 years ago: with a million gags (at least ten thousand of them meta), a bit of sentiment (usually followed instantly by undercutting silliness), and a gnawing taste for the hand that fed it.
Time / James Poniewozik
In some ways, last week's episode felt more like a finale, in that it put a period on several stories... The last hour, on the other hand, was a goodbye–in a 30 Rockian meta sense, it was like the "one more episode" that TGS itself had to make, because we weren't quite ready to stop. ... And I'm glad we got that epilogue, because as neatly as the rest of this shortened final season wrapped up 30 Rock's plotlines, this last hour captured its emotion.
TV.com / Noel Kirkpatrick
"Hogcock!" and "Last Lunch" weren't 30 Rock's funniest episodes, but as has always been the case with the series, there were plenty of stellar little bits. ... What I liked most about the finale, though, was the question of whether or not Liz and Jack could really have it all.
TV Equals / Adam Newland
The final episode will not find its way into the 30 Rock Episode Hall of Fame, but it was really effective at showcasing many of the great parts of the seven season run.
TV Fanatic / Dan Forcella
After the show went to commercial through 45 minutes of the hour, I thought to myself: how come they didn't put any jokes in this finale? ... [But] the final couple of minutes were so great that I'm willing to forgive it all. [Grade: 3/5]
TV Guide / Matt Roush
The gags never quit in the finale ... Even the show's writers get a funny running gag in the second half of the show, and they're usually my least favorite part of 30 Rock, being the most poorly developed (and cast) part of the ensemble.
Variety / Brian Lowry
The finale earns points for ambition and nostalgia. ... But the whole thing is a little too precious and yes, weird -- frittering away too much time on the supporting players (another quibble of mine) before getting to the really good stuff.
What do you think?
What did you think of the 30 Rock finale? Let us know in the comments section below.