The Five-Year Engagement Read Reviews

In theaters Friday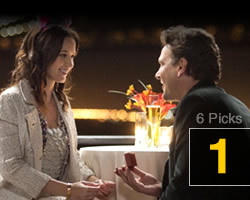 Fans of Forgetting Sarah Marshall 67 should enjoy Friday newcomer The Five-Year Engagement. The film reunites writer/director Nicholas Stoller with writer/star Jason Segel in a romantic comedy about a couple who continually delay their wedding. Emily Blunt plays Segel's fiancé, Alison Brie plays her sister, and Jacki Weaver plays a slightly less menacing mother than in Animal Kingdom. Filling out the funny supporting cast are Rhys Ifans, Chris Pratt, Mindy Kaling, Kevin Hart, and Chris Parnell.
Learn about Tom and Violet's pending nuptials at the official website.
Blunderbuss by Jack White Read Reviews

New album in stores Tuesday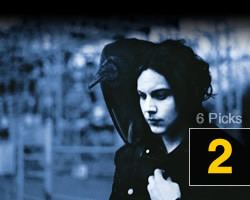 What's the difference between a White Stripes album and a Jack White solo album (other than the absence of drummer Meg White, of course)? Apparently, the color blue. Otherwise, the iconoclastic guitarist, producer, and record shop proprietor delivers a solo debut full of originals (and one cover) that wouldn't sound too out of place on any red-and-white-covered Stripes album. And that's a good thing, as White's track record attests; in fact, critics are already heralding Blunderbuss as one of the year's top albums, noting that it serves as an excellent showcase for his diverse interests and influences.
Prior to its release on Tuesday, you can stream the album for free on iTunes.
Bernie Read Reviews

In limited release beginning Friday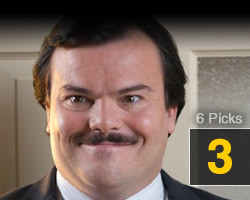 Many fans might not realize that Richard Linklater's last feature directorial effort was all the way back in 2009 (Me and Orson Wells 73), but the director of such iconic indie films as Slacker, Dazed and Confused 78, Before Sunrise 77, and Before Sunset 90 returns this week with Bernie, a black comedy starring Jack Black as a small-town Texas mortician who is accused of killing 80 year-old millionaire heiress Marjorie Nugent, played by Shirley MacLaine. Linklater and writer Skip Hollandsworth based the screenplay on a true story that occurred in Carthage, Texas. Matthew McConaughey plays the town's DA with the great name of Danny Buck Davidson, and actual Carthage locals provide interview-style comments throughout the film.
See if you can solve the murder at the official website.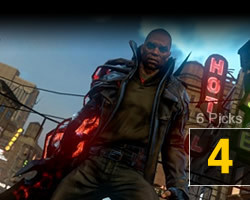 Yes, like most major releases these days, it's another sequel, and another open-world action game. (Hey, at least it's not another first-person shooter.) As in the 2009 original, Tuesday's console title Prototype 2 takes place in a world overrun by the Blacklight virus. Players control a new protagonist, Sergeant James Heller, and thanks to the virus he has the ability to shapeshift and assume the identities of others like the first game's Alex Mercer, who is the enemy this time around. Did we mention that Heller also has the ability to karate kick a helicopter out of the sky? A PC version is expected in July.
Watch the latest "viral" videos at the official site.
The Raven Read Reviews

In theaters Friday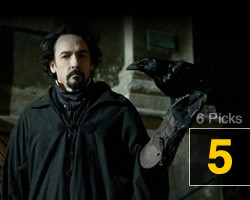 John Cusack stars as Edgar Allan Poe in this (very liberal) re-imagining of Poe's life in which his writings inspire a serial killer. Luke Evans plays the detective on the case who enlists Poe's help to solve the murders, and Alice Eve plays Poe's girlfriend, a target of the killer. James McTeigue (Ninja Assassin 34) directs. Go brush up on The Cask of Amontillado, The Pit and the Pendulum and The Tell-Tale Heart before seeing The Raven, or if you're unfamiliar with Poe's work, just think of it as a 19th century Se7en. (Just don't expect a very high Metascore if early reviews are any indicator; in other words, quoth the raven, "44.")
Find out what quoth the Raven at the official site.
Headhunters Read Reviews

In limited release beginning Friday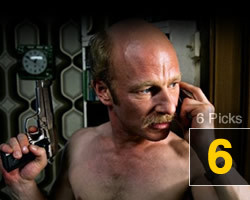 In limited release beginning Friday, Headhunters is an adaptation of Jo Nesbø's best selling Norwegian crime thriller about Roger Brown, a corporate headhunter who happens to dabble in art theft. When he meets Clas Greve (Game of Thrones' Nikolaj Coster-Waldau), Brown sees an opportunity to relieve his ever-growing debt but soon discovers he might be in over his head. So if you're in need of another Scandinavian thriller while waiting word on the fate of the next Girl with the Dragon Tattoo movie, this slick, darkly comic piece of genre filmmaking might satisfy, or you could just wait for the inevitable Hollywood remake.
See whose head will roll at the official website.
Closing the book on last week
Most Popular Title on Metacritic
Witcher 2: Assassins of Kings: Enhanc. Ed.

90

Week of 4/15-4/21
Weekend Box Office Champion (Estimated, U.S. only; source: Boxofficemojo.com)
Think Like a Man

53

$33.0 million; 1st week at #1
#1 Album on Billboard 200 (Source: Billboard.com/Nielsen SoundScan)
Lionel Richie: Tuskegee

74

1st week at #1
Top-Rated Primetime Broadcast Show (Source: Nielsen)
NCIS (CBS)
17.7 million viewers; week of 4/9-4/15