The Avengers Read Reviews

In theaters Friday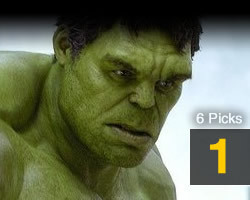 Expectations have been building for Joss Whedon's superhero extravaganza since he was announced as director back in 2010. The choice of Whedon, the creator of Buffy the Vampire Slayer and Firefly (which spawned Serenity 74, his only previous feature directorial effort) came with fanboy approval, but his task was daunting: take the established characters of Iron Man (Robert Downey Jr.), Thor (Chris Hemsworth), and Captain America (Chris Evans), add a new Hulk (it's Mark Ruffalo's turn), beef up the roles of Black Widow (Scarlett Johansson), Hawkeye (Jeremy Renner), and Nick Fury (Samuel L. Jackson), and make everyone happy. Early reviews and overseas box office records indicate he might have pulled it off. The story assembles "Earth's Mightiest Heroes" to battle Thor's brother, Loki (Tom Hiddleston), and his invading army. I'd bet on the Avengers.
Avenge the Earth at the film's official website.
Sherlock Read Reviews

Season 2 premieres Sunday at 9p on PBS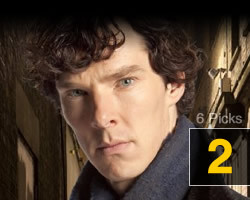 The BBC's acclaimed, modern-day retelling of Arthur Conan Doyle's Sherlock Holmes stories is back for a second run of three, two-hour episodes, airing on PBS' Masterpiece series on consecutive Sundays beginning this weekend. (It also arrives on DVD on the 22nd). Sherlock stars the excellent Benedict Cumberbatch (Tinker Tailor Solider Spy, next year's Star Trek sequel) as the brilliant but drug-addled detective, while Hobbit-sized Martin Freeman (The Office) is his friend and co-investigator Dr. Watson. This time, the mysteries are drawn from Doyle's stories "A Scandal in Bohemia," "The Hound of the Baskervilles," and "The Final Problem," and a third season will follow next year.
Find more clues about the upcoming season at the official site.
Top of the Rock: Inside the Rise and Fall of Must See TV

New book in stores Tuesday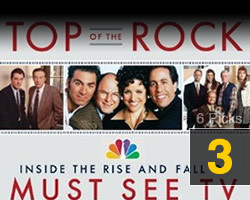 As the president of NBC during the tail-end of the network's heyday as primetime television's ratings leader, Warren Littlefield had the ultimate insider's view of the making of some of the most iconic programs in TV history. In his new memoir, Top of the Rock, Littlefield shares his recollections of 1980s and '90s programs like Cheers, Seinfeld, Friends, Frasier, ER, and Law & Order, offering plenty of behind-the scenes tidbits (the part of Monica on Friends was written for Janeane Garofalo; John Lithgow was originally offered the role of Frasier Crane but turned it down) to satisfy anyone who grew up watching "must-see TV" in an era when such a thing still existed.
Learn more at the official site.
Little Broken Hearts by Norah Jones Read Reviews

New album in stores Tuesday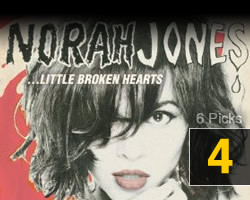 Last year, Norah Jones contributed vocals to Danger Mouse's Rome project. This week, their collaboration continues with the arrival of Little Broken Hearts, the new Norah Jones album that is produced by Danger Mouse. The latter (best known for his work in Broken Bells and Gnarls Barkley) gives the album a poppier, hipper sound than previous Jones outings like the mega-hit Come Away With Me 82, and the result so far is some of her best reviews in years.
Get tour dates and more info at Jones' official site.
Between Two Ferns / 2nd Annual Comedy Awards

Specials air Sunday at 8:30p and 9:00p on Comedy Central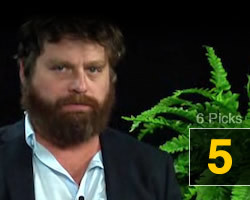 While the broadcast of this year's second-ever Comedy Awards is billed as the evening's marquee event on Comedy Central, the highlight of the evening might be the pre-game show: the television debut of Zach Galifianakis' no-frills web talk show Between Two Ferns. In a new, never-before-seen half-hour, the comedian invites Tina Fey, Jon Stewart, and Richard Branson to sit and chat with him by a pair of potted plants. (It's much funnier than that sounds, as the previous episode streaming below attests.) Meanwhile, the two-hour Comedy Awards broadcast will honor the funniest people in TV, film, live performance, and the internet, including lifetime achievement awards for Robin Williams and Don Rickles; note that the show taped last night, so you can find out the winners in advance if that's your thing.
Find a full list of this year's Comedy Awards nominees at the official site.
The Best Exotic Marigold Hotel Read Reviews

In theaters Friday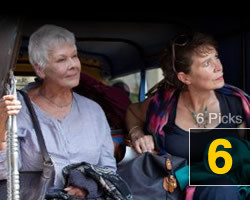 If you're looking for something with the fewest explosions at the multiplexes this week, then this story of British retirees spending their waning years in a not-as-luxurious-as-advertised hotel run by an young entrepreneur in India should probably be your pick. John Madden, whose previous works include Shakespeare in Love 87 and 2011's The Debt 65, directs an impressive British cast that includes Judi Dench, Bill Nighy, Tom Wilkinson, Maggie Smith, and Penelope Wilton through this lighthearted tale adapted from Deborah Moggach's novel These Foolish Things. Dev Patel of Slumdog Millionaire 86 plays the young manager of the hotel.
Check in to The Best Exotic Marigold Hotel at its official website.
Closing the book on last week
Most Popular Title on Metacritic
The Avengers

75

Week of 4/22-4/28
Weekend Box Office Champion (Estimated, U.S. only; source: Boxofficemojo.com)
Think Like a Man

51

$18.0 million; 2nd week at #1
#1 Album on Billboard 200 (Source: Billboard.com/Nielsen SoundScan)
Lionel Richie: Tuskegee

74

2nd week at #1
Top-Rated Primetime Broadcast Show (Source: Nielsen)
NCIS (CBS)
18.1 million viewers; week of 4/16-4/22