The Cabin in the Woods Read Reviews

In theaters Friday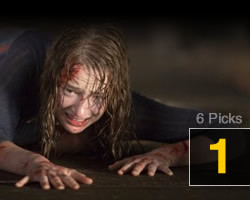 Originally shot way back in 2009 and held for release due to original studio MGM's cash-flow problems, The Cabin in the Woods is finally seeing the light of day. Starting Friday you can finally see what all of the SXSW screening buzz is about when Drew Goddard and Joss Whedon's horror deconstruction flick hits theaters. As you might expect, the film's young victims—including Chris Hemsworth (filmed before both Thor and Whedon's own upcoming The Avengers)—get terrorized while at the titular cabin, but things take a surprising turn when it's revealed that the forces attacking the attractive leads are themselves being controlled by a mysterious behind-the-scenes group that includes great character actors Richard Jenkins and Bradley Whitford as well as Whedon regular Amy Acker.
Experience meta-horror at the official website.
Girls Read Reviews

New series premieres Sunday at 10:30p on HBO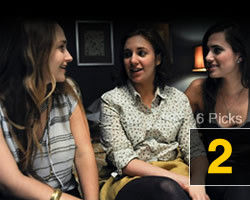 Multi-hyphenate Lena Dunham, director-writer-star of the Criterion-approved (but divisive) mumblecore classic Tiny Furniture, has teamed up with comedy producer/director Judd Apatow for the new HBO comedy Girls. Debuting Sunday night, the series appears to be a glossier (and shorter) version of Dunham's breakout feature, even including most of the same cast, and is about a group of privileged white women in their early 20s trying to get by in New York. You might be thinking Sex and the City, but Dunham's vision is a lot less bright and is fraught with cynicism, entitlement, and a naked ambition that has most critics' buzzing.
Get up close and personal at the official website.
2012 Coachella Music and Arts Festival

Festival runs Friday-Sunday in Indio, Calif. (and repeats April 20-22)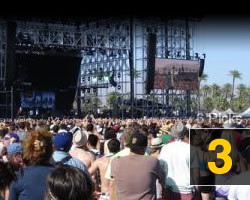 After reducing the quantity of attendees last year with a strict wristband policy, America's premiere outdoor music festival (held in the desert east of Los Angeles) is again trying something new. This year, the three-day concert event will take place two weekends in a row with the identical lineup each weekend. That means that you can watch headliners The Black Keys, Radiohead, and a reunited Dr. Dre & Snoop Dogg twice, or you could switch stages and watch the reunited Pulp, The Shins, and Justice during the same time slot during weekend two. Does this mean that the artists will play identical sets for both weekends, or will they change it up? If you're lucky to have passes for both sold-out weekends, you'll be finding out soon. As always, wear sunblock and hydrate.
Start your weekends of fun at the official website.
Don't Trust the B---- in Apartment 23 Read Reviews

New series premieres Wednesday at 9:30p on ABC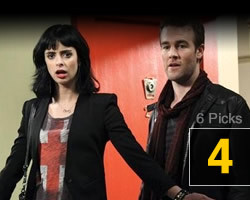 On the heels of the success of female-fronted comedies 2 Broke Girls and New Girl comes this snarky half-hour sitcom with a mean streak — a trend that seems to have infected a few comedies these days, most notably Community. Debuting Wednesday night on ABC (or, if you can't wait, right this minute on Hulu), the new series stars Dreama Walker as the idealistic June, who moves to New York City only to have her dreams crushed. She ends up rooming with the conniving Chloe (Krysten Ritter, so good on Veronica Mars and Breaking Bad), whose outrageous antics are driven by an ulterior motive. Chloe's BFF in the series is Dawson's Creek star James Van Der Beek, who actually plays a version of himself. Is it too much to ask that we get cameos from Joshua Jackson, Michelle Williams, and Katie Holmes?
The Beek is back at the official website.
Fez Read Reviews

New 360 game available Friday in Xbox Live Arcade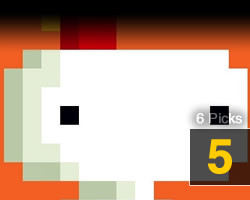 After a five-year development process that's been documented as part of the upcoming Indie Game: The Movie, the Xbox Live Arcade title Fez is finally being released Friday. The game, from developers Polytron, is a clever and loving tribute to 8-bit retro gaming that begins as a 2D platformer and brilliantly shifts perspective into a 3D platforming adventure that'll be familiar to fans of Echochrome and Super Paper Mario. What's at stake? The end of the world, of course, as you play as Gomez, who must collect cubes that are hidden throughout the twisty world. Scott Pilgrim creator Bryan Lee O'Malley even created cover art for the title. What's not to like? Check out the gameplay footage in the trailer to truly be wowed.
Turn a corner at the official website.
Titanic

Miniseries airs Saturday 8-11p and Sunday 10-11p on ABC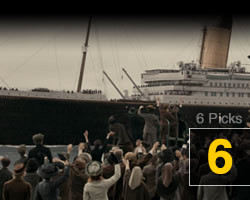 This year marks the centennial of the Titanic's one and only voyage, and while cinema audiences can commemorate the doomed vessel via the 3D re-release of James Cameron's Titanic (Billy Zane in 3D!), TV viewers can watch a new miniseries from Downton Abbey creator Julian Fellowes that chronicles the same event. The simply titled Titanic starts Saturday night (and concludes Sunday) on ABC and should feel familiar to fans of the Emmy-winning Abbey, as it similarly finds Fellowes depicting class differences in the early 20th century. Just as Speed was Die Hard on a bus, think of the Titanic miniseries as Downton on a boat: it focuses on different parts of the ship and the individuals, both real and imagined, within them. As the series builds towards its conclusion, all of the storylines revealed in the first three parts will intersect. Perhaps it was the absence of Mr. Bates, but overseas critics haven't been too fond of the series.
Watch out for icebergs at the official website.
Closing the book on last week
Most Popular Title on Metacritic
Game of Thrones: Season 2 (HBO)

88

Week of 4/1-4/7
Weekend Box Office Champion (Estimated, U.S. only; source: Boxofficemojo.com)
The Hunger Games

67

$33.5 million; 3rd week at #1
#1 Album on Billboard 200 (Source: Billboard.com/Nielsen SoundScan)
Madonna: MDNA

66

1st week at #1
Top-Rated Primetime Broadcast Show (Source: Nielsen)
NCIS (CBS)
18.6 million viewers; week of 3/26-4/1