Rise of the Planet of the Apes Read Reviews

In theaters Friday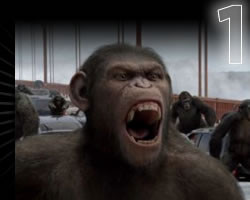 The latest decades-old film franchise to get the reboot treatment is Planet of the Apes, a series that peaked with a Troy McClure musical version and seemingly fizzled out after Tim Burton's mediocre 2001 remake. Starring James Franco, Friday's Rise of the Planet of the Apes serves as an origin story (in this respect, it apes 1972's Conquest of the Planet of the Apes), in which a potential new Alzheimer's cure increases intelligence in apes, who then smartly decide that living in a cage isn't so much fun. Rupert Wyatt (The Escapist) directs a cast that includes Freida Pinto, Brian Cox, John Lithgow, and plenty of angry CGI simians (including a motion-captured Andy Serkis) from WETA Digital.
It was Earth all along at the official movie site.
The Suburbs [Deluxe Edition] by Arcade Fire

CD+DVD set in stores Tuesday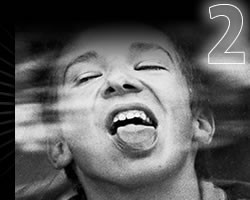 Sure, you just bought this Grammy-winning album last summer. But there are several reasons why you may want to shell out more money to buy The Suburbs again. Out Tuesday, this dexlue reissue includes a pair of new tracks (including "Speaking in Tongues," a collaboration with Talking Heads frontman David Byrne), an 80-page book, and a DVD containing Spike Jonze's short film Scenes from the Suburbs and a documentary about the making of the movie.
Read a review of Scenes from the Suburbs at IndieWire, or learn more at the official Arcade Fire site.
50 Documentaries to See Before You Die

New series begins Tuesday at 9p on Current TV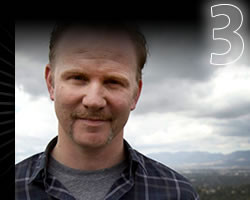 Beginning Tuesday, Current TV's new original series counts down the 50 top documentary films from recent years, as selected by a panel of film critics and industry veterans. A documentarian himself, Morgan Spurlock (Super Size Me) hosts the five one-hour episodes, in which he tracks down the filmmakers responsible for these nonfiction gems, as well as many of the real people depicted in their films. Many of the films (which range from Roger and Me and The Thin Blue Line to Hoop Dreams and King of Kong) will also be screened in their entirety throughout the month.
Get current on the series at the official site.
The Change-Up Read Reviews

In theaters Friday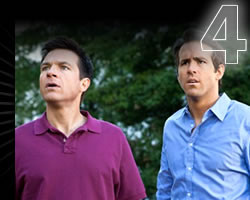 Neither the first nor the last R-rated comedy of the summer, The Change-Up finds married father Jason Bateman and irresponsible single friend Ryan Reynolds magically swapping bodies after a night of drinking and public urination. Separating this film from the numerous Freaky Friday clones that have come before—other than an elevated level of raunchiness—are a script by Jon Lucas and Scott Moore (The Hangover) and direction by David Dobkin (Wedding Crashers).
Get freaky this Friday at the official movie site.
Lollapalooza 2011

Festival runs Friday-Sunday in Grant Park, Chicago, Ill.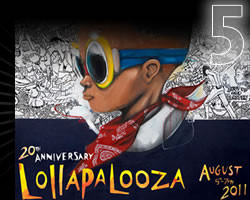 The good news for music fans who can't make the trek out to Grant Park this weekend to catch the sold-out 20th anniversary installment of Lollapalooza: this year's festival will be streaming live in its entirety on YouTube beginning Friday. Headlining the 2011 festival are Eminem, Coldplay, Foo Fighters, and Muse, while the likes of The Pains of Being Pure at Heart, Big Audio Dynamite, Damian Marley & Nas, Lykke Li, Death From Above 1979, The Cars, Ween, and Cee Lo make for a diverse roster of performers.
Get the complete lineups and other festival information at the official festival site.
Michael Ian Black: Very Famous

Stand-up special premieres Saturday at 11p on Comedy Central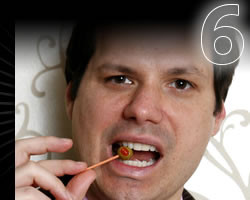 You've heard of Shark Week (ongoing this week on Discovery, hosted by Andy Samberg); but this year, Comedy Central ups the ante (while lowering the possibility of mayhem) with Snark Week. All week long (beginning tonight), comedian Michael Ian Black (Stella, The State) will host the network's snarkiest shows. Then, Saturday night, Snark Week culminates in Very Famous, Black's first-ever stand-up comedy special, filmed in Philadelphia earlier this year. A CD version of Very Famous follows next Tuesday.
Closing the book on last week
Weekend Box Office Champion (Estimated, U.S. only; source: Boxofficemojo.com)

(tie)

Cowboys & Aliens

50

/ The Smurfs

30

$36.2 million; 1st week at #1
#1 Album on Billboard 200 (Source: Billboard.com/Nielsen SoundScan)
Adele: 21

76

11th week at #1 (1st consecutive)
Top-Rated Primetime Broadcast Show (Source: Nielsen)
America's Got Talent (NBC) [Tue]
13.0 million viewers; week of 7/18-7/24