Lawless Read Reviews

In theaters Wednesday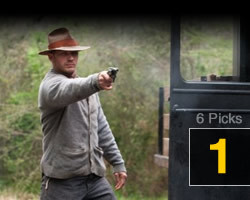 Based on the family memoir The Wettest County in the World by Matt Bondurant, this second collaboration between director John Hillcoat and writer/musician Nick Cave (the first being The Proposition 73) looks at the bootlegging exploits of the Bondurant brothers played by Tom Hardy, Shia LaBeouf, and Jason Clarke. Set in Prohibition-era Franklin County, Virginia, the brothers come up against a ruthless lawman played by Guy Pearce and a Thompson gun-wielding gangster played by Gary Oldman. Jessica Chastain, as a dancer turned business partner, and Mia Wasikowska, as a sheltered preacher's daughter, lend a female counterpoint to the testosterone-filled fist fights and shootouts. Reviews were mixed coming out of its premiere at this year's Cannes Film Festival, but moonshine can be an acquired taste.
Find out if you're as bad as the Bondurants at the official website.
Guild Wars 2 Read Reviews

New PC game out Tuesday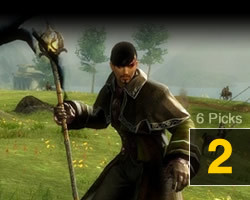 Announced as far back as 2007 and originally expected in 2011, this sequel to 2005's Guild Wars 89 finally gets an official release on Tuesday. A fantasy MMORPG that aims to improve on the original in every conceivable way, Guild Wars 2 certainly offers an improved visual experience, thanks to a new 3D graphics engine. The new game takes place 250 years after the original—in a time where five sleeping dragons have awoken and changed the world—and features a massive persistent world, including many playable underwater regions. Fortunately, a key feature remains from the original: there are no monthly subscription fees.
Learn more about the fantasy world of Tyria at the official GW2 site.
A Thing Called Divine Fits by Divine Fits

New album out Tuesday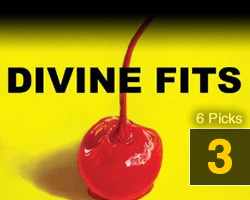 A "supergroup" only if you count Pitchfork, Stereogum, or Brooklyn Vegan among your must-reads, the new indie rock outfit Divine Fits is populated by Spoon frontman Britt Daniel, Handsome Furs/Wolf Parade member Dan Boeckner, and Sam Brown of New Bomb Turks. Their debut album A Thing Called Divine Fits indeed sounds a bit like the sum of its parts, borrowing from Spoon's slick minimalism and Handsome Furs' more keyboard-oriented sound and occasional New Wave fetish, with Boeckner and Daniel splitting vocal duties. The Fits also have a few live dates scheduled in support of the new album.
Here's a thing we call the official Divine Fits website, where you can stream the album in full.
For a Good Time, Call Read Reviews

In limited release beginning Friday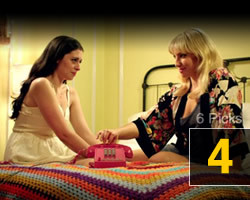 What's a girl to do when her boyfriend leaves her, and she can't pay for their beautiful apartment alone? What if another woman finds that her rent-controlled apartment is suddenly not so controlled? Well, if they share a mutual gay best friend played by Justin Long, they become roommates and start up a phone-sex business. That's the basic premise for this Sundance crowd-pleaser that many critics also warmed to thanks to the performances of Ari Graynor and Lauren Anne Miller in the lead roles. Graynor, coming off of a supporting turn in Celeste and Jesse Forever, plays the outgoing Katie, and Miller, who co-wrote the film with Katie Anne Naylon, plays the more reserved Lauren, whose business sense comes in handy. Supporting turns by Miller's husband, Seth Rogen, as well as Kevin Smith, Mark Webber, and Mimi Rogers, keep this light, slightly raunchy comedy moving as director Jamie Travis makes his feature debut in a brisk and fun 86 minutes.
Place a call to the official website and test out the sexy soundboard.
The Daily Show's convention coverage

Tuesday through Friday at 11p on Comedy Central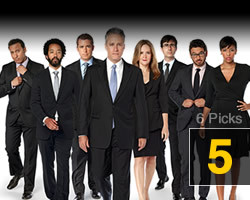 With both major candidates for the presidency seemingly incapable of telling a joke (not that humor is a prerequisite for leading the free world, of course), it falls to the self-proclaimed "Best F#@king News Team Ever" to inject some levity into the current election season. Past election years have proven that Jon Stewart and company bring their A-game for the political conventions, and this year the show will head to Tampa, FL for a week of shows (Tuesday-Friday) from the Republican gathering, then pack up and head to Charlotte, NC for four shows broadcast from the Democratic convention the following week. This week's RNC coverage will include reports from the convention floor as well as a Mitt Romney biographical film and a tour of the city from Tampa native Aasif Mandvi. For those political junkies looking for a less irreverent take on the conventions, note that ABC, NBC, and CBS will each provide an hour of live primetime coverage nightly at 10p ET / 7p PT. (Yes, that's only 30 minutes more each night than the coverage provided by a fake news team on a comedy network.)
Watch full episodes after they air at the official Daily Show site.
Doctor Who

Season 7 premieres Saturday at 9p on BBC America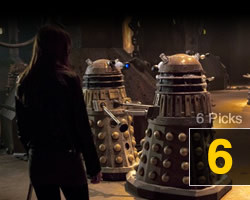 A Wild West shootout, a trip to present-day Manhattan, a spaceship loaded with dinosaurs ... yes, the seventh season of the revived British sci-fi series seems to have anything a fan could ask for (with the exception of a favorable schedule; only six episodes air this fall, with the remaining eight to follow in 2013). Those longtime fans will be especially rewarded with Saturday's opening episode, "Asylum of the Daleks," which will feature every kind of Dalek ever faced by the good doctor. Matt Smith returns for his third season as the titular Time Lord, and his companions Amy and Rory will be around for a few episodes before departing the show for good later in the fall; a new companion played by Jenna-Louise Coleman will take their place in the season's sixth episode.
Take your TARDIS to the official BBC America Doctor Who site.
Closing the book on last week
Most Popular Title on Metacritic
Counter-Strike: Global Offensive (PC)

85

Week of 8/19-8/25
Weekend Box Office Champion (Estimated, U.S. only; source: Boxofficemojo.com)
The Expendables 2

51

$13.5 million; 2nd week at #1
#1 Album on Billboard 200 (Source: Billboard.com/Nielsen SoundScan)
2 Chainz: Based On A T.R.U. Story
1st week at #1
Top-Rated Primetime Broadcast Show (Source: Nielsen)
America's Got Talent [Tue] (NBC)
10.0 million viewers; week of 8/13-8/19