Mission: Impossible – Ghost Protocol Read Reviews

In IMAX theaters Friday (regular theaters on Dec. 21)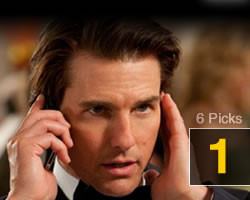 One of the rare successful TV-to-cinema reboots, Mission: Impossible has now transformed into a durable franchise for star/producer Tom Cruise. The fourth installment, Ghost Protocol, opens this Friday in select IMAX theaters (some scenes were filmed in the larger format) before expanding to traditional cinemas the following Wednesday. The film is the first live-action movie from animation director Brad Bird (The Iron Giant 85, The Incredibles 90) and features Cruise's Ethan Hunt and his IMF team implicated in the terrorist bombing of the Kremlin. Mission Impossible III's Simon Pegg joins franchise newcomers Paula Patton, Jeremy Renner, Josh Holloway (Sawyer!), and Tom Wilkinson. Oh, and anyone catching the film on a 70mm IMAX screen this weekend will also be treated to the first six minutes of next summer's The Dark Knight Rises.
Blue is glue, red is dead at the official website.
Sherlock Holmes: A Game of Shadows Read Reviews

In theaters Friday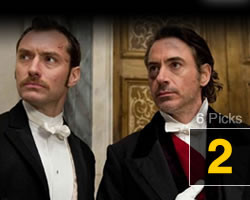 This weekend's biggest release at conventional cinemas is the sequel to 2009's Sherlock Holmes 57. Sherlock Holmes: A Game of Shadows reunites director Guy Ritchie with stars Robert Downey Jr., Jude Law, and Rachel McAdams. The action-packed sequel sees Holmes and Watson teaming with a Gypsy, Madam Simza Heron (played by The Girl with the Dragon Tattoo's original Lisbeth Salander, Noomi Rapace), as they face their brilliant nemesis, Professor James Moriarty (Jared Harris). Also joining the cast is British Renaissance man Stephen Fry, who plays Holmes' brother, Mycroft.
Follow your shadow at the official website.
Carnage Read Reviews

In limited release beginning Friday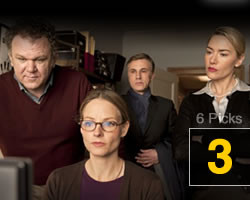 Roman Polanski (Chinatown) adapts and directs French playwright Yasmina Reza's Tony-winning play God of Carnage for the screen. Carnage, opening Friday, has two sets of parents meeting up after their sons get into a fight at school. The 79-minute dark comedy features acting heavyweights Jodie Foster and John C. Reilly as one couple and Kate Winslet and Christoph Waltz as the other parents. The generally acclaimed film that premiered at the Venice International Film Festival also features a score by the great Alexandre Desplat (The Curious Case of Benjamin Button).
Try to be civil at the official website.
Golden Globe Nominations

Announced Thursday morning at 8am ET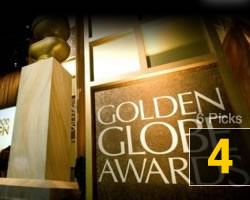 Hollywood's award season is in full swing, and on Thursday the biggest pre-Oscar awards show will reveal its nominations. The Hollywood Foreign Press Association awards Golden Globes in various categories for both film and television. Right now, the frontrunner for one of the two best film awards seems to be the silent black-and-white movie The Artist. However, you can most likely expect that there will be nominations for Beginners, Bridesmaids, Midnight in Paris, The Descendants, The Help, Hugo, and Moneyball. We're also hoping that indie left-field pics Drive and We Need To Talk About Kevin get some well-deserved recognition, though it's important to remember that this is the same organization that felt The Tourist was worthy of a nomination last year.
Have a gold experience at the official Globes website, or stay up to date on all of the latest awards and nominations with our 2011 Film Awards Scorecard
Jimmy Fallon hosts Saturday Night Live

Airs Saturday at 11:30p on NBC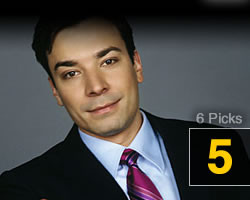 Ex-SNL cast member (1998-2004) and current Late Night with Jimmy Fallon host Jimmy Fallon returns to studio 8H at 30 Rockefeller Plaza to host Saturday Night Live for the first time. Popular Canadian singer Michael Bublé (who currently boasts the #1 album on Billboard's weekly chart) is Saturday's musical guest. It's a safe bet that some of Fallon's friends might drop by for an appearance. We're crossing our fingers for Tina Fey (who co-hosted Weekend Update), Justin Timberlake (the Robin Gibb to Fallon's Barry Gibb in The Barry Gibb Talk Show), and/or an appearance by Fallon's own talk show house band, The Roots.
Slow jam the news at the official SNL website.
Corman's World: Exploits of a Hollywood Rebel

In limited release beginning Friday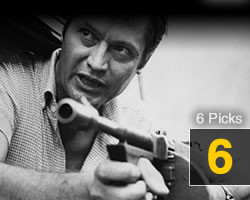 Roger Corman has been a hero of indie/cult cinema for decades. As an independent film producer, he gave many successful filmmakers (James Cameron, Ron Howard, Jonathan Demme, Martin Scorsese) and actors (Jack Nicholson, Robert De Niro, William Shatner) some of their earliest showbiz jobs. Corman's World: Exploits of a Hollywood Rebel opens Friday in limited release and is a retrospective documentary that features many of the folks mentioned above sharing their thoughts and memories of the maverick Hollywood filmmaker.
Shoot without a permit at the official website.
Closing the book on last week
Weekend Box Office Champion (Estimated, U.S. only; source: Boxofficemojo.com)
New Year's Eve

23

$13.7 million; 1st week at #1
#1 Album on Billboard 200 (Source: Billboard.com/Nielsen SoundScan)
Michael Bublé: Christmas
2nd week at #1
Top-Rated Primetime Broadcast Show (Source: Nielsen)
NFL Postgame (Fox)
19.4 million viewers; week of 11/28-12/4