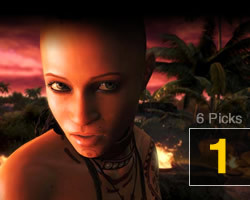 It's not often that one of the best games of the year comes out in December, but if sky-high early review scores for Far Cry 3 hold up, that's precisely the situation facing gamers this week. The first Far Cry open-world FPS in four years returns to the tropical island roots of the original game, though you play as a new character, Jason Brody, who is separated from his girlfriend while vacationing on what turns out to be a savage, lawless island filled with mentally unstable locals (though it probably wasn't billed that way in the tourist brochure). Who you fight and who you enlist to help you on your journey is completely up to you, but whatever you decide, you should probably get away from the island pronto. Expect a much larger map than in previous games (or build your own world with the map editor), and a co-op campaign with a separate story from the single-player mode.
Tour the island setting and cast of characters at the official game site.
Grammy Nominations Concert Live!

Concert special airs live on CBS on Wednesday at 10p (delayed on West Coast)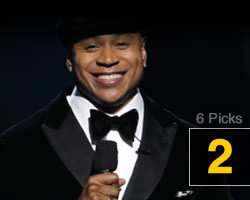 Once again, while other awards shows are content to read out nominations to a zombie-like press corps at 5 in the morning, the Grammys will announce their nominees to the public via a live primetime concert special. Performing during Wednesday night's event are acts including The Who, Maroon 5, Fun., Ne-Yo, and more, while Taylor Swift and LL Cool J host the proceedings. While Swift's own Red came out too late to qualify for this year's awards, newcomer Frank Ocean is expected to score multiple nominations, and The Black Keys, Coldplay, Drake, Florence + The Machine, and Mumford and Sons could also contend for album of the year honors. The 55th Grammy Awards will be handed out in another live ceremony, broadcast on CBS on February 10, 2013.
Check out CBS's official Grammy site for more information.
10th Annual Video Game Awards

Ceremony airs live on Spike TV on Friday at 9p ET / 6p PT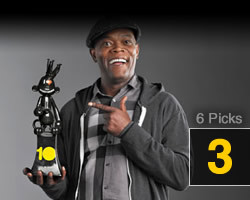 What was just a pipe dream a decade ago has turned into one of the most reliably entertaining awards shows on television. Hosted by Samuel L. Jackson, Friday's VGA Ten ceremony (broadcast live on Spike and simulcast on MTV2 and Xbox Live) will featured performances by Linkin Park and Tenacious D, while games like Assassin's Creed III, Dishonored, Journey, and Mass Effect 3 will battle for various awards, and a special trophy will be given to the decade's best game. Of course, what you'll really be watching for are glimpses of future games—namely, the debuts of new trailers for upcoming titles like BioShock Infinite, The Last of Us, Tomb Raider, South Park: The Stick of Truth, and Gears of War: Judgment.
Get more details on this year's festivities at Spike's VGA 10 site.
Restless

Miniseries begins Friday at 9p on the Sundance Channel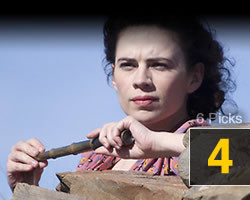 American viewers still have a month to wait until the next season of Downton Abbey, but that show's Michelle Dockery can be seen this week in a new Sundance/BBC co-production kicking off an ambitious slate of miniseries airing on the Sundance Channel over the coming months. Beginning Friday at 9p (and concluding the following Friday, December 14th), Restless finds writer William Boyd adapting his own spy novel of the same name. The three-hour series jumps back and forth between the 1940s and '70s as a young woman (Dockery) discovers that her suburban English mother (Charlotte Rampling in one time period, Captain America's Hayley Atwell in another) was actually a Russian woman recruited as a British spy during WWII and has been living a double life for three decades. Michael Gambon and Rufus Sewell also star, and there's good early buzz about the miniseries' blend of action, mystery, and drama.
If you're feeling restless, check out the official Sundance site.
Hyde Park on Hudson Read reviews

In theaters Friday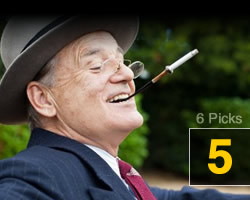 On a weekend in June 1939, King George VI (of The King's Speech fame) and Queen Elizabeth visited the President Franklin Delano Roosevelt. It was the first time an English king had visited the United States, and word is that FDR showed him a pretty good time. Rumored to have shown the president a good time that weekend was Margaret "Daisy" Suckley, a distant cousin and his rumored mistress. Adding even more tabloid fodder to the momentous affair were whispers of a second affair between FDR and his secretary, Marguerite "Missy" LeHand, as well as his wife Eleanor's lesbian leanings. But, based on early lukewarm reviews, it seems that director Roger Michell (Notting Hill 66, Venus 82) has been unable to coalesce all these bits of speculative history into a compelling whole. Early hopes for an Oscar nomination for Bill Murray as FDR have waned as well, despite good reviews for his performance and those of the women surrounding him, including Olivia Williams as Eleanor Roosevelt (Rushmore reunion!), Laura Linney as Daisy, Elizabeth Marvel as Missy, and Elizabeth Wilson as FDR's mother.
Go in depth at the official website to learn about the letters and diary that inspired the film.
Grand Theft Auto: Vice City 10th Anniversary Edition Read reviews (iOS)

On sale for most iOS and Android devices beginning Thursday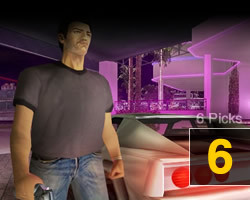 Now old enough to be considered "retro" itself, Rockstar's 2002 PS2 classic Grand Theft Auto: Vice City 95 was widely celebrated at the time of its release for taking GTA III's revolutionary open-world violence and transporting it into the pastel-hued Miami (barely disguised as "Vice City") of 1986, where you control the fate of gangster Tommy Vercetti (voiced by Ray Liotta). This week, mobile gamers can celebrate Vice City's 10-year anniversary with a new portable edition of the game ($4.99 on iOS and Android) that has been updated with improved graphics and a more precise targeting/firing system while retaining everything you loved about the original, including the awesome soundtrack. Consider it a tasty appetizer while you wait for next year's GTA V main course.
View a list of compatible devices at Rockstar's site.
Closing the book on last week
Most Popular Title on Metacritic
Far Cry 3 (360)

91

Week of 11/25-12/1
Weekend Box Office Champion (Estimated, U.S. only; source: Boxofficemojo.com)
The Twilight Saga: Breaking Dawn Pt. 2

52

$17.4 million; 3rd week at #1
#1 Album on Billboard 200 (Source: Billboard.com/Nielsen SoundScan)
Rihanna: Unapologetic

61

1st week at #1
Top-Rated Primetime Broadcast Show (Source: Nielsen)
Sunday Night Football (NBC)
20.9 million viewers; week of 11/19-11/25