Twisted Metal Read Reviews

New PS3 game in stores Tuesday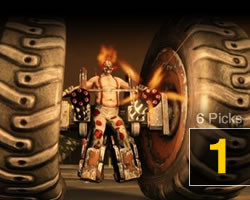 The automobile battle franchise that began way back in 1995 on the original PlayStation returns with its first next-generation title on the PlayStation 3. Hitting shelves on Tuesday is the new reboot-ready title Twisted Metal. The new game doesn't stray all that much from its predecessors; it features multiple characters and their weaponized cars competing to win the Twisted Metal tournament. The single-player experience is nice, but fans of the series know that it's all about multiplayer and battling with your friends for bragging rights.
Twist and shout at the official website.
The Secret World of Arrietty Read Reviews

In theaters Friday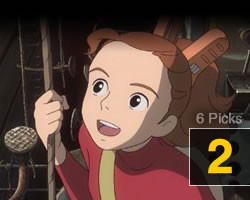 The latest film from legendary Japanese animation powerhouse Studio Ghibli (Spirited Away 94, Ponyo 86) is an adaptation of Mary Norton's 1952 book The Borrowers, about tiny people who secretly coexist with humans. Longtime director Hayao Miyazaki (Spirited Away) is merely a co-producer here, while the film is directed by Studio Ghibli's youngest director to date, Hiromasa Yonebayashi. As is standard for the domestic Disney releases of Ghibli flicks, The Secret World of Arrietty is dubbed in English, and you can expect to hear familiar voices Amy Poehler, Will Arnett, and Carol Burnett while marveling at the gorgeous animation.
Explore the secret at the official website.
Life's Too Short

Series premiere Sunday at 10:30p on HBO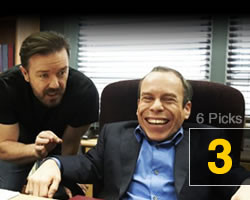 Ricky Gervais and Stephen Merchant follow their previous series, Extras, with Life's Too Short, a comedy starring actor Warwick Davis (Willow) as a fictionalized version of himself who struggles to find work while enduring pervasive humiliation. That humiliation is usually rooted in either his dwarfism or in the fact that no one really remembers his acting jobs in Willow, the Star Wars series, or Leprechaun. The series, which has already aired on the BBC where it received mixed reviews, has been criticized for essentially turning Davis into an unsympathetic copy of the David Brent character from Gervais and Merchant's superior The Office. But it's not all bad news; Gervais and Merchant frequently cameo as themselves, and other stars such as Johnny Depp, Liam Neeson, Steve Carell, Sting, Helena Bonham Carter, and Right Said Fred (!) also make fun of their respective images.
Are laughs too short at the official website?
Ghost Rider: Spirit of Vengeance Read Reviews

In theaters Friday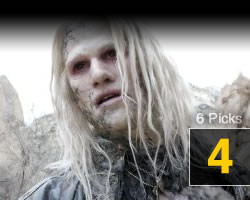 Could this Friday's Ghost Rider: Spirit of Vengeance be the rare sequel that bests the original film? Given that the original in question is 2007's Ghost Rider 35, that may not be too difficult. The new film once again stars Nicolas Cage as Johnny Blaze, a motorcycle stunt rider who has been transformed into the flaming supernatural badass Ghost Rider. Joining him this time out is Idris Elba (The Wire) as Johnny's sidekick Moreau, Johnny Whitworth as villain Blackout, and the Highlander himself, Christopher Lambert, as the monk Methodius. The film's directors are Crank-masters Mark Neveldine and Brian Taylor, who are known for their kinetic, hands-on approach, and they've also converted the film to 3D. If seeing Ghost Rider 2 helps Crank 3D to get made, we're there!
Get ready to ride the official website.
Eastbound & Down Read Reviews

Season 3 premiere Sunday at 10p on HBO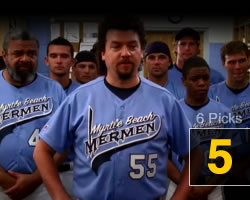 Get f**king ready for the last days of Eastbound & Down. The eight-episode third and final season begins Sunday night and finds baseball legend Kenny Powers residing in Myrtle Beach once again, where he's a reliever for the local minor league baseball team, the Mermen. The new episodes will bring back many characters from the first season who were largely left out of Kenny's second-season Mexican adventure. Expect to see the return of Will Ferrell, John Hawkes, and Katy Pixon as Kenny's "soulmate" and mother of his child! Jason Sudeikis joins the cast as Kenny's new friend Shane, who will no doubt cause Kenny's sidekick Stevie (Steve Little) to become a little jealous.
Get your balls out at the official website.
Celebrity Apprentice

Season premiere Sunday at 9p on NBC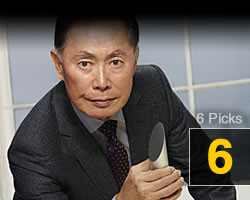 The new cast of Celebrity Apprentice may make this season too good/weird/terrible to pass up. The long-running Donald Trump reality game show (this is the 5th "celebrity" version and 12th overall season in the Apprentice franchise) pits a variety of C-list celebrities against each other in business-related challenges in order to raise money for their charities of choice. Among the contestants are Star Trek vet George "Oh my" Takei, podcaster/comedian Adam Carolla, The Incredible Hulk's Lou Ferrigno, former talk show host and Coming to America co-star Arsenio Hall, '80s pop star Debbie Gibson, American Idol runner-up Clay Aiken, comedian Lisa Lampanelli, and Twisted Sister frontman Dee Snider.
Check out the other amazing contestants (Tia Carrere!) at the official website.
Closing the book on last week
Most Popular Title on Metacritic
Kingdoms of Amalur: Reckoning (360)

80

Week of 2/5 - 2/11
Weekend Box Office Champion (Estimated, U.S. only; source: Boxofficemojo.com)
The Vow

44

$41.7 million; 1st week at #1
#1 Album on Billboard 200 (Source: Billboard.com/Nielsen SoundScan)
Adele: 21

76

19th week at #1 (6th consecutive)
Top-Rated Primetime Broadcast Show (Source: Nielsen)
Super Bowl XLVI (NBC)
111.3 million viewers; week of 1/30-2/5