84th Annual Academy Awards

Live broadcast Sunday at 7p ET / 4p PT on ABC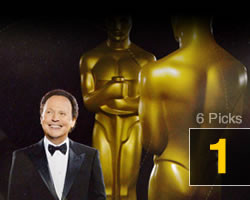 The long road to the 84th Annual Academy Awards that included a disgraced departing producer (Brett Ratner) and slated host (Eddie Murphy) is finally coming to an end. Airing live on ABC Sunday night, the Oscars will be hosted by veteran Billy Crystal, returning to the gig for the first time since 2004. Leading the pack with 11 nominations is Hugo, though the favorite going into the show is The Artist, a black-and-white silent film that isn't even in widescreen. If the Oscars are a little too mainstream for you, there's always the Independent Spirit Awards airing the night before on IFC at 10 PM ET/PT. Seth Rogen hosts that ceremony, which salutes the best in independent film.
Visit the official Oscar site, view a list of nominations, or submit your picks in our 3rd annual Oscar poll.
PlayStation Vita Read Reviews

New handheld gaming device on sale Wednesday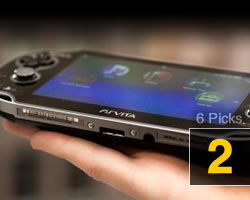 Just in time for the recession, Sony is releasing their pricey new console that brings next-generation graphics to a handheld for the first time. The PlayStation Vita officially launches Wednesday after advance bundles went on sale last week. You can opt for the WiFi-only system for $250, but it doesn't include the proprietary Sony memory card, which is required if you want to save and/or download games. (In other words, it's required.) For $300, you can get the launch bundle with the WiFi/3G model, which includes a memory card. And for $350, you can get a 3G/WiFi first edition bundle that includes a memory card and the game Little Deviants. In addition to next-gen graphics, the Vita includes both a front (OLED) and rear touchscreen, front and rear cameras, Sixaxis motion control, and a whole lot more. Critics have been praising the device (aside from its price tag), while launch titles Uncharted: Golden Abyss, Rayman Origins, and Lumines: Electronic Symphony are also earning strong reviews.
View our roundup of reviews of the Vita hardware, or view a list of the best Vita games currently available.
Reign of Terror by Sleigh Bells Read Reviews

New album in stores Tuesday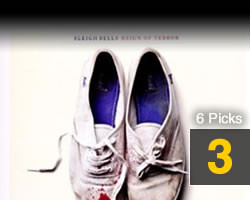 Fresh from performing on Saturday Night Live last night, Brooklyn-based noise-pop duo Sleigh Bells are back with a vengeance this Tuesday, when they follow their excellent 2010 debut Treats 84 with sophomore album Reign of Terror. The 11-song album from Alexis Krauss and Derek E. Miller features even more heavy metal guitar (if that's possible), but still sounds like Public Enemy's Bomb Squad production mixed with the vocals from Lush. After completing a pre-release mini-tour of Miller's home state of Florida, the band is currently on tour through the end of March. Bring earplugs.
Get terrified at the official website.
Wanderlust Read Reviews

In theaters Friday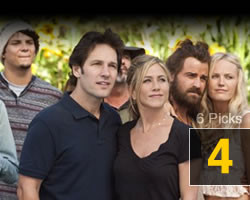 Fans of MTV's cult sketch comedy troupe The State probably avoid most Jennifer Aniston films, but this Friday's Wanderlust will probably be an exception. The comedy, directed by The State member David Wain (who also directed Wet Hot American Summer and Role Models), stars Aniston and Paul Rudd as a recently cash-strapped NYC couple who attempt to get back on their feet and end up at a hippie commune. Hijinks ensue as they are confronted with unwanted nudity, acoustic guitar playing, and sexual advances from the likes of Joe Lo Truglio, Justin Theroux, Malin Åkerman, Lauren Ambrose, and Alan Alda!
Wander into the official website.
World on a Wire

Criterion Collection DVD/Blu-ray on sale Tuesday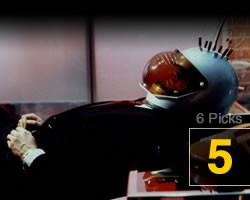 Cinephiles have reason to rejoice this Tuesday as a long-lost science fiction gem from German director Rainer Werner Fassbinder hits American home video for the first time ever after playing festivals and museums for the past couple of years. World on a Wire was originally made for German television in the early '70s and was aired as a two-part miniseries. The 205-minute opus about corporate conspiracy and virtual reality is reminiscent of the works of Philip K. Dick and Stanley Kubrick and was based on the novel Simulacron-3 by Daniel F. Galouye. In grand Criterion tradition, the new Blu-ray or 2-disc DVD includes a new transfer of the film supervised by one of its cinematographers, Michael Ballhaus (who went on to collaborate extensively with Martin Scorsese), and also includes a new 50-minute documentary about the making of the film.
Bend reality at the official website.
Alan Wake's American Nightmare Read Reviews

New downloadable Xbox 360 game on sale Wednesday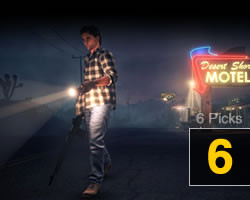 The Alan Wake franchise is having a big week. In addition to the original Alan Wake finally being released for the PC, the new chapter in the series, Alan Wake's American Nightmare, will be featured exclusively on Xbox Live Arcade starting Wednesday. The new game changes the locale from the Pacific Northwest to a less soggy Arizona and has author Alan Wake stuck inside of an episode of Night Springs, a Twilight Zone-esque show, that was written by Wake himself. Nightmare is said to dial down the suspense and amp up the action gameplay that was so compelling in the original.
Wake up at the official website.
Closing the book on last week
Most Popular Title on Metacritic
Twisted Metal (PS3)

78

Week of 2/12 - 2/18
Weekend Box Office Champion (Estimated, U.S. only; source: Boxofficemojo.com)
Safe House

52

$24.0 million; 1st week at #1
#1 Album on Billboard 200 (Source: Billboard.com/Nielsen SoundScan)
Adele: 21

76

20th week at #1 (7th consecutive)
Top-Rated Primetime Broadcast Show (Source: Nielsen)
Grammy Awards (CBS)
39.9 million viewers; week of 2/6-2/12