Haywire Read Reviews

In theaters Friday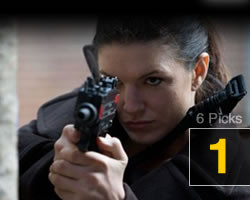 Steven Soderbergh was originally set to have two movies come out in 2011, but only Contagion 70 saw release. The other film was Haywire, which now becomes the first of two Soderbergh films to be released this year when it opens Friday. The film reteams the director with his Kafka and The Limey collaborator, writer Lem Dobbs. The international action film (shot mostly in Ireland) stars MMA fighter Gina Carano as a badass freelance ops agent who has been double-crossed and is looking for a little payback. The relatively novice actress is joined by a killer cast that includes Michael Douglas, Antonio Banderas, Channing Tatum, Bill Paxton, Ewan McGregor, and Michael Fassbender.
Get knocked out at the official website.
Alcatraz Read Reviews

Two-hour series premiere Monday at 8p on Fox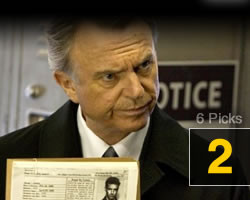 Producer J.J. Abrams returns with his second new series this season, after last fall's CBS debut of Person of Interest 65. Alcatraz, premiering Monday night at a special 8pm time, is another high-concept crime thriller in which dangerous prisoners from the famous island prison's past are found roaming the streets of San Francisco decades later in a time travel twist. Investigating the anomalies are SFPD detective Rebecca Madsen (Sarah Jones), geeky Alcatraz expert Dr. Diego Soto (Lost's Jorge Garcia), and the mysterious government agent Emerson Hauser (Sam Neill) and his technician Lucy Banerjee (ER's Parminder Nagra). While the original pilot had its problems, the since-retooled show (which will normally air Mondays at 9pm after House) is picking up mostly positive reviews so far.
Escape to Alcatraz at the official website.
Justified Read Reviews

Season premiere Tuesday at 10p on FX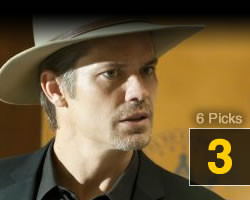 The man in the hat—aka Deputy U.S. Marshal Raylan Givens (Timothy Olyphant)—returns after a thrilling second season that saw the series gain traction and even an Emmy win for Margo Martindale's terrifying performance as Mags Bennett. Martindale may be gone, but new additions to the show this year include Mykelti Williamson (Heat) and Neal McDonough (Minority Report), while Carla Gugino will play an ex-flame of Raylan's. Gugino's character is rumored to be another Elmore Leonard protagonist, U.S. Marshal Karen Sisco (with her last name changed to Goodall due to rights issues), perhaps best known as the character played by Jennifer Lopez in Out of Sight but also played by Gugino herself in a 2003's cancelled ABC series Karen Sisco.
Tip your hat at the official website.
Sundance Film Festival

Begins Thursday and runs through January 29 in Park City, Utah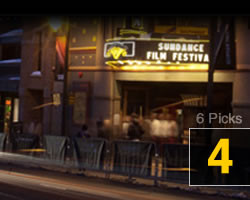 The renowned Sundance Film Festival returns for another year of indie screenings and premieres. This year's fest is stuffed with noteworthy films and documentaries. Music fans should be excited to see the premiere of the LCD Soundsystem doc about their last-ever concert at Madison Square Garden, Shut Up And Play The Hits, and Ice-T's documentary about the history of rap, Something From Nothing: The Art of Rap, which includes interviews with Afrika Bambaataa, Run-DMC, Eminem, Snoop Dogg, and many more. Dramas usually garner all of the attention, but it would be hard to ignore the hot comedy Bachelorette starring Kirsten Dunst, Lizzy Caplan, and Isla Fisher as three women who are asked to be bridesmaids for someone they picked on in high school. Stacy Peralta's latest documentary, Bones Brigade: An Autobiography, profiles the legendary skateboarding crew from the '80s. Not only are Tim & Eric premiering the much-anticipated Tim & Eric's Billion Dollar Movie, they are also starring in The Comedy, a movie about hipsters that stars hipster royalty LCD Soundsystem frontman James Murphy. And don't forget about Room 237, a documentary that theorizes that Stanley Kubrick helped fake the Apollo moon landing and hid clues about his involvement in The Shining.
Admit one at the official website, or watch trailers for most of the films at Sundance's YouTube channel.
Archer and Unsupervised

Season premieres Thursday at 10p and 10:30p on FX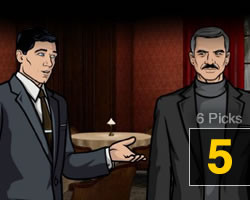 If you're sad that It's Always Sunny in Philadelphia just wrapped its seventh (!) season, then maybe you'll like Unsupervised, a new FX series from Sunny's executive producers that debuts Thursday after the season 3 premiere of Archer. The new animated series follows a pair of 15-year old friends, Gary (Justin Long) and Joel (Sunny's Cricket, David Hornsby), who move through life without any parental supervision. Raunchy hijinks ensue with the help of additional voice talent provided by Kristen Bell (House of Lies), Romany Malco (Weeds), Fred Armisen (Portlandia), and more. Archer's premiere, meanwhile, features a guest appearance by Burt Reynolds, while Jack McBrayer will pop up in another upcoming episode, and the two-part finale will find Breaking Bad's Bryan Cranston playing an astronaut.
Go crazy at the official Unsupervised website or spy on the official Archer website.
Red Tails Read Reviews

In theaters Friday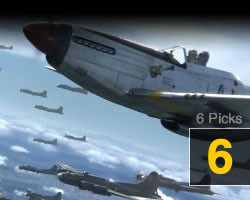 George Lucas' long-gestating production Red Tails finally hits screens this Friday. The film tells the story of the Tuskegee Airmen, a group of African-American fighter pilots in World War II. Though similar ground was covered in the excellent 1995 HBO movie The Tuskegee Airmen, the new flick comes to the big screen with CGI-heavy action scenes and a $50 million budget. The impressive cast includes Cuba Gooding Jr. (who also starred in The Tuskegee Airmen), Terrence Howard, and Bryan Cranston, as well as The Wire alumni Michael B. Jordan, Method Man, and Andre Royo; director Anthony Hemingway is a Wire vet as well. Rumor has it that Lucas himself directed the film's reshoots.
Pull out of a tailspin at the official website.
Closing the book on last week
Weekend Box Office Champion (Estimated, U.S. only; source: Boxofficemojo.com)
Contraband

51

$24.1 million; 1st week at #1
#1 Album on Billboard 200 (Source: Billboard.com/Nielsen SoundScan)
Adele: 21

76

15th week at #1 (2nd consecutive)
Top-Rated Primetime Broadcast Show (Source: Nielsen)
NFL Playoffs [Lions-Saints] (NBC)
31.8 million viewers; week of 1/2-1/8