Harry Potter and the Deathly Hallows: Part 2 Read Reviews

In theaters Friday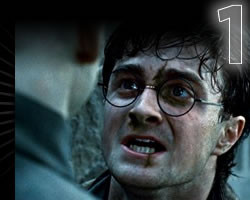 If you are the one person who hasn't seen the previous seven Harry Potter films, this is probably a bad place to start—though, given that this concluding chapter is packed with action and epic battles, including a final showdown between Harry and Voldemort, even the unconverted should be entertained here. And, for the first time in the history of the $2 billion franchise, you'll be able to see that action in 3D, though it was converted to the more expensive format after it was filmed, and such conversions have a history of being rather unmagical.
It's all over at the official HP7 movie site.
A Dance with Dragons by George R.R. Martin

New book in stores Tuesday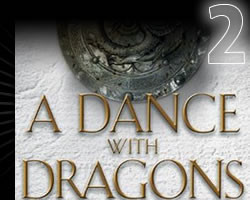 Thanks to the success of HBO's excellent first-year series Game of Thrones, there are plenty of new fans of A Song of Ice and Fire, the gritty fantasy book series by George R.R. Martin (of which 1996's A Game of Thrones is the first book). But longtime fans have been waiting nearly six full years for the release of the next installment, which finally arrives Tuesday. The fifth of a planned seven books, A Dance with Dragons weighs in at a series-record 1,040 pages and takes place mostly during the same time period as fourth book A Feast for Crows, but concentrates on all the characters and territories (mainly the North) that weren't in that previous novel.
There's a Westeros for the rest of us at George R.R. Martin's official site.
63rd Primetime Emmy Award Nominations

Announced Thursday at 5:35a PT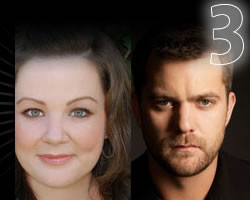 Jane Lynch may be hosting this year's Emmy Awards ceremony (airing September 18 on Fox), but the consolation prize of waking up early in the morning to announce the nominees to a bleary-eyed press corps goes to Melissa McCarthy and Joshua Jackson, a task they'll be performing Thursday. Last year's nominations were dominated by Glee, Mad Men, Modern Family, and HBO, and there's no reason to expect otherwise this year, though it will be interesting to see if critic favorites like Parks and Recreation, Boardwalk Empire, Justified, Community, and Game of Thrones will resonate with voters.
Everyone's a winner at the official Emmy website; or check out a roundup of expert predictions at Gold Derby.
Breaking Bad Read Reviews

Season 4 premieres Sunday at 10p on AMC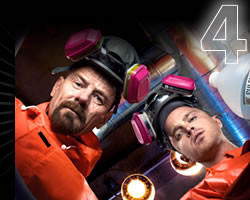 One person who won't be receiving an Emmy nomination this week is Bryan Cranston, but only because the new season of his AMC drama Breaking Bad debuts Sunday night, too late to qualify for this year's awards. Both Cranston (for the third consecutive year) and his co-star Aaron Paul picked up Emmy trophies last year for their memorable work on what has become one of TV's most acclaimed shows, but despite also being one of TV's bleakest programs, Bad's fourth season may somehow enter even darker territory, according to the early word from cast and crew. As creator Vince Gilligan recently told Entertainment Weekly, "There are going to be twists and turns that people will be talking about for a while to come, I believe."
Be a fly on the wall at the official series site.
Tabloid Read Reviews

In limited release beginning Friday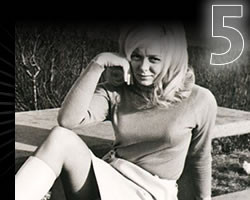 Documentary master Errol Morris (The Fog of War, The Thin Blue Line) returns Friday with a crowd-pleasing new story that seems too crazy to be true—except that it is. The funny, surreal Tabloid is indeed based on a tabloid story of a genius Miss Wyoming beauty pageant winner whose quest for love leads from one implausible event to another, and includes abducting a Mormon missionary in England and cloning a dog in Korea. The film has enjoyed an enthusiastic response on the film festival circuit over the past year.
Believe everything you read at the official site.
Alphas

Series premiere Monday at 10p on Syfy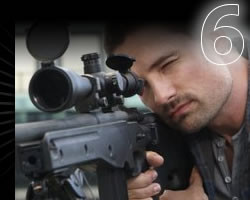 Like a somewhat more realistic take on Heroes (or Misfits of Science, or Mutant X), Syfy's new Alphas centers on a team of investigators with extraordinary mental and physical powers—such as increased strength, immunity from pain, and the ability to influence the actions of others—who use them to stop threats that the government is unable to prevent. David Strathairn and Malik Yoba star; the pilot was directed by Jack Bender (Lost), the series was created by veteran screenwriter Zak Penn (X-Men: The Last Stand), and it's exec-produced by Star Trek: Deep Space Nine showrunner Ira Steven Behr.
It's out of beta, so check out the official Alphas site.