Comic-Con International

Annual convention runs Thursday-Sunday in San Diego, California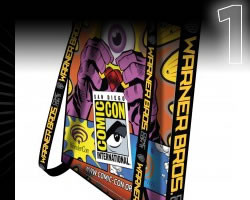 The convention for all things geeky, nerdy and everything in between kicks off Thursday in San Diego, Calif. Many studios are scaling back after last year's expensive presentation for Scott Pilgrim vs. the World didn't help the film at the box office, but that won't deter fans (passes are sold out). Sure to be on the minds of old-school Comic-Con attendees is the reboot of the DC Comic universe that starts on August 31st; Steven Spielberg will also be making his first Con appearance (primarily for The Adventures of Tintin). This year also marks the 50th anniversary of The Fantastic Four, the 20th anniversary of comic-book Bone, the 25th anniversary of Dark Horse Comics, and the 35th anniversary of the first appearance of Star Wars at Comic-Con. Flame on!
Find out what costume you'll wear at the official Comic-Con website.
Captain America: The First Avenger Read Reviews

In theaters Friday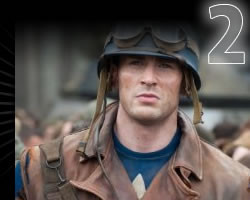 Marvel Comics' long road to next summer's The Avengers has one movie left, and it arrives Friday in the form of Captain America: The First Avenger. The film stars Chris Evans (who previously played Marvel superhero Johnny Storm/Human Torch in two Fantastic Four movies) as Steve Rogers, a puny wannabe World War II soldier who, through a top secret experiment, becomes super soldier Captain America. The film is directed by Joe Johnston, who directed the similarly period-based comic-book adaptation The Rocketeer, and co-stars Tommy Lee Jones, Hugo Weaving, Dominic Cooper, and Hayley Atwell. Stay tuned after the credits for a look at Joss Whedon's adaptation of The Avengers.
Go behind the shield at the official website.
Another Earth Read Reviews

In limited release beginning Friday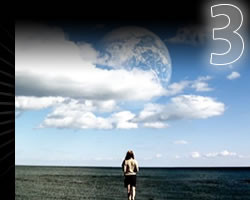 A hit at the 27th annual Sundance Film Festival in January, Another Earth received a standing ovation and rave reviews. You can find out what all of the fuss is about on Friday as Another Earth opens in limited release. Directed and co-written by Mike Cahill, the film stars Brit Marling as a woman who accidentally kills a family by colliding into their minivan while staring up at another planet: Earth's newly discovered twin. After serving time, she considers entering an essay contest to win a trip to the mirror planet to find out if life could have turned out differently. This moody sci-fi drama is the definition of summer counterprogramming.
Visit Earth 2 at the official website.
Join Us by They Might Be Giants Read Reviews

New album in stores Tuesday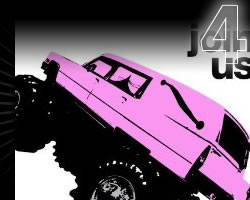 John Flansburgh and John Linnell's They Might Be Giants have transformed into a band that caters to two different audiences: their original fans and young children. Their recent non-kid albums, like 2007's The Else and 2004's The Spine, haven't received the same amount of attention as 2002's No! and 2008's Here Come the 123s. But Tuesday's Join Us (the band's 15th album) is a return to grown-up music and features lead single "Can't Keep Johnny Down." Let's hope that it reaches Flood and Apollo 18 heights.  
They might be awesome at the official website.
The Captains

New documentary debuts Friday at 8pm EDT on Epix and online at EpixHD.com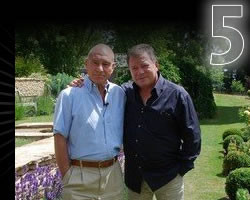 Trekkers have to wait a hot minute to see a sequel to 2009's Star Trek reboot, but the original Captain Kirk (William Shatner) is here to save the day with an original documentary he made about all of the captains in the Star Trek universe. Essentially, Shatner sits down with Patrick Stewart (Star Trek: The Next Generation's Picard), Avery Brooks (Star Trek: Deep Space Nine's Sisko), Kate Mulgrew (Star Trek: Voyager's Janeway), Scott Bakula (Enterprise's Archer), Chris Pine (Star Trek's Kirk), and Christopher Plummer (Star Trek VI: The Undiscovered Country's Klingon General Chang) one on one for spirited conversations about life in the Federation.
Transport yourself to the official website.
Friends with Benefits Read Reviews

In theaters Friday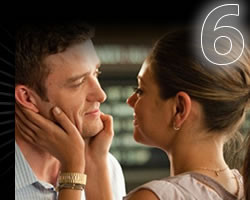 The summer of R-rated comedies has already brought us The Hangover Part II, Bridesmaids, Bad Teacher, and Horrible Bosses. Now comes Friends with Benefits. Opening Friday, the film stars Justin Timberlake and Mila Kunis as two friends who decide to have a sexual relationship with no emotional attachment. Chaos and comedy ensue in the film directed by Will Gluck (Easy A) that has an amazing roster of co-stars including Woody Harrelson, Richard Jenkins, Patricia Clarkson, Andy Samberg, and Emma Stone.
It's no strings attached at the official website.
Closing the book on last week
Weekend Box Office Champion (Estimated, U.S. only; source: Boxofficemojo.com)
Harry Potter and the Deathly Hallows: Part 2

87

$168.6 million; 1st week at #1
#1 Album on Billboard 200 (Source: Billboard.com/Nielsen SoundScan)
Beyonce: 4

74

2nd week at #1
Top-Rated Primetime Broadcast Show (Source: Nielsen)
America's Got Talent (NBC) [Tue]
15.8 million viewers; week of 7/4-7/10