2012 Summer Olympics Opening Ceremony

Broadcast Friday on NBC beginning at 7:30p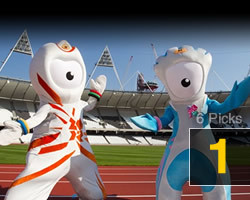 Oscar-winning director Danny Boyle (Slumdog Millionaire 86, Trainspotting 83) will have a chance to entertain his biggest audience yet (perhaps 4 billion watching worldwide) on Friday when he directs the opening ceremony of the 2012 Olympic Games in London. Held in the city's new 80,000-seat Olympic Stadium, the £27 million, three-hour extravaganza—recently trimmed by 30 minutes—is inspired by Shakespeare's The Tempest and will feature live farm animals, an original score by electronic music legends Underworld, and a short film starring Daniel Craig as James Bond, though many of the precise details remain a closely guarded secret. This being England, royalty will be on hand as well: Paul McCartney will perform at the close of the festivities. And in the unlikely event that it isn't actually raining during the event, Boyle has rigged up artificial storm clouds ready to go off on command.
Go faster, higher, and stronger at NBC's Olympic site, where cable subscribers can also download an app to watch live coverage of every single event.
Ruby Sparks Read Reviews

In limited release beginning Wednesday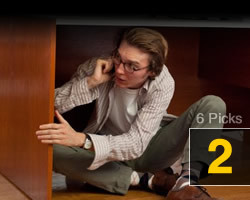 Six years after their first feature, Little Miss Sunshine 80, generated four Oscar nominations and two wins, directors Jonathan Dayton and Valerie Faris return with their follow-up: Wednesday's Ruby Sparks, written by Zoe Kazan, who also stars as the titular character. The film centers on a novelist, played by Paul Dano, who is struggling with his second novel after achieving success with his debut. On a suggestion by his therapist (Elliot Gould), he begins a writing assignment about a female character, but when she appears out of nowhere as if willed into existence from his imagination, Dano's novelist is understandably alarmed. A cast that includes Annette Bening, Antonio Banderas, Steve Coogan, and Chris Messina supports a film that asks questions about the creative process, the nature of love, and the existence of the manic pixie dream girl.
Make Ruby real at the official website.
The Watch Read Reviews

In theaters Friday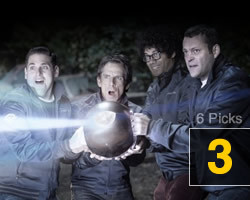 When your neighborhood is invaded by aliens, who ya gonna call? How about the stars of The Watch—Ben Stiller, Vince Vaughn, Jonah Hill, and Richard Ayoade. They might be incompetent and unprepared, but they have jackets with tigers, flames, and wings on them. Akiva Schaffer, a member of The Lonely Island who also directed many of the digital shorts on SNL, is behind the camera for his first feature since 2007's Hot Rod 43, and Seth Rogen and Evan Goldberg, the writing team that brought you Superbad 76 and Pineapple Express 64, penned the script. Comedy should also come from a supporting cast that includes Rosemarie DeWitt, Will Forte, Billy Crudup, and R. Lee Emry.
Get protection from the coming invasion at the official website.
The Thick of It

Seasons 1-3 streaming on Hulu and Hulu Plus beginning Sunday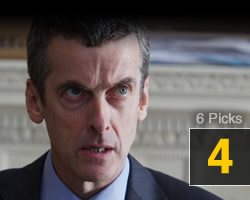 Have you liked what you've seen of HBO's Veep 72 or the Oscar-nominated 2009 film In the Loop 83? Then spend the rest of your summer catching up on the show that inspired both of the above. Created, like those two titles, by Armando Iannucci (and offering a similar, partially-improvised, behind-the-scenes look at government officials and their underlings), The Thick of It may just be the best British comedy series since The Office, and certainly features one of TV's great characters in Peter Capaldi's foul-mouthed attack dog Malcolm Tucker. Finding the 14 episodes (plus two specials) in the States has been a bit tricky; an American DVD release won't happen until September, and previous airings on BBC America have been sporadic and—unfortunately—bleeped heavily. But, beginning this weekend, you'll be able to watch uncensored versions of every one of those episodes on Hulu and Hulu Plus. And, when the fourth season launches in Britain this fall, American viewers can see the new episodes on the same day on Hulu without having to wait until next year's BBC America broadcast.
Beginning Sunday, stream the series in its full profane glory at Hulu.
Klown Read Reviews

In limited release beginning Friday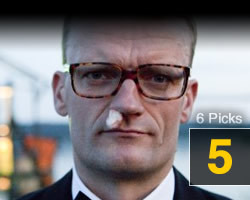 Maybe the title should be Klown: Bigger Longer & Uncut. Based on a raunchy Danish TV show created by and starring Frank Hvam and Casper Christensen (as Frank and Casper), this feature-length comedy escalates their hijinks to the extreme when Frank takes his girlfriend's 12-year-old nephew on a planned weekend of debauchery with Casper to prove that he can be a good father. Odds are he doesn't quite prove that. Mia Lyhne and Iben Hjejle (Laura in High Fidelity) play their respective girlfriends. Mikkel Nøgaard, who directed most of the TV episodes, helms this feature as well, and it won Best Picture (Comedy) at Fantastic Fest and Best Film at Fantasia. If you want to check out an episode of the original series (one written by Lars von Trier no less) before committing to the feature—one that will likely be unsurpassed in 2012 for shocking and gross-out laughs—you can download it here.
Check out the film and the official website before the Hollywood remake starring Danny McBride hits theaters, or view the red-band trailer if the one below is too tame for your liking.
Killer Joe Read Reviews

In limited release beginning Friday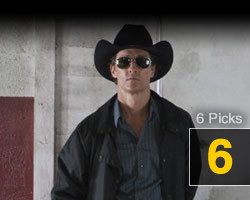 Matthew McConaughey, Emile Hirsch, Thomas Haden Church, Gina Gershon, and Juno Temple star in this wicked combination of black comedy and violent thriller from veteran director William Friedkin and writer Tracy Letts, who last collaborated on 2006's Bug 62. In Killer Joe, Hirsch hires McConaughey to kill his mom (Gina Gershon) so he can get her life insurance money and pay off the debts he owes to some very bad men, but when Hirsch can't pay upfront, McConaughey takes his sister (Juno Temple) as collateral. The film received solid reviews when it played the fall festival circuit last year with many critics commenting on the film's violence and a particular scene involving Gina Gershon and a KFC drumstick. The film received an NC-17 rating, so viewers should be properly prepared for this bleak tale.
Brace yourself for Killer Joe at the official website.
Closing the book on last week
Most Popular Title on Metacritic.com
The Dark Knight Rises

78

Week of 7/15-7/21
Weekend Box Office Champion (Estimated, U.S. only; source: Boxofficemojo.com)
The Dark Knight Rises

78

Unofficial; no official estimates announced this weekend
#1 Album on Billboard 200 (Source: Billboard.com/Nielsen SoundScan)
Zac Brown Band: Uncaged

69

1st week at #1
Top-Rated Primetime Broadcast Show (Source: Nielsen)
MLB All-Star Game (Fox)
10.9 million viewers; week of 7/9-7/15