Cowboys & Aliens Read Reviews

In theaters Friday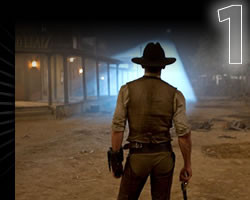 This Friday finds 19th century cowboys facing off against extraterrestrial beings in the latest summer tentpole release. Director Jon Favreau follows up last summer's disappointing Iron Man 2 with this Harrison Ford- and Daniel Craig-starring action flick based on Scott Mitchell Rosenberg's 2006 graphic novel. Cowboys & Aliens, written by a who's who of genre writers (Fringe's Alex Kurtzman and Roberto Orci and Lost's Damon Lindelof), also stars Tron: Legacy's Olivia Wilde and an enviable supporting cast that includes Sam Rockwell, Paul Dano, Clancy Brown, Abigail Spencer, and Walton Goggins.
See James Bond meet Indiana Jones at the official website.
Ritual Union by Little Dragon Read Reviews

New album in stores Tuesday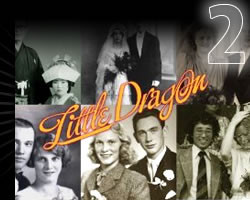 Sweden's Little Dragon have been mostly known for their show-stealing guest appearances on Gorillaz tracks "Empire Ants" and "To Binge" from the 2010 album Plastic Beach. After two solid releases of their own, Little Dragon and Machine Dreams, the electro-pop band drop their third full-length, Ritual Union, on Tuesday. The beautifully distinctive vocals of Yukimi Nagano (who once voiced for fellow Swedes Koop) front soulful tunes that include the sweet opening title track and jam "Nightlight."
Make visiting the official website a ritual, or stream the album at NPR (through Monday).
Crazy, Stupid, Love. Read Reviews

In theaters Friday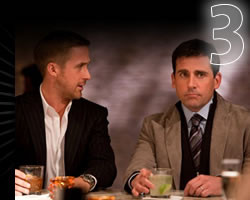 If cowboys fighting aliens doesn't suit you, perhaps a counter-programmed romantic comedy is more your speed. Crazy Stupid Love, opening Friday stars Steve Carell and Julianne Moore as a damaged couple who, to the husband's surprise, are on the verge of divorce. Carell's character befriends a handsome lothario/wingman (Ryan Gosling), who attempts to make him over into a "better" man (shopping montage, please!). Gosling then falls for the hard-to-get Emma Stone. Directors Glenn Ficarra and John Requa showed real bite with last year's I Love You Phillip Morris; hopefully it will carry over here.
You'd be crazy and stupid not to love the official website.
Attack the Block Read Reviews

In limited release beginning Friday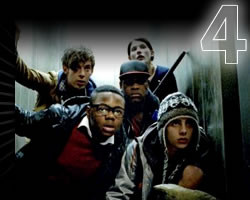 A British genre picture with a score by an electronic band; is this Hanna? No, it's the feature debut from director Joe Cornish (a cohort of Shaun of the Dead's Edgar Wright who co-wrote the unproduced Ant-Man and this holiday's The Adventures of Tintin: Secret of the Unicorn). Attack the Block, opening in limited release on Friday and expanding to more cities in August, is about a group of inner-city hoodlums who must team with their attempted mugging victim to battle extraterrestrial visitors. The film co-stars Shaun of the Dead's Nick Frost and features a score by the amazing Basement Jaxx.
Attack the official website.
Iron Man / Wolverine

New animated series debut Friday at 11p and 11:30p on G4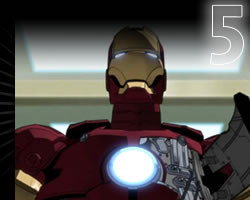 If last week's Captain America: The First Avenger wasn't enough Marvel entertainment for you, try directing yourself towards G4TV on Friday night. Marvel has teamed up with legendary Japanese animation studio Madhouse to adapt four of their biggest properties. Debuting this week are edgier versions of Wolverine (voiced by Heroes' Milo Ventimiglia) and Iron Man (Heroes' Adrian Pasdar). The project, which will also include versions of X-Men and Blade later this year, was overseen by comic mainstay Warren Ellis (Planetary, Transmetropolitan).
Mutant anime looks marvelous at the official website.
120 Minutes with Matt Pinfield

Series returns Saturday night at 1a ET / 10p PT on MTV2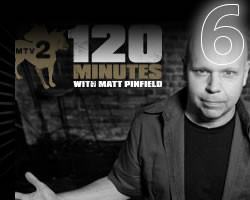 Running from 1986 to 2000 on MTV and from 2001-2003 on MTV2, 120 Minutes was always one of MTV's best shows. Showcasing indie and alternative acts, the weekly series was one of the only ways you could catch new videos from the likes of the Pixies, the Cure, Pavement, and many more, all mixed in with live appearances and interviews. A new version of 120 Minutes premieres Saturday night with one-time former host Matt Pinfield in tow, though instead of weekly, the show will only air on the last Saturday of every month. Upcoming guests include Sleigh Bells, Das Racist, and Black Angels.
Return to the alternative nation at the official website.
Closing the book on last week
Weekend Box Office Champion (Estimated, U.S. only; source: Boxofficemojo.com)
Captain America: The First Avenger

67

$65.8 million; 1st week at #1
#1 Album on Billboard 200 (Source: Billboard.com/Nielsen SoundScan)
Blake Shelton: Red River Blue

68

1st week at #1
Top-Rated Primetime Broadcast Show (Source: Nielsen)
America's Got Talent (NBC) [Tue]
14.1 million viewers; week of 7/11-7/17