Rock of Ages Read Reviews

In theaters Friday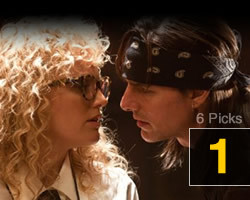 If you like your cheese served with a healthy dollop of camp and a side of hair metal mash-ups, then Adam Shankman's big screen adaptation of the hit Broadway musical Rock of Ages should be your movie of choice this coming weekend. The director already has one successful musical adaptation, 2007's Hairspray 81 (which was based on a Broadway show based on John Water's 1988 film Hairspray 76). For Rock of Ages, the Broadway via Hollywood recycling combines '80s nostalgia for hits by Def Leppard, Foreigner, Journey, Twisted Sister, and Bon Jovi with big hair, bad wigs, leather pants, fishnet stockings and a love story between two kids (Julianne Hough and Diego Boneta) chasing their rock 'n' roll dreams in 1987 Los Angeles. Alec Baldwin, Malin Akerman, Catherine Zeta-Jones, Paul Giamatti, Russell Brand, and Mary J. Blige all lend their comedic chops, dancing feet and singing voices to the show, but the star is Tom Cruise as rock god Stacee Jaxx. Will it rock you?
Sing along with Tom Cruise as he takes on Axl's distinctive wail at the official website.
Dallas Read Reviews

Two-hour series premiere Wednesday at 9p on TNT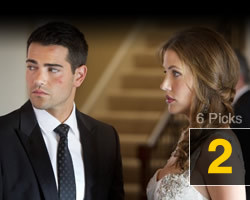 Yes, it's that Dallas, and it's not a remake. In fact, if strong early reviews hold up, it might just be better than the series' first run, though it's still more of a guilty pleasure than an Emmy-worthy drama. Picking up a generation after the events depicted in the classic primetime soap that aired on CBS from 1978–1991, TNT's Dallas continues the story of the Ewing clan, centering on characters (John Ross Ewing III and Christopher Ewing, played by Josh Henderson and Jesse Metcalfe, respectively) who were kids in the original, as well as some newcomers (including Jordana Brewster and Brenda Strong). But longtime fans will also be able to welcome back some of their favorites, including the famously shot J.R. (Larry Hagman), Bobby (Patrick Duffy), and Sue Ellen (Linda Gray). Wednesday's super-sized premiere features two back-to-back episodes.
Find out if the new series is just a dream at the official site.
In Our Heads by Hot Chip Read Reviews

New album in stores Tuesday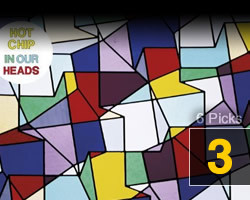 British dance outfit Hot Chip return Tuesday with their fifth album in eight years, and it's another good one. (Those five albums, by the way, don't even include releases from the various side projects for the band's members, like The 2 Bears and About Group.) Tuesday's In Our Heads finds the group switching labels from DFA/Astralwerks to the even more indie-minded Domino, but otherwise it's business as usual: an infectious lead single ("Night and Day"), lyrics that run the gamut from playful to sentimental, and dancefloor-friendly music that reveals an eclectic variety of influences. Hot Chip are hitting the road in June to promote the album, with stops at numerous summer festivals and even the world-famous Hollywood Bowl.
Are you ready for the floor? Then check out the official band site.
Falling Skies Read Reviews

Season 2 premiere Sunday at 9p on TNT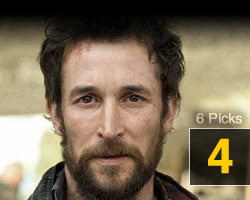 In its fairly well received—if a bit uneven—debut season last summer, Falling Skies proved to be a more enduring hit than that other, more expensive Steven Spielberg-produced sci-fi series that also launched last season, ranking as basic cable's top-rated new series in 2011. Skies stars Noah Wylie as the leader of a group of survivors after an alien invasion of Earth results in the elimination of much of the planet's human population. Kicking off Sunday with a two-hour premiere, the second season picks up immediately where last year's finale left off, with Wylie's Tom Mason voluntarily boarding an alien ship. In the coming weeks, expect to see a new mechanic character played by Brandon Jay McLaren (The Killing), while Lost's Terry O'Quinn will have a key guest-starring role in the final few episodes.
Join the resistance at the official show site.
Lollipop Chainsaw 360 Reviews PS3 Reviews

New game in stores Tuesday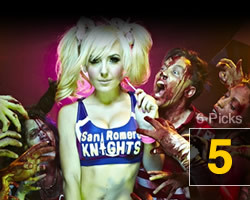 Are you ready for rainbows, sparkles, lollipops, and blood ... lots of blood? Tuesday's console release Lollipop Chainsaw is the latest insanely over-the-top action title from Goichi "Suda51" Suda (Shadows of the Damned, No More Heroes), and it centers on Juliet, a chainsaw-wielding high school cheerleader who must hack and slash her way against a horde of intelligent rock 'n' roll zombies who used to be her classmates. She does have some help from her sisters and her boyfriend Nick, though he's just a disembodied head who hangs from her skirt.
Learn more about the strawberry lollipop-loving, zombie-dismembering Juliet at the official site.
Bunheads Read Reviews

Series premiere Monday at 9p on ABC Family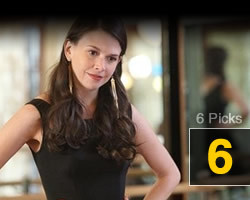 While videogames about zombie-hunting cheerleaders may appeal more to the average Metacritic visitor than shows about ballet instructors airing on ABC Family, if Bunheads is anywhere near as good as creator Amy Sherman-Palladino's previous series (Gilmore Girls), you may not want to overlook it. Like Gilmore, the new series centers on a headstrong young woman (here, that would be Tony-winning Broadway star Sutton Foster) who moves to a small town—in this case, to teach dance at a school run by her new mother-in-law (Gilmore Girls' Kelly Bishop) after getting married on a whim (to Ferris Bueller's Alan Ruck) while working as a showgirl in Las Vegas. This small town may be on the opposite side of the continent from Stars Hollow, but don't think that Sherman-Palladino's clever, mile-a-minute dialogue has been left behind.
Meet the Bunheads at the official show site.
Closing the book on last week
Most Popular Title on Metacritic
Prometheus

64

Week of 6/3-6/9
Weekend Box Office Champion (Estimated, U.S. only; source: Boxofficemojo.com)
Madagascar 3

59

$60.4 million; 1st week at #1
#1 Album on Billboard 200 (Source: Billboard.com/Nielsen SoundScan)
John Mayer: Born and Raised

73

2nd week at #1
Top-Rated Primetime Broadcast Show (Source: Nielsen)
America's Got Talent (NBC) [Tue]
11.5 million viewers; week of 5/28-6/3