The Newsroom Read Reviews

Series premiere Sunday at 10p on HBO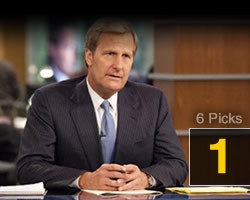 HBO's high-profile drama series (not to be confused with the great Canadian TV comedy of the same name) is the first cable endeavor for Emmy- and Oscar-winner Aaron Sorkin, creator of The West Wing and the screenwriter of films such as The Social Network and A Few Good Men. Like two of Sorkin's previous series, The Newsroom is a television show about television—in this case, the behind-the-scenes workings of fictitious 24-hour news network ACN—but let's hope it's more Sports Night than Studio 60 on the Sunset Strip. It doesn't hurt that he's assembled a top-notch cast that includes Jeff Daniels, Emily Mortimer, Sam Waterston, Olivia Munn, and Jane Fonda (in a role based on her ex-husband, Ted Turner), or that EGOT winner Scott Rudin is a producer. You can also expect an appearance from Social Network star Jesse Eisenberg in an early episode.
Get all the breaking news at HBO's official site.
Brave Read Reviews

In theaters Friday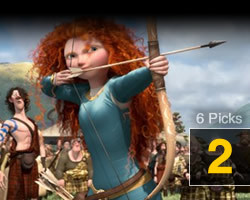 If early reviews are any indication, Brave could be the second straight Pixar film (following 2011's Cars 2 57, to disappoint critics, but, as with that film, those reviews shouldn't have any impact on the film's popular appeal. The story of a Scottish princess named Merida (voiced by Kelly Macdonald) whose independence—and an ill-conceived visit with a witch—threatens her mother's life is the first Pixar film to have a female lead as well as the first non-sequel to be released by Pixar since 2009's Up 88. The voice talent includes Emma Thompson as Queen Elinor, Billy Connolly as King Fergus, and Kevin McKidd, Robbie Coltrane, Julie Walters, and Craig Ferguson in supporting roles, and despite some qualms about the story, praise is abundant for the film's many visual and aural pleasures.
Test your archery skills at the official website.
The Idler Wheel... by Fiona Apple Read Reviews

New album in stores Tuesday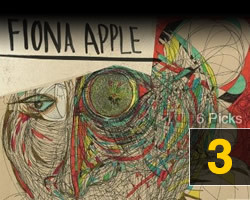 A new Fiona Apple album? It's true; this Tuesday brings the singer-songwriter's first release since 2005's Extraordinary Machine 84, though somehow The Idler Wheel Is Wiser Than The Driver Of The Screw, And Whipping Cords Will Serve You More Than Ropes Will Ever Do is only the second-longest album title of her career. Co-produced by Charley Drayton, the stylistically diverse but stripped-down new album (think piano, vocals, and sampled beats) is already receiving some of the best reviews for any release this year. A deluxe version of the album adds a bonus track and a DVD containing live footage from SXSW, though anyone wishing to see her live can also catch Apple on a North American tour beginning Tuesday.
There's no Apple store at the artist's official site, but you can find tour dates and more info about the album.
To Rome With Love Read Reviews

In limited release beginning Friday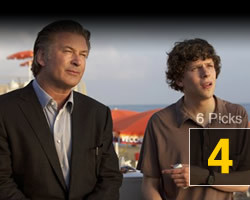 Woody Allen's late-career resurgence peaked last year with Midnight in Paris 81, which became the highest-grossing film of his career and garnered almost universal critical praise. So what does he do as a follow-up? He goes to another beautiful European city, puts together another great cast including Alec Baldwin, Penelope Cruz, Ellen Page, Greta Gerwig, Jessie Eisenberg, Roberto Benigni and Alison Pill, and writes four unconnected comedic vignettes. He titles the film The Bop Decameron, but then changes it to Nero Fiddled because no one knows what The Decameron is, and then changes it to To Rome with Love because no one knows why Nero fiddled. Allen also returns to acting for the first time since 2006's Scoop 48, but like that film, To Rome with Love isn't impressing critics so far.
Pack your bags and escape at the official website
Seeking a Friend for the End of the World Read Reviews

In limited release beginning Friday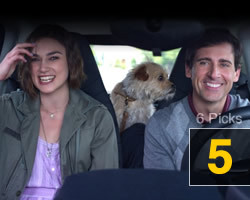 Screenwriter Lorene Scafaria (Nick and Norah's Infinite Playlist 64) makes her feature directing debut with this story of a soft-spoken insurance salesman (Steve Carell) and his outgoing neighbor (Kiera Knightly) who set out together to find his first love and her family before a 70-mile-wide asteroid hits the Earth. (Think of it as a much lighter Melancholia.) Carell was last seen in Crazy, Stupid, Love playing a similar character whose wife also left him, though in that case it wasn't asteroid-motivated. Knightly, on the other hand, was last seen playing the disturbed and intense Sabina Spielrein in A Dangerous Method. Participating in the end of the world craziness with them are Patton Oswalt, Rob Corddry, Gillian Jacobs, T.J. Miller, Rob Huebel, Connie Britton, Adam Brody, and William Petersen.
Check out what the cast would do before the world's end at the official website.
Pocket Planes Read Reviews

New iOS game available now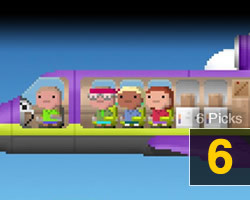 NimbleBit's successor to 2011's iPhone Game of the Year Tiny Tower landed in the iTunes store a few days ago, and it's looking like another casual gaming hit. Pocket Planes asks you to build an airline by ferrying passengers and cargo to airports around the world, and while the game may lack a wee bit of Tiny Tower's clever charm, it more than makes up for it with increased depth and complexity in its gameplay. Don't worry—it's still simple enough that it makes a good timewaster, though you'll find 1 or 2 minutes quickly turning into 9 or 10. Like its predecessor, the new game is free, and there's enough to keep you busy without resorting to in-game purchases.
Find out if bags fly free at the App Store.
Closing the book on last week
Most Popular Title on Metacritic
Lollipop Chainsaw (360)

69

Week of 6/10-6/16
Weekend Box Office Champion (Estimated, U.S. only; source: Boxofficemojo.com)
Madagascar 3

59

$35.5 million; 2nd week at #1
#1 Album on Billboard 200 (Source: Billboard.com/Nielsen SoundScan)
Adele: 21

76

24th week at #1 (1st consecutive)
Top-Rated Primetime Broadcast Show (Source: Nielsen)
America's Got Talent (NBC) [Tue]
12.6 million viewers; week of 6/4-6/10