Six Picks will be off next week for the July 4th holiday. As a result, this week's edition has selections for both this week and next week (including a bonus pick to tide you over).
Transformers: Dark of the Moon Read Reviews

In theaters Tuesday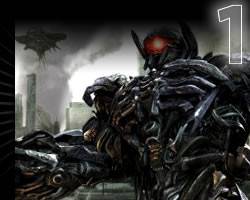 Director Michael Bay and executive producer Steven Spielberg are back with their attempt to make the world forget that 2009's critically disappointing Transformers: Revenge of the Fallen 35 ever happened. Transformers: Dark Side of the Moon, now opening in select theaters on Tuesday night, is about—well, does it really matter? Autobots battle Decepticons with Shia LaBeouf's Sam caught in the middle, now in 3D! Victoria's Secret model Rosie Huntington-Whiteley replaces Megan Fox in the new film, while Patrick Dempsey, John Malkovich, Ken Jeong, and Frances McDormand also join the cast along with Leonard Nimoy as the voice of Sentinel Prime; the actor previously voiced Galvatron in 1986's animated The Transformers: The Movie.
You won't find Megan Fox at the official website.
Curb Your Enthusiasm

Season 8 premieres next Sunday, July 10 at 10p on HBO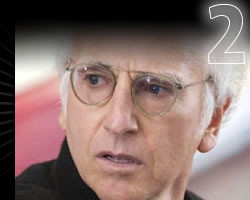 Everyone's favorite curmudgeon is finally back as Larry David returns for the eighth season of Curb Your Enthusiasm Sunday night, July 10th on HBO. This season finds Larry following up 2009's seventh season Seinfeld reunion with a long-overdue trip to New York City. There, Larry will interact with a bevy of guest stars including Michael J. Fox, Ricky Gervais, Rosie O'Donnell, Harry Hamlin, and Robert Smigel, and the upcoming season will also welcome back the always hilarious Leon Black (J.B. Smoove).
The official website is pretty, pretty good.
Horrible Bosses Read Reviews

In theaters next Friday, July 8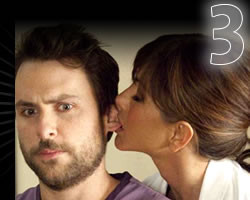 The summer of R-rated comedies (The Hangover Part II, Bad Teacher) rolls on with the release of Horrible Bosses. The film, released Friday, July 8th, is directed by Seth Gordon (The King of Kong: A Fistful of Quarters) and is about three dudes (Jason Bateman, Jason Sudeikis, and Charlie Day) who want to kill their respective horrible bosses (Jennifer Aniston, Kevin Spacey, and a bald-cap wearing Colin Farrell). Oddly enough, Kevin Spacey already played a horrible boss who tortures and is tortured by his assistant in 1994's excellent Swimming with Sharks. Bosses was co-written by Freaks and Geeks and Bones star John Francis Daley.
Visit the official website like a boss.
4 by Beyonce Read Reviews

New album in stores Tuesday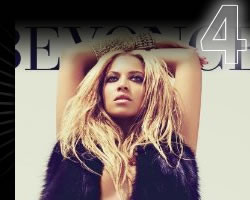 If Lady Gaga's Born This Way didn't satisfy your pop diva fix, enter Beyoncé Knowles' latest album. The singer's aptly titled fourth album 4, released Tuesday, was preceded by lead single "Run the World (Girls)" and has recently been followed by second single "Best Thing I Never Had." The 12-track album features production from a diverse crowd that includes The-Dream, Babyface, Kanye West, and Diplo. Largely MIA OutKast member André 3000 shows up on leaked single "Party." If you buy the album at Target, you'll get six extra tracks that include three B-sides and three remixes of "Run the World (Girls)".
All the single ladies and more can visit the official website.
Torchwood: Miracle Day

Season premiere next Friday, July 8 at 10p on Starz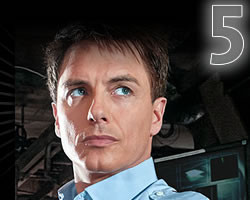 Dr. Who spinoff Torchwood has become nearly as beloved as its predecessor, and American fans will finally have bragging rights as the fourth series, Torchwood: Miracle Day will make its global debut in the United States next Friday on Starz. Torchwood's setting has also jumped to the States; the upcoming season was largely shot in Los Angeles. Captain Jack Harkness (John Barrowman) and Gwen Cooper (Eve Myles) will now face off with American co-stars Bill Pullman (Independence Day) and Mekhi Phifer (E.R.) and try to figure out why everyone on Earth has suddenly become immortal.
Torchwood on pay cable? See the miracle at the official website.
Larry Crowne Read Reviews

In theaters Friday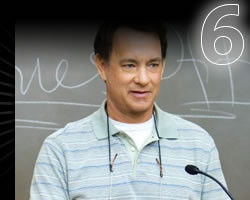 Tom Hanks' last foray into feature film directing was 1996's excellent That Thing You Do! and his last directorial TV job was for his HBO miniseries Band of Brothers in 2001. Well, Hanks is back behind and in front of the camera for Larry Crowne. Opening Friday, the film, co-written by Hanks and My Big Fat Greek Wedding star/writer Nia Vardalos, stars Hanks as a man who loses his job in middle age and goes back to college, while Julia Roberts plays the speech professor that he naturally falls for. Also appearing in the film are Bryan Cranston, Cedric the Entertainer, Rob Riggle, and Sulu himself, George Takei!
Take your scooter and motor to the official website.
Bonus Pick: Beats, Rhymes & Life Read Reviews

In limited release beginning next Friday, July 8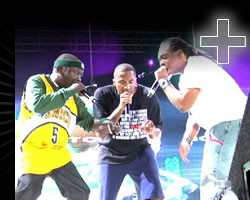 The legendary hip-hop group A Tribe Called Quest hasn't put out a new album since 1998's The Love Movement, and while they have occasionally performed together since 2004, the group members have been at odds with one another. Opening Friday, July 8th in limited release, Beats, Rhymes, and Life: The Travels of a Tribe Called Quest, a new documentary from actor (and now director) Michael Rapaport (True Romance) shows the band on tour in 2008 and documents the strife between the group's two top dogs, Q-Tip and Phife Dawg. Other artists like Beastie Boys, De La Soul, Common, and Santigold show up to discuss the group's awesomeness and influence.
Can you kick it at the official website? Yes you can!
Closing the book on last week
Weekend Box Office Champion (Estimated, U.S. only; source: Boxofficemojo.com)
Cars 2

58

$68.0 million; 1st week at #1
#1 Album on Billboard 200 (Source: Billboard.com/Nielsen SoundScan)
Bad Meets Evil: Hell: The Sequel

71

1st week at #1
Top-Rated Primetime Broadcast Show (Source: Nielsen)
America's Got Talent [Tue] (NBC)
12.6 million viewers; week of 6/13-6/19