Mad Men Read Reviews

Two-hour season premiere Sunday at 9p on AMC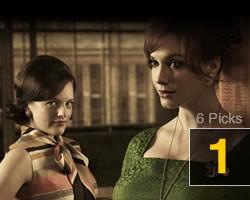 It has been 17 months since the last new episode of Mad Men, and after much-publicized contract negotiations between the AMC network and series creator Matthew Weiner, this Sunday finally sees the premiere of the fifth season of the acclaimed award-winning series. Little is known about the two-hour opener other than that—in typical Mad Men fashion—it will move the plot ahead from anywhere between a few months to a few years and will feature late-'60s advertising drama at a languorous pace. Sunday's oversized episode is titled "A Little Kiss" and is written by Weiner and directed by Jennifer Getzinger, reuniting the creative team responsible for last season's standout episode "The Suitcase." We've missed you Don, Peggy, Joan, Roger, and the gang… welcome back!
Have a cocktail at the official website.
The Hunger Games Read Reviews

In theaters Friday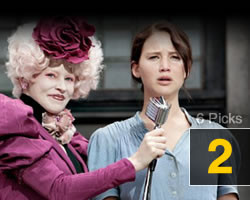 Suzanne Collins' smash post-apocalyptic YA novel trilogy is getting the big-screen treatment starting with Friday's The Hunger Games. The adaptation of the first book in the series was directed and co-written by Gary Ross (Seabiscuit) and stars Jennifer Lawrence (X-Men: First Class) as Katniss Everdeen, a participant in a future totalitarian regime's deadly televised spectacle in which other young "tributes" must fight and kill to stay alive. Katniss is good with a bow and arrow and catches the interest of two young men, her longtime friend and hunting partner Gale (Liam Hemsworth) and her fellow contestant Peeta (Josh Hutcherson), a baker's son. Katniss' boozed-up mentor Haymitch Abernathy is played by the perfectly cast Woody Harrelson; the rest of the cast includes Stanley Tucci, Elizabeth Banks, Wes Bentley (we've missed you), and Lenny Kravitz. Despite the novel's overt political themes and unromanticized violence, the movie is being positioned as the next Twilight, which is inevitable, but these books are actually quite good; with luck, the movie will be too.
Rue the day at the official website.
Battle Royale

DVD/Blu-ray editions in stores Tuesday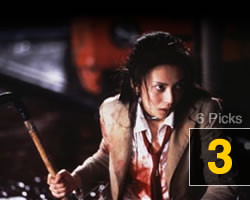 Perfectly timed to coincide with similarly themed The Hunger Games hitting theaters, the 2000 Japanese cult classic Battle Royale is finally hitting DVD and Blu-ray for the first time in the United States (if you don't already have a bootleg copy, that is). The adaptation of Koushun Takami's acclaimed 1999 novel of the same name follows a class of teenage students who compete in a government-run game in which they must kill each other to survive and ultimately win. Fans of Quentin Tarantino's Kill Bill will recognize that movie's Gogo (Chiaki Kuriyama), who was cast after Tarantino fell in love with Battle Royale. The film also stars legendary actor/director Takeshi "Beat" Kitano (Brother). The Blu-ray/DVD release includes a bunch of new extras and can even be purchased in a box set that adds the lesser sequel Battle Royale II: Requiem as well as an alternate version of the original.
Keep your friends and enemies close at the official website.
Port of Morrow by The Shins Read Reviews

New album in stores Tuesday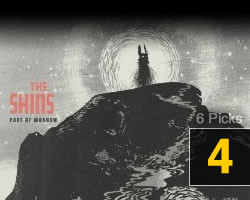 After effectively firing most of his band, saying goodbye to longtime label Sub Pop, and finding success as a part of Broken Bells (along with Danger Mouse), Shins frontman James Mercer is back with a new full-length album. The 10-song Port of Morrow comes out Tuesday and follows the band's recent performance on SNL. Lead single "Simple Song" hints at a bigger, possibly more mainstream sound that's perfectly in line with their new major label, Columbia. The new lineup will be on the road in the U.S. in April, including a two-weekend stop at this year's Coachella.
Sing more simple songs at the official website.
The Raid: Redemption Read Reviews

In limited release beginning Friday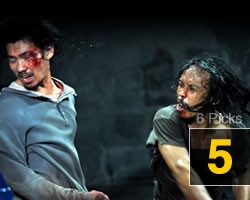 Opening Friday in a handful of American theaters (with more coming next week) is The Raid: Redemption, the Indonesian action film that has been receiving strong buzz since its world premiere at the Toronto International Film Festival last year. The hyperkinetic film is directed by Welsh director Gareth Evans, who teams with fight choreographers Yayan Ruhian and Iko Uwais in the Die Hard-esque tale of action taking place in a claustrophobic building. Instead of a shoeless man against a team of bad guys, The Raid has a crime unit infiltrate an apartment building to take down a drug kingpin, only to get caught in a safe house that stores Jakarta's worst criminals. Thanks to the positive reception from fans so far, a pair of sequels are in the works.
Put on riot gear at the official website, where you can get a list of release dates and cities.
Kid Icarus: Uprising Read Reviews

Nintendo 3DS game in stores Friday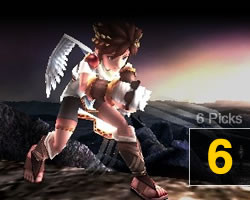 Old-school Nintendo fans have long been waiting for a true follow-up to the 8-bit classic Kid Icarus, and 25 years after that original game (a Game Boy sequel Kid Icarus: Of Myths and Monsters was released in 1991), Kid Icarus: Uprising arrives Friday for the Nintendo 3DS. The biggest noticeable change is that the game is not a side-scrolling adventure title but rather 3D shooter that features air and land missions for lead character Pit to battle in. In addition to the single-player experience gamers have been waiting for, there's also a nifty multiplayer mode that will please next-gen gamers.
Flap your wings at the official website.
Closing the book on last week
Most Popular Title on Metacritic
Mass Effect 3 (PC)

91

Week of 3/11-3/17
Weekend Box Office Champion (Estimated, U.S. only; source: Boxofficemojo.com)
21 Jump Street

69

$35.0 million; 1st week at #1
#1 Album on Billboard 200 (Source: Billboard.com/Nielsen SoundScan)
Bruce Springsteen: Wrecking Ball

76

1st week at #1
Top-Rated Primetime Broadcast Show (Source: Nielsen)
American Idol [Wed] (Fox)
18.7 million viewers; week of 3/5-3/11