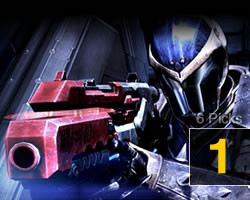 The second sequel to BioWare's expansive RPG action series finally arrives on Tuesday, concluding the acclaimed Mass Effect trilogy. As with Mass Effect 2, players will be able to load in their saved data files from the first two games and that information will alter how the final game takes shape. In addition to the main story mode, in which you'll learn the fate of Commander Shepard, you'll be able to play three-player co-op with the "Galaxy at War" multiplayer mode. The game will be available in several different versions, all featuring unique bonus content and downloads (and PS3 owners won't have to wait a year to get their version this time). In a cool promotion, EA sent up weather balloons that contained GPS tracking devices and advance copies of the game. If you could track down the balloons after they'd fallen, a full copy of the game was yours.
The third time's the charm at the official website.
John Carter Read Reviews

In theaters Friday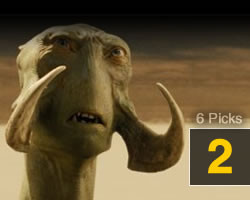 Fans have been waiting for years for a popular hero to hit the big screen. This Friday, Riggins (Taylor Kitsch) from Friday Night Lights finally leads a cinematic adventure as the title character of John Carter. The Disney-produced adaptation of Tarzan creator Edgar Rice Burroughs' century-old Barsoom series of books about a Confederate soldier who is transported to Mars is brought to the screen by Finding Nemo and WALL•E director Andrew Stanton in his first live action movie, following in the footsteps of fellow Pixar director Brad Bird (The Incredibles), who had a big hit just a few months ago with Mission: Impossible - Ghost Protocol. The very expensive John Carter also stars Lynn Collins, Willem Dafoe, Samantha Morton, Thomas Haden Church, Mark Strong, and Dominic West.
Get your ass to Mars at the official website.
Wrecking Ball by Bruce Springsteen Read Reviews

New album in stores Tuesday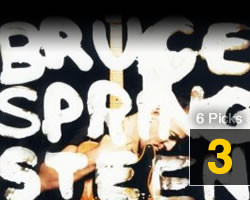 This Tuesday sees the release of Bruce Springsteen's 17th album, Wrecking Ball. The 11-song album (the special edition of the album includes two extra tracks) is Springsteen's first since the passing of his longtime collaborator, saxophonist Clarence Clemons, and the album includes two of Clemons' last contributions: title track "Wrecking Ball" and "Land of Hope and Dreams." Even though the E Street Band aren't specifically listed on the album, several members are featured throughout, as are guests Tom Morello and drummer to the stars Matt Chamberlain. Inspired by Occupy Wall Street, the album is being poised as a comment on our economically tough times.
Grab your guitar like a boss at the official website.
Game Change Read Reviews

Made-for-HBO movie debuts Saturday at 9p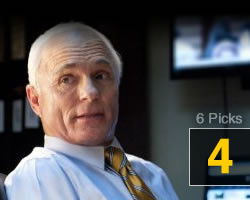 Saturday night sees the debut of Game Change, HBO's adaptation of John Heilemann and Mark Halperin's book about the 2008 presidential election. While the book covered Obama, the Clintons, John Edwards, John McCain, and Sarah Palin, the movie focuses primarily on the McCain camp's selection of Sarah Palin as a running mate. The Recount team of director Jay Roach (Dinner for Schmucks) and writer Danny Strong (Jonathan from Buffy the Vampire Slayer!) reunite for the film, which stars Julianne Moore as Sarah Palin, Ed Harris as McCain, and Woody Harrelson as McCain's senior campaign strategist Steve Schmidt, whose idea it is to select the flashy yet insubstantial Sarah Palin as a vice presidential candidate. Expect plenty of Emmy nominations.
Change is the name of the game at the official website.
South by Southwest

Film and interactive festivals start Friday in Austin, TX; music festival starts 3/13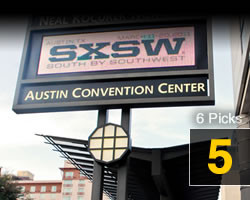 The long-running Austin, Texas festival South by Southwest kicks off its 2012 iteration this Friday with the film festival portion, which runs through March 17th. SXSW will see the world premieres of 21 Jump Street, Joss Whedon and Drew Goddard's long-delayed The Cabin in the Woods, and oddly enough, Tiny Furniture director Lena Dunham's new HBO television series Girls. (Perhaps we'll see a third TV festival next year?) The better-known music portion of SXSW kicks off next week on the 13th and will include performances by Erykah Badu, The Ting Tings, The Drums, Built To Spill, Nas, The Magnetic Fields, Neon Indian, The Wedding Present, and many more, including Bruce Springsteen, who will be lecturing as well as playing an intimate show to promote his new album.
There's so much to see and hear at the official website.
Friends with Kids Read Reviews

In theaters Friday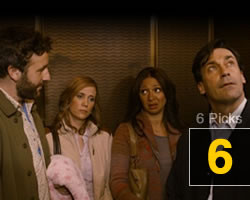 Opening Friday in limited release is the ensemble comedy Friends with Kids. The film comes from Kissing Jessica Stein star Jennifer Westfeldt, who produced, wrote, and directed a cast that includes herself, Adam Scott, Ed Burns, Megan Fox, and much of the Bridesmaids cast, including Maya Rudolph, Kristen Wiig, Chris O'Dowd, and Westfeldt's real-life partner, Jon Hamm. The movie focuses on the two last single people in a group of friends (Scott and Westfeldt), who decide to have a child together while maintaining a platonic relationship and dating other people in the process. Surely hijinks ensue when the two soon-to-be parents realize their plan isn't as easy as they thought it would be.
Get friendly at the official website.
Closing the book on last week
Most Popular Title on Metacritic
SSX (360)

83

Week of 2/26 - 3/3
Weekend Box Office Champion (Estimated, U.S. only; source: Boxofficemojo.com)
The Lorax

47

$70.7 million; 1st week at #1
#1 Album on Billboard 200 (Source: Billboard.com/Nielsen SoundScan)
Adele: 21

76

22nd week at #1 (9th consecutive)
Top-Rated Primetime Broadcast Show (Source: Nielsen)
84th Annual Academy Awards (ABC)
39.3 million viewers; week of 2/20-2/26