Moonrise Kingdom Read Reviews

In theaters Friday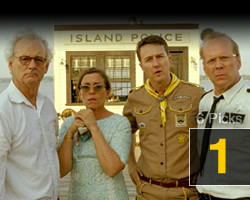 Wes Anderson's latest has already made a splash at Cannes, with critics almost unanimously praising the film. Conventional wisdom suggests that if you loved Anderson's films in the past, then you'll love this one too. And for those not yet convinced, you might want to give him two more hours of your time anyway. Taking place in 1965 on New Penzance Island, Moonrise Kingdom focuses on the love of two kids, Sam (Jared Gilman) and Suzy (Kara Hayward), who run away together, inciting a community-wide search. Hot on their trail are Edward Norton as a scout master, Bruce Willis as a police captain, and Suzy's bickering mom and dad (Frances McDormand and Bill Murray). It looks like another winner from one of America's most distinct cinematic voices.
Join the Khaki Scouts and explore New Penzance Island at the official website
The Eric Andre Show

Series premiere tonight (aka Monday morning) at 12:30am on Adult Swim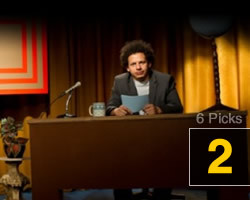 These days, describing any of Adult Swim's live-action offerings as "surreal" seems redundant, but that's the word the network itself is using to describe its new weekly talk show (or rather, satirical deconstruction of a talk show). "Chaotic" is another word to describe The Eric Andre Show (debuting late tonight), which features "inept and bipolar" host Eric Andre (Don't Trust the B---- in Apt. 23) and his "apathetic" sidekick Hannibal Buress (a stand-up comedian and writer for 30 Rock) on a set straight out of public access television as they interview both real and fake celebrities while the show falls apart around them. Andre himself describes the series as a live-action version of Space Ghost Coast to Coast (with Tom Green and Fernwood 2 Night serving as additional influences), which should be enough encouragement for any longtime Adult Swim fan.
Get a better idea of the show's tone by watching some mini episodes at Adult Swim.
Men in Black 3 Read Reviews

In theaters Friday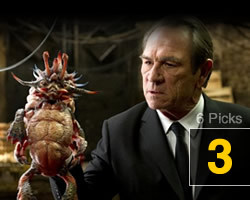 It has taken eight years and way more than eight rewrites to get Men in Black 3 into theaters, but with a franchise as lucrative as this one (Men in Black 71 and Men in Black II 49 combined to gross more than a billion), a third installment was basically inevitable. This time around, Will Smith's Agent J must travel back in time to 1969 to prevent the assassination of Tommy Lee Jones's Agent K at the hands of Boris the Animal (Jemaine Clement). Josh Brolin does his best Jones impersonation as the young Agent K, while Alice Eve plays the younger version of Agent O (Emma Thompson in the original timeline). Barry Sonnenfeld returns to feature directing for the first time since 2006's RV 33, and the 3D film also boasts over 100 aliens created by Rick Baker.
Time jump off the Chrysler Building at the official website.
House

Series finale airs Monday at 9p on Fox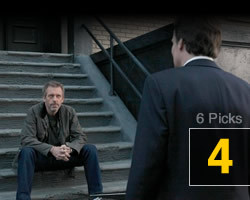 "Everybody Dies" is the title of Monday's series-ending episode of Fox's long-running medical drama House, serving as a bookend to the 2004 series premiere "Everybody Lies." Preceded by a one-hour clip show ("Swan Song") at 8p, the finale—directed by series creator David Shore—is expected to bring back many of the show's departed regulars, including Jennifer Morrison (Cameron), Olivia Wilde (Thirteen), Amber Tamblyn (Masters), and even Kal Penn (the deceased Kutner). Just don't expect a "Huddy" reunion; Lisa Edelstein will not be among those returning. There's plenty of speculation about just who the "everybody" in the title refers to, so avoid the internet (after you finish reading this article) if you don't like spoilers.
The doctor is in at the official show site.
Tom Clancy's Ghost Recon: Future Soldier PS3 Reviews 360 Reviews

New game in stores Tuesday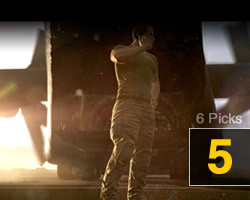 While early versions were released in 2010 for the Wii and PSP (under slightly different names), the fourth major installment in the tactical shooter franchise finally arrives for the major consoles on Tuesday. (An on-again, off-again PC version is on again, but not until June 12th.) As its title implies, the globe-trotting Future Soldier takes place in the near future, and finds your Ghost team trying to recover from a dirty bomb attack. The full game is playable with up to four people in co-op mode, and there are a ton of customization options for your weapons. The 360 version is also Kinect enabled.
The future is already here at the official game site.
Not Your Kind of People by Garbage Read Reviews

New album in stores Tuesday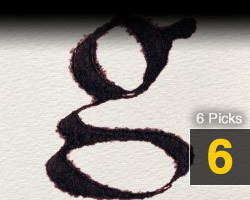 '90s nostalgia is currently all the rage, and Garbage have returned seven years after their last original album, Bleed Like Me 56, to bask in the retro spotlight. The band's new fifth album, Not Your Kind of People, finds singer Shirley Manson and band members Butch Vig, Duke Erikson, and Steve Marker firmly embracing their alt-rock roots and their pop/industrial/electro sound as heard in lead single "Blood for Poppies" (video below). While some music fans are excited to have a chance to pick up some new Garbage, reviews are decidedly mixed so far, with some critics finding the disc dated and/or lacking enough solid tunes.
On Tuesday, MTV will also stream a live performance by Garbage in New York at 9p ET.
Closing the book on last week
Most Popular Title on Metacritic
Diablo III (PC)

88

Week of 5/13-5/19
Weekend Box Office Champion (Estimated, U.S. only; source: Boxofficemojo.com)
The Avengers

69

$55.1 million; 3rd week at #1
#1 Album on Billboard 200 (Source: Billboard.com/Nielsen SoundScan)
Carrie Underwood: Blown Away

71

2nd week at #1
Top-Rated Primetime Broadcast Show (Source: Nielsen)
NCIS (CBS)
18.2 million viewers; week of 5/7-5/13