Snow White and the Huntsman Read Reviews

In theaters Friday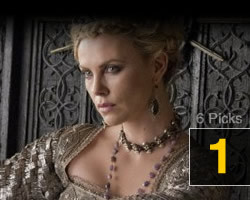 Mirror Mirror 46 didn't excite critics or moviegoers, and Disney recently scrapped Order of the Seven, its own update of the Snow White fairy tale. That leaves this week's Snow White and the Huntsman to prove that classic tales can excite audiences anew. Commercial director Rupert Sanders makes his feature debut with this effects-heavy re-imagining in which evil Queen Ravenna (Charlize Theron) hires Thor (well, Chris Hemsworth, as the Huntsman) to find and kill Snow White, played by Bella Swan herself, Kristen Stewart. The Queen's plan takes a turn, however, when the big lug has a change of heart and decides to join Snow White as she fights to take her rightful place on the throne. Don't worry; the dwarfs have not been forgotten; they're played here by shrunken versions of Ian McShane, Bob Hoskins, Toby Jones, Ray Winstone, and Nick Frost.
Escape the Dark Forest and take back your kingdom at the official website
Hemingway and Gellhorn Read Reviews

TV movie debuts Monday at 9p on HBO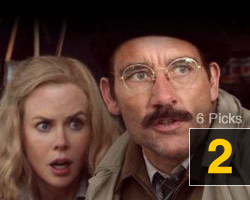 HBO's latest star-studded original film seems destined for Emmy nominations; the movie depicts the up-and-down romance between writer Ernest Hemingway (Clive Owen) and war correspondent Martha Gellhorn (Nicole Kidman) in the 1930s and '40s, including their time spent covering the Spanish Civil War together. Too bad the early reviews suggest that awards should not be in Hemingway and Gellhorn's future. Directed by Phillip Kaufman (The Unbearable Lightness of Being) and co-written by Jerry Stahl (Permanent Midnight), Hemingway & Gellhorn also stars Parker Posey, David Strathairn, Molly Parker, Peter Coyote, and Tony Shalhoub. Oddly, despite taking place in Key West, Spain, Cuba, and China, it was filmed entirely in and around San Francisco.
If you are on the fence, there are plenty more preview videos at the official site.
MTV Movie Awards

Ceremony airs live Sunday at 9p on MTV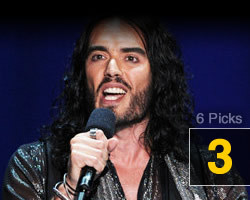 Sunday night, Russell Brand hosts the 2012 installment of MTV's annual movie honors, now in its 21st year. Crowd-pleasers like Bridesmaids, The Hunger Games, and Harry Potter and the Deathly Hallows: Part 2 are among the nominees for movie of the year, while categories like "Best On-Screen Dirt Bag," presenters such as Adam Sandler, Kristen Stewart, Channing Tatum, Mila Kunis, and Andy Samberg, and performances by fun. and Wiz Khalifa should make the proceedings a little less staid than the Oscars. Of course, you'll really just be tuning in to see the "exclusive new footage" from The Dark Knight Rises that will be included in the broadcast.
Get a full list of this year's contenders for the golden popcorn at the official site.
Hatfields & McCoys Read Reviews

Miniseries begins Monday at 9p on History Channel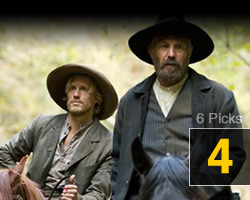 America's most infamous (and possibly most bloody) family rivalry—the long-running feud between the Hatfields and the McCoys—comes to the History Channel in an original three-part miniseries that kicks off on Memorial Day (with the two remaining chapters following on Tuesday and Wednesday, all at 9p). Kevin Costner, who also produces, stars as the head of West Virginia's Hatfield clan, while Bill Paxton plays his former Civil War buddy turned Kentucky rival Randall McCoy. Tom Berenger, Powers Boothe, and Mare Winningham also star, and the series is directed by frequent Costner collaborator Kevin Reynolds. Reynolds and Costner are no stranger to feuds themselves, though they seem to have patched up their differences since the disaster that was Waterworld.
It's time to play the family feud at the official miniseries site.
Home

New PC game on sale Friday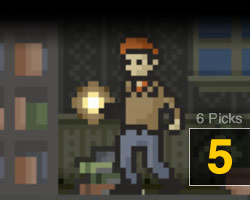 It seems that with every major PC game release these days, there is a major backlash from gamers who feel that the final product doesn't live up to the expectations created by, among other things, a $60 price tag (see, e.g., Diablo III). If you fall into that group, perhaps what you need is a smaller-scale title that didn't take hundreds of people, millions of dollars, and many years to develop ... something like this week's indie game Home, which comes from the mind of a single developer (Benjamin Rivers) and costs all of $2 to download. A choose-your-own-adventure-style horror title, Home features a charming pixel-art visual style, a murder mystery storyline, and gameplay that asks players to think rather than shoot. Fans of Lone Survivor should immediately find something to like here, but the game seems unlikely to cause buyer's remorse for anyone who downloads it.
Learn more about the game at Home's home, aka the official site.
Heaven by The Walkmen

New album in stores Tuesday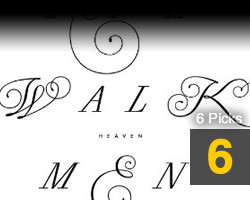 The Walkmen follow up their acclaimed 2010 album Lisbon 83 this week with their fifth album, Heaven. The band is celebrating the 10-year anniversary of their debut Everyone Who Pretended to Like Me Is Gone with the release, and a decade in, The Walkmen just keep getting better and better. Produced by Phil Ek (The Shins, Modest Mouse), the new album features Fleet Foxes vocalist Robin Pecknold on several tracks. The quality of advance tracks "Heaven" and "Heartbreaker" was not an aberration; reviews are already looking strong for the album as a whole, which Pitchfork describes as "gloriously pretty."
Listen to Heaven in its entirety prior to Tuesday at NPR or get the latest tour dates at the band's official site.
Closing the book on last week
Most Popular Title on Metacritic
Diablo III (PC)

89

Week of 5/20-5/26
Weekend Box Office Champion (Estimated, U.S. only; source: Boxofficemojo.com)
Men in Black 3

58

$55.0 million; 1st week at #1
#1 Album on Billboard 200 (Source: Billboard.com/Nielsen SoundScan)
Adam Lambert: Trespassing

80

1st week at #1
Top-Rated Primetime Broadcast Show (Source: Nielsen)
NCIS (CBS)
19.1 million viewers; week of 5/14-5/20