Dark Shadows Read Reviews

In theaters Friday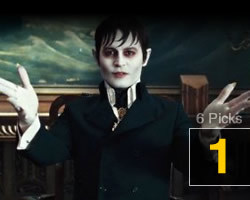 After six live-action collaborations over two decades, Tim Burton and Johnny Depp make it seven with this re-imagining of Dark Shadows, the cult TV show from the late 60s and early 70s. In this version of the story, Barnabas Collins (Depp), who two centuries earlier was turned into a vampire and buried alive, is unearthed in 1972 to find his beloved home and family in a poor state. As he adapts to this new world and attempts to help his floundering family (including Michelle Pfeiffer, Johnny Lee Miller, and Chloe Moretz), Barnabas must resist the advances of the witch (Eva Green) who originally cursed him. The comedic tone of the script from Abraham Lincoln: Vampire Hunter author Seth Grahame-Smith might surprise fans of the original gothic melodrama, but maybe it will please critics more than 2010's Alice in Wonderland 53, the lowest-scoring film for the team of Burton and Depp (though also their highest grossing).
Get to know the Collins family at their official website.
Desperate Housewives

Series finale airs Sunday at 9p on ABC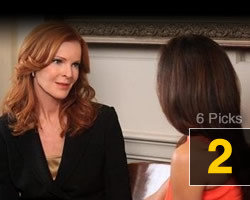 It's time to say goodbye to the residents of Wisteria Lane. Sunday night brings the final, two-hour episode of Desperate Housewives, wrapping up an eight-year run on ABC that brought highs and lows, with viewership dropping considerably in recent seasons after the series established itself as a major hit in the early going. Perhaps lapsed fans will return to [spoiler alert!] welcome back Dana Delany's Katherine Mayfair character for the first time in two seasons, see Renee (Vanessa Williams) marry Ben (Charles Mesure) and Bree (Marcia Cross) considering tying the knot as well, watch Julie (Andrea Bowen) give birth, or view the aftermath of Tom and Lynette's (Doug Savant and Felicity Huffman) reunion. Star Eva Longoria describes the finale as a "satisfying ending" to the soapy drama.
Drive down Wisteria Lane one last time at ABC's official show site.
God Bless America Read Reviews

In limited release beginning Friday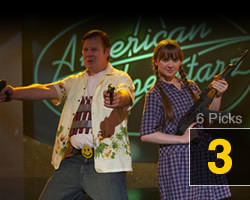 Bobcat Goldthwait's films as writer and director (Shakes the Clown, Sleeping Dogs Lie 63, World's Greatest Dad 69) have always tended toward the taboo, but with his latest, God Bless America, he goes all the way. The film follows the divorced, jobless, and terminally ill Frank (Joel Murray) as he goes on a killing spree targeting people he believes deserve to die—the intolerant, the cruel, the selfish, the stupid, and, of course, reality stars. Joining him on his rampage is Roxy (Tara Lynn Barr), a high school student who shares his feelings about the world. The dark comedy might not be to everyone's taste, but those who share the protagonists' views might enjoy living vicariously through them for a hundred minutes or so.
Share your fury with the state of popular culture at the official website.
EP's 1988-1991 by My Bloody Valentine

New album in stores Monday (available as an import in the U.S.)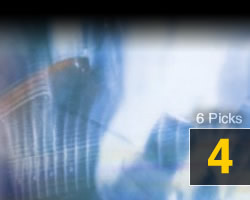 You can't mention the word "shoegaze" without thinking of My Bloody Valentine, the Irish band led by guitarist Kevin Shields that all but established the genre with their swirling, distortion-heavy (and, in person, louder than a jet engine) guitar rock in the 1980s and early 1990s. This week (in the UK, at least) brings remastered reissues of their two full-length albums, 1988's Isn't Anything and the 1991 classic Loveless, the latter with a bonus disc containing an alternate mix. Even more exciting, however, is the double-disc EP's 1988-1991, a new compilation of rarities and EP tracks (like the great "You Made Me Realise" and "Slow") that have been notoriously hard to find in print in recent years, as well as three never-before-heard songs. Shields has also reported in recent weeks that he is nearly finished with MBV's elusive third album, which could finally arrive later this year.
Stream the reissue of Loveless at The Guardian or listen to one of those three previously unreleased tracks, the atypically poppy "Good for You," at Pitchfork.
Minecraft: Xbox 360 Edition Read Reviews

Released Wednesday on Xbox Live Arcade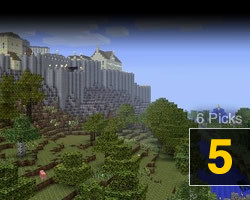 Will Xbox owners take to the pixilated open-world construction game Minecraft the way PC users have over the past few years? Find out on Wednesday when the game's 360 edition arrives in Xbox Live Arcade. The low-res indie game hit is coming to the console to take advantage of the Kinect (eventually, but not at launch), though the 360 version of Minecraft will be mostly similar to its PC cousin (if a bit more limited), and includes a useful crafting table tool to quickly call up recipes and build items instantly. And, since it's a downloadable game, it will get frequent (and free) updates like the PC version.
Mine the official site for more information.
Neck of the Woods by Silversun Pickups Read Reviews

New album in stores Tuesday
Los Angeles-based alt-rockers Silversun Pickups—frequently compared to the Smashing Pumpkins, thanks to a similar fondness for distortion—return with their third album on Tuesday. While their 2009 sophomore set Swoon 64 didn't blow away critics, it did manage to earn the band a Grammy nomination for best new artist (with "new" being a relative term in Grammyland). This week's Neck of the Woods finds famed producer Jacknife Lee behind the boards, and either his influence, or a bit of artistic growth (or both) has generated improved results this time around, though don't expect a major change in sound.
Find tour dates and more info at the band's official site, or stream the entire album below:
Closing the book on last week
Most Popular Title on Metacritic
The Avengers

69

Week of 4/29-5/5
Weekend Box Office Champion (Estimated, U.S. only; source: Boxofficemojo.com)
The Avengers

69

$200.3 million (all-time record); 1st week at #1
#1 Album on Billboard 200 (Source: Billboard.com/Nielsen SoundScan)
Jack White: Blunderbuss

84

1st week at #1
Top-Rated Primetime Broadcast Show (Source: Nielsen)
Dancing with the Stars (ABC)
17.6 million viewers; week of 4/23-4/29