The Descendants Read Reviews

In theaters Wednesday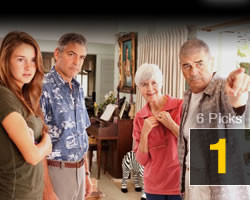 Award season is now in full swing and one of the fall's most anticipated films, The Descendants, opens Wednesday. The first full-length feature from writer/director Alexander Payne since his critically acclaimed Sideways in 2004 is already receiving strong praise and stars George Clooney as a husband and father of two daughters living in Hawaii who must grapple with tragedy and parenthood in a seemingly beautiful locale. The dramedy is adapted from the novel by Kaui Hart Hemmings with a screenplay co-written by Payne, Jim Rash (Community's Dean Pelton), and Nat Faxon.
Have an emotional luau at the official website.
The Legend of Zelda: Skyward Sword Read Reviews

New Wii game in stores Sunday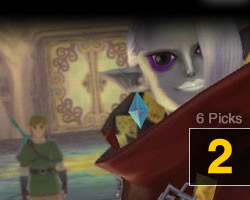 It's been five long years since Wii launch title The Legend of Zelda: Twilight Princess received unanimous acclaim. But Sunday sees the release of the latest Zelda adventure, The Legend of Zelda: Skyward Sword. The game is a prequel to Nintendo 64's The Legend of Zelda: Ocarina of Time and lays an even stronger foundation for the series. Wii owners who purchased Wii MotionPlus add-ons for their controllers years ago (and hardly used them) will be happy to know that the sword combat in the new game is greatly enhanced with the device. The nearly 40-hour quest is filled with dungeons, treasure chests, and memorable themes; it caps off the 25th anniversary of Zelda with style.
Dust off your Wii at the official website.
Take Care by Drake Read Reviews

New album in stores Tuesday
Canadian rapper and former Degrassi: The Next Generation star (what up Jimmy Brooks?) returns with his sophomore album Take Care on Tuesday. The album features previously released singles "Make Me Proud" and "Headlines," and advance reviews seem to indicate that it's an improvement over his Thank Me Later debut. Drake has brought in an impressive list of guest performers, including André 3000, Lil Wayne, Nicki Minaj, Rick Ross, Rihanna, indie breakout The Weeknd, and producer Jamie xx (of The xx) who incorporates the recently departed Gil-Scott Heron into the title track.
Get Auto-Tuned at the official website.
The Twilight Saga: Breaking Dawn Pt. 1 Read Reviews

In theaters Friday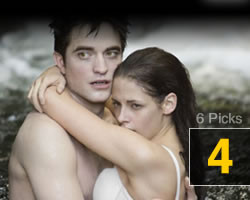 Twi-Hards unite! After a year and a half wait, the Twilight Saga returns to theaters Friday with the first part of the epic two-part film finale. The Twilight Saga: Breaking Dawn Pt. 1 is directed by award magnet Bill Condon, who made his name with Gods and Monsters and Dreamgirls. It should be interesting to see what he does with the series' most bizarre development yet (SPOILER ALERT), Bella's pregnancy! OMFG! After their nuptials, Edward (Robert Pattinson) and Bella (Kristen Stewart) head to Rio de Janeiro for their honeymoon, while Jacob is (SPOILER) jealous. The movie opens Friday, and advance ticket sales have been brisk, so you may as well get in line now. And then get prepared for another long wait; the concluding Breaking Dawn Pt. 2 isn't scheduled for release until November 16th, 2012.
Love sucks, bites, and bruises at the official website.
Woody Allen: A Documentary
Two-part series debuts on PBS' American Masters on Sunday at 9p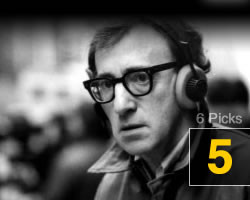 After scoring his most financially successful movie this past May with Midnight in Paris, writer/director Woody Allen is now the subject of a two-part PBS American Masters documentary. Beginning Sunday and concluding Monday on most PBS stations, Woody Allen: A Documentary (directed by Curb Your Enthusiasm director/producer Robert B. Weide) is an overview of the funnyman's career that includes new interviews with actors Diane Keaton, Scarlett Johansson, Chris Rock, Dianne Wiest, Owen Wilson, Sean Penn, Larry David, and several of Allen's collaborators and buddies such as Martin Scorsese and Dick Cavett. We're guessing this lovefest focuses on Allen's work and avoids some of the thornier aspects of his personal life.
Start gushing at the official website.
Camp by Childish Gambino

New album in stores Tuesday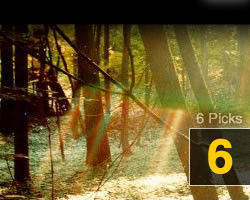 Childish Gambino is the rapping alter ego of comedian and Community co-star Donald Glover. If you're expecting the sweetness of Glover's TV character Troy Barnes, you'll likely be caught off-guard by his combination of nerdy and dirty hip-hop. His new album Camp, released Tuesday, features Kanye West-esque production and flow and is crossed with a horny and hip eye towards indie music and sly pop-culture references. If a whole album of Glover isn't enough for you, then check out his new one-hour stand-up special, Donald Glover: Weirdo, airing on Comedy Central Saturday night at 11p.
Get your merit badge at the official website, or stream the album (until Tuesday) at NPR.
Closing the book on last week
Weekend Box Office Champion (Estimated, U.S. only; source: Boxofficemojo.com)
Immortals

65

$32.0 million; 1st week at #1
#1 Album on Billboard 200 (Source: Billboard.com/Nielsen SoundScan)
Justin Bieber: Under the Mistletoe
1st week at #1
Top-Rated Primetime Broadcast Show (Source: Nielsen)
Sunday Night Football (NBC)
22.1 million viewers; week of 10/31-11/6