Shame Read Reviews

In limited release beginning Friday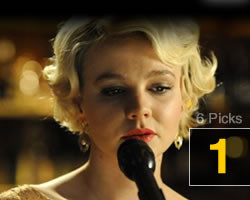 After premiering at the Venice Film Festival and impressing audiences at subsequent festival screenings at Toronto, New York, and BFI London, acclaimed director Steve McQueen's sexually charged NC-17 drama opens in limited release in theaters this Friday. Shame reunites McQueen with his Hunger star Michael Fassbender, who now plays a NYC-based financier by day and sex addict by night whose younger aspiring singer sister (Carey Mulligan) moves in with him after his sexual escapades escalate and they recall their painful past.
Go full frontal at the official website.
Infinity Blade II Read Reviews

New iOS game available beginning Thursday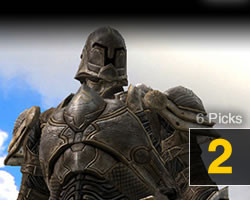 Not only has Apple taken a large bite out of the cellphone market, the company has also dominated the handheld gaming market with both the iPhone and the iPad devices surpassing those of once dominant Nintendo. One of the most popular games for the iOS is the one-on-one sword combat game Infinity Blade from Shadow Complex developers Chair, and its sequel, Infinity Blade II, comes out on Thursday. The new game is longer and has a deeper story, enhanced combat, better graphics, and more player customization. Thank you, Chair; now where's Shadow Complex 2?
Take a swing at the official website.
Grammy Nominations Concert

Live broadcast Wednesday at 10p on CBS (tape-delayed on West Coast)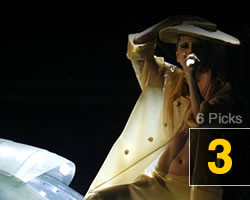 The Grammy awards aren't happening until February 12th, 2012, but this Wednesday you can watch the nominations revealed live along with performances from possible nominees. Airing on CBS, The Grammy Nominations Concert Live!! is hosted by NCIS: Los Angeles star and hip-hop legend LL Cool J and features performances by Lady Gaga, Jason Aldean, Ludacris, Sugarland, and Lupe Fiasco. The show will be broadcast live from the Nokia Theatre in Los Angeles.
Go Gaga at the official show website.
Trek Nation

New documentary premieres Wednesday at 8p on Science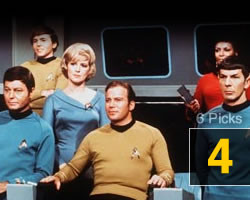 With Star Trek 2 recently getting a release date of May 13th, 2013, Trekkers will have to wait a long time to get a big-screen Trek fix. Luckily, the two-hour documentary Trek Nation premieres this Wednesday on the Science Channel. Focusing on Star Trek creator Gene Roddenberry's son Rod Roddenberry's attempt to make sense of the impact that his father's franchise has had on fans and celebrities for nearly 40 years, the doc features interviews with George Lucas, Stan Lee, J.J. Abrams, Dennis Rodman (!), Wil Wheaton, and many more.
Obey the prime directive at the official website.
Outrage Read Reviews

In limited release beginning Friday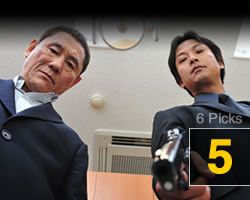 Japanese quadruple threat writer/director/actor/editor Takeshi Kitano (aka "Beat" Takeshi) returns to the Yakuza genre that first put him on the map in the States. His latest film, Outrage covers the same thematic ground as his past films Fireworks and Brother, but this time sees the Yakuza moving into the world of finance that ultimately pits old-school and modern gangs against each other in a battle for control of the underworld. The film opens in limited release on Friday and is also available On Demand.
Things get violent at the official website.
Scott Turow's Innocent

Made-for-TV movie premieres Tuesday at 9p on TNT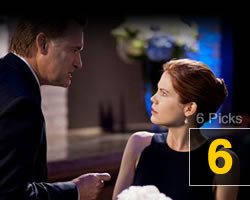 If you've been waiting for a sequel to the 1990 Harrison Ford-starring, Alan J. Pakula-directed adaptation of Scott Turow's Presumed Innocent, then you're in luck. Tuesday night, cable network TNT kicks off its Mystery Movie Night, a new series of adaptations of popular crime novels, with Scott Turow's Innocent. The film takes place 20 years after the original and has Bill Pullman now playing Judge Rusty Sabich and Marcia Gay Harden taking over Bonnie Bedelia's role of his long-suffering wife Barbara. When Mrs. Sabich is poisoned, it's anyone's guess as to who did it. Future weeks will bring films based on novels by Sandra Brown, Mary Higgins Clark, Richard North Patterson, and more.
Plead innocent before being proven guilty at the official website.
Closing the book on last week
Weekend Box Office Champion (Estimated, U.S. only; source: Boxofficemojo.com)
The Twilight Saga: Breaking Dawn - Pt. 1

46

$62.3 million (5 days); 2nd week at #1
#1 Album on Billboard 200 (Source: Billboard.com/Nielsen SoundScan)
Drake : Take Care

81

1st week at #1
Top-Rated Primetime Broadcast Show (Source: Nielsen)
Sunday Night Football (NBC)
20.3 million viewers; week of 11/14-11/20