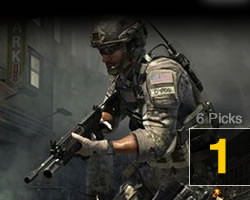 Tuesday sees the release of the next installment in the legendary Call of Duty first person shooter series. Modern Warfare 3 is the direct sequel to 2009's acclaimed Call of Duty: Modern Warfare 2 and features a new campaign that involves Russia expanding its occupation of the United States and other countries, a new co-op Survival Mode, and, of course, multiplayer. Hardcore players can subscribe to the Elite service that will deliver monthly downloadable content and even more Call of Duty goodness.
Take cover at the official website.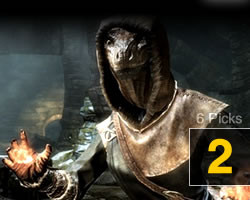 Role-playing videogame fans have been waiting since 2006 for a proper follow-up to The Elder Scrolls IV: Oblivion, and, on Friday, it finally arrives. The Elder Scrolls V: Skyrim takes place 200 years after the last game and has you playing as Dovahkiin, a Dragonborn dragon hunter who uses a powerful Voice to bring down the massive beasts that are led by the game's Nordic god of destruction, Alduin. Players will explore the massive Skyrim region of Tamriel made possible by developer Bethesda's new Creation engine, which allows dynamic elemental graphics and brings the dragons to life. As in Oblivion, you'll by aided by Esbern the Blade, but this time he's voiced by Max von Sydow. Your spare time has been destroyed!
Become a dragon slayer at the official website.
Melancholia Read Reviews

In theaters Friday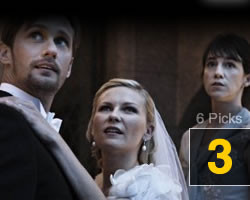 One of the year's most powerful films finally opens in theaters this Friday after having already premiered on On Demand last month. Writer/director Lars Von Trier's outlandish comments at May's Cannes Film Festival may have robbed Melancholia of the coveted Palme d'Or (The Tree of Life won instead), but the film did garner a much deserved best actress award for star Kirsten Dunst, who plays a depressive dealing with both her disastrous nuptials and the imminent end of the world. Her sister (Charlotte Gainsbourg), scientist brother-in-law (Kiefer Sutherland), and husband (Alexander Skarsgård) are along for the emotionally epic journey, which has received stellar reviews so far.
It's the end of the world as we know it at the official website.
Blue Velvet on Blu-ray Read Reviews

In stores Tuesday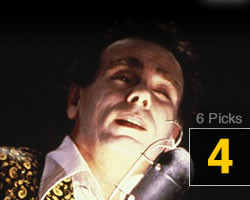 Writer/director/artist/musician David Lynch's seminal 1986 film Blue Velvet is finally getting the Blu-ray treatment with an essential re-release on Tuesday. In addition to a new transfer supervised by Lynch, the extras include 50 minutes (!) of recently found and restored deleted scenes, including a prologue that features the college life of protagonist Jeffrey Beaumont (Kyle MacLachlan) before he returns home to pseudo-idyllic Lumberton, and more scenes with the now departed Jack Nance (Eraserhead), Frances Bay (Happy Gilmore), and Frank Booth himself, Dennis Hopper. (Here's hoping the long lost Twin Peaks: Fire Walk With Me deleted scenes get the same treatment.) If that's not enough Lynch for you, his first full-length album Crazy Clown Time also comes out on Tuesday and features a Siouxsie & The Banshees-esque collaboration with the Yeah Yeah Yeahs' Karen O on the recently released single "Pinky's Dream."
Beware the too-revealing trailer at the official Blue Velvet Blu-ray website, or stream Lynch's Crazy Clown Time album at NPR through Monday.
J. Edgar Read Reviews

In limited release beginning Wednesday; everywhere on Friday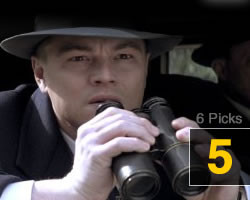 Clint Eastwood's latest directorial effort J. Edgar opens in limited release Wednesday before quickly expanding to wide release on Friday. Leonardo DiCaprio stars as the Federal Bureau of Investigation founder and frontman J. Edgar Hoover in this biopic written by Academy Award winner Dustin Lance Black (Milk). The film features an elderly Hoover recalling the biggest events of his life, including his involvement with the FBI, the Lindbergh baby kidnapping case, and his intimate relationship with his right-hand man, associate director of the FBI Clyde Tolson (Armie Hammer). Naomi Watts, Judi Dench, and Lea Thompson co-star.
Dress up at the official website.
Immortals Read Reviews

In theaters Friday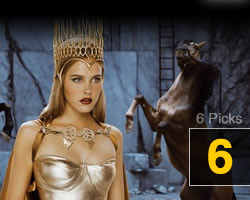 Music video director Tarsem has had a tough time transitioning to the big screen, turning out visually rich yet hollow efforts like The Cell and The Fall. This week, he returns to the cineplex with a 3D visual effects extravaganza that looks like a big-screen adaptation of the God of War videogame series (and/or a 300 clone). Opening Friday, Immortals is an action movie loosely based on Greek mythology that stars future Superman Henry Cavill as Theseus, Freida Pinto as Phaedra, and Mickey Rourke as baddie King Hyperion.
This is not Sparta at the official website.
Closing the book on last week
Weekend Box Office Champion (Estimated, U.S. only; source: Boxofficemojo.com)
Puss in Boots

65

$33.0 million; 2nd week at #1
#1 Album on Billboard 200 (Source: Billboard.com/Nielsen SoundScan)
Coldplay: Mylo Xyloto

61

1st week at #1
Top-Rated Primetime Broadcast Show (Source: Nielsen)
World Series Game 7 (Fox)
25.4 million viewers; week of 10/24-10/30