The Walking Dead Read Reviews

Season 2 premiere Sunday at 9p on AMC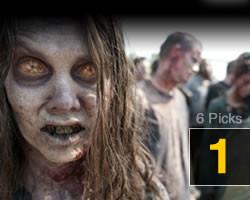 The upcoming premiere of the second season of AMC's The Walking Dead has received more headlines for behind-the-scenes drama than for what's actually going on within the show. Long story short: show creator and showrunner Frank Darabont (The Shawshank Redemption) was fired by AMC and replaced by executive producer Glen Mazzara. Will that change what we see on screen? We'll find out beginning Sunday, when the 90-minute premiere sees our survivors fleeing the destroyed CDC facility, eventually making their way to a farm for even more drama. The 13-episode season will be split in half, with the first 7 episodes airing now and the remaining 6 episodes arriving in February of next year.
Eat brains at the official website.
Biophilia by Bjork Read Reviews

New album in stores Tuesday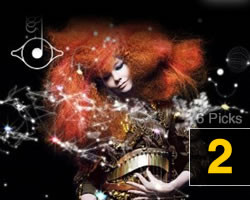 It's no surprise that Björk isn't content merely to release an album through normal channels. Her eighth full-length, Biophilia, drops on Tuesday, and you'll be able to purchase it in a variety of formats, from normal CD, vinyl, and download to an ultimate art edition (it costs nearly a thousand dollars, is limited to 200 pieces, and is already sold out) that includes tuning forks for each of the album's 10 songs. Maybe coolest of all is an iPad version that includes interactive apps for each song on the album. So far, critics are really responding to the Icelandic singer's latest artistic vision.
Become violently happy at the official website, or stream the entire album through Monday at NPR.
Enlightened Read Reviews

Series premiere Monday at 9:30p on HBO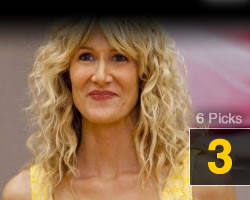 The latest original series from HBO comes to us from star Laura Dern and writer/director Mike White (School of Rock, Chuck & Buck). Debuting Monday night after the third season premiere of Bored to Death, Enlightened has Dern playing Amy, a former executive who, after having a very public emotional meltdown, escapes to Hawaii in an attempt to find inner peace. The dramedy co-stars White as her nerdy co-worker, Luke Wilson as her drug-using ex, and Dern's real-life mom Diane Ladd once again playing her mother after having done so previously in Wild at Heart.
Find enlightenment at the official website.
Forza Motorsport 4 Read Reviews

New Xbox 360 game in stores Tuesday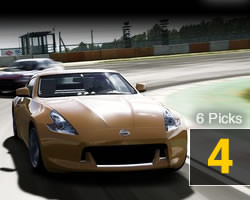 Racing video game enthusiasts have reason to rejoice as the critically acclaimed Forza Motorsport series returns Tuesday on the Xbox 360 for a fourth go-around. Early reviews seem to indicate that Forza Motorsport 4 might be the best racing simulator ever released. New additions include the ability to control your car without a controller using Kinect, commentary from Top Gear's Jeremy Clarkson, improved environmentally impacted graphics, use of over 500 cars, and much more.
Keep your hands on the wheel at the official website.
The Thing Read Reviews

In theaters Friday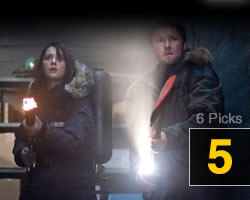 Instead of simply remaking/rebooting John Carpenter's 1982 classic The Thing, the producers of Friday's confusingly titled prequel The Thing (maybe The Thing Before wouldn't sound cool) have decided to tell the story of what happened three days before Kurt Russell and company (Wilford Brimley!) encountered a deadly life form. Scott Pilgrim vs. The World's Ramona Flowers, Mary Elizabeth Winstead, stars as an American paleontologist who, along with a Norwegian science team, investigates a mysterious frozen object in Antarctica. Joel Edgerton (Warrior) and Adewale Akinnuoye-Agbaje (Oz's Adebisi) co-star.
Bundle up at the official website.
The Skin I Live In Read Reviews

In limited release beginning Friday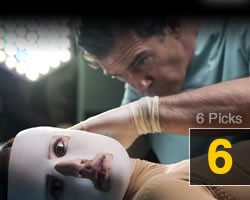 Provocative Spanish filmmaker Pedro Almodóvar returns with a twisted drama, which reunites him with once-frequent collaborator Antonio Banderas (their last film together was 1990's Tie Me Up! Tie Me Down!). Premiering in competition at this year's Cannes Film Festival and finally opening in the U.S. on Friday in limited release, The Skin I Live In (based on Thierry Jonquet's novel Tarantula) has Banderas playing a mad plastic surgeon who creates a new damage-proof skin after his wife is burned in a car crash. The only problem is that he needs a human guinea pig to test it on.
Beauty is only skin deep at the official website.
Closing the book on last week
Weekend Box Office Champion (Estimated, U.S. only; source: Boxofficemojo.com)
Real Steel

56

$27.3 million; 1st week at #1
#1 Album on Billboard 200 (Source: Billboard.com/Nielsen SoundScan)
J. Cole: Cole World: The Sideline Story

74

1st week at #1
Top-Rated Primetime Broadcast Show (Source: Nielsen)
Two and a Half Men (CBS)
20.5 million viewers; week of 9/26-10/2