Batman: Arkham City 360 Reviews PS3 Reviews

New game in stores Tuesday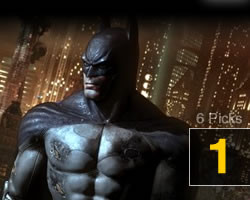 One of the most eagerly anticipated releases of the year, Batman: Arkham City finally arrives on Tuesday for the Xbox 360 and PS3, riding a wave of critical acclaim that suggests it could be 2011's best game. This sequel to Batman: Arkham Asylum sees Batman facing Dr. Hugo Strange and a host of other notorious villains such as Two-Face, the Penguin, Mr. Freeze, and a returning Joker. Batman will also be joined by by Catwoman, who is playable during certain sections of the game. Players will explore more of Gotham City, enjoy improved combat, and crack hundreds of Riddler challenges.
Control the Dark Knight at the official website.
Hurry Up, We're Dreaming by M83 Read Reviews

New double album in stores Tuesday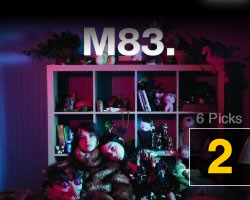 Synth pop lovers are surely excited over the release of M83's new double album Hurry Up, We're Dreaming. Coming out Tuesday, the 22-track set follows Anthony Gonzalez's breakout M83 album Saturdays=Youth and continues his brand of '80s-inspired "synthgaze." First single "Midnight City" sounds like it was destined to be in Nicolas Winding Refn's Drive, while the album's first track, "Intro," featuring Zola Jesus, hints at the album's subtle new directions.
Hurry up and visit the official website, or stream the full album now at Urban Outfitters.
Ratchet & Clank: All 4 One Read Reviews

New PS3 game in stores Tuesday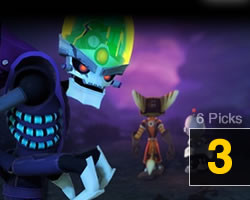 One of Sony's most enduring video game teams returns Tuesday with the release of Ratchet & Clank: All 4 One. The game places a strong emphasis on multiplayer and allows you to play as either of the title characters, the bumbling hero Qwark, or the nefarious Dr. Nefarious. The game takes place after 2009's Ratchet & Clank: A Crack in Time and lets you (or you and your friends) try to destroy the Creature Collector machine. Typically, Insomniac Games can be trusted to deliver a solid single player Ratchet & Clank experience; this multiplayer experiment will likely succeed as well.
Throw a wrench at the official website.
Scream Awards 2011

Premieres Tuesday at 9p on Spike TV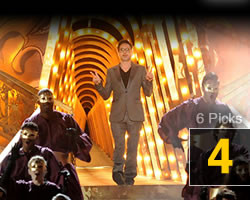 Tuesday night, Spike TV airs the latest installment of their annual Scream Awards, a celebration of mostly genre-centric pop culture. This year, awards will be given out to Darth Vader (Ultimate Villain), Pee Wee Herman (Visionary), Nicolas Cage (Maverick) award, and Robert Downey Jr. (Hero). The Harry Potter films are celebrated, Game of Thrones gets some love, and presenters include Quentin Tarantino, Chloë Grace Moretz, George Lucas, and Zoë Saldana.
Cast a spell at the official website.
Martha Marcy May Marlene Read Reviews

In limited release beginning Friday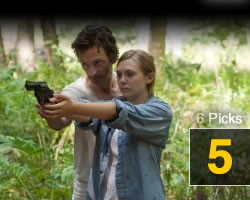 The Sundance Film Festival winner for Directing and Cannes Un Certain Regard selection finally gets a limited release on Friday. Martha Marcy May Marlene stars lesser-known Olsen sister Elizabeth Olsen as Martha, a young woman who escapes a shady cult that is led by creepy Patrick (the awesome John Hawkes). Her older sister Lucy (Sarah Paulson) takes her in after her traumatic experience, and they find out that you can leave a cult but the cult doesn't necessarily leave you.
Your mind's playing tricks on you at the official website.
The Three Musketeers Read Reviews

In theaters Friday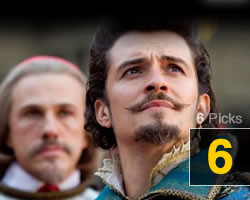 Prolific genre director Paul W.S. Anderson (who, thanks to films like Mortal Kombat and Resident Evil, currently ranks as the 13th-worst film director of the current century) takes a rare trip back in time with the most recent adaptation of Alexandre Dumas' classic novel The Three Musketeers. Opening Friday, the new version amps up the action with elaborate slo-mo sequences and an impressive international cast that includes Orlando Bloom, Christoph Waltz, Juno Temple, Mads Mikkelsen, and Anderson's wife Milla Jovovich. Take That fans will want to stay for the end credits to hear new single "When We Were Young" from the reunited band.
All for one and one for all at the official website.
Closing the book on last week
Weekend Box Office Champion (Estimated, U.S. only; source: Boxofficemojo.com)
Real Steel

56

$16.3 million; 2nd week at #1
#1 Album on Billboard 200 (Source: Billboard.com/Nielsen SoundScan)
Scotty McCreery: Clear As Day

55

1st week at #1
Top-Rated Primetime Broadcast Show (Source: Nielsen)
Sunday Night Football (NBC)
22.0 million viewers; week of 10/3-10/9