The Ides of March Read Reviews

In theaters Friday
George Clooney is again in front of and behind the camera, trying to make amends for his lamentable Leatherheads 56 with a much more serious and well-intentioned political drama. The Ides of March is based on Beau Willimon's 2008 play Farragut North, which is itself loosely inspired by Willimon's experience working for Howard Dean's 2004 Democratic primary campaign. The film stars Ryan Gosling as an ambitious staffer for Clooney's presidential candidate who gets a nasty taste of what it really takes to win the highest political office in the United States. The impressive cast also includes Paul Giamatti, Marisa Tomei, Evan Rachel Wood, Phillip Seymour Hoffman, and Jeffrey Wright.
Place your vote at the official website.
American Horror Story Read Reviews

Series premiere Wednesday at 10p on FX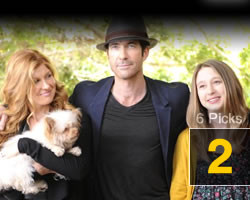 Nip/Tuck and Glee co-creator Ryan Murphy returns to FX with a new series about a Boston family that moves into a Los Angeles haunted house. American Horror Story, premiering Wednesday, stars The Practice's Dylan McDermott and Friday Night Lights' Connie Britton (robbed at the Emmys!) as Ben and Vivien Harmon, who move in with their daughter Violet (Taissa Farmiga) and are warned by their creepy neighbor Constance (Jessica Lange) that their new place is bad news. Tune in to see why the Harmons wouldn't just move to another place.
Celebrate horror on the small screen at the official website.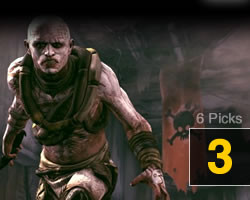 In a strange bit of product placement on this season of Breaking Bad, character Jesse Pinkman relieves his considerable aggression playing Rage even though the game hasn't yet been released in the show's 2008-09 timeline and doesn't feature a light-gun controller. Back in the real world (i.e., yours), the new first-person shooter, released Tuesday, comes from the makers of Quake and has you playing as the lone survivor in a post-apocalyptic future. The game also incorporates RPG elements and dune buggy levels and will feature a few Breaking Bad Easter eggs hidden throughout.
Take out your aggression at the official website.
Metals by Feist Read Reviews

New album in stores Tuesday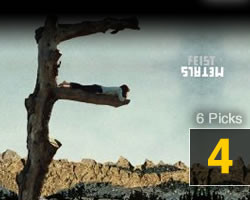 Like it or not, Leslie Feist has made her getting back to nature album. Her fourth LP Metals, released Tuesday, goes a long way to counter the feel of her previous album, The Reminder, whose breakout singles "1234," "I Feel It All," and "My Moon My Man" were featured ad nauseum in Apple ads and Starbucks stores back in 2007. Recorded in Toronto and Big Sur, the new album is a much more somber and downbeat record than its predecessor, with lead single "How Come You Never Go There" sounding the closest to the last album's brightest moments.
Experience Feist's heavy metal at the official website, where you can stream the album in full.
Real Steel Read Reviews

In theaters Friday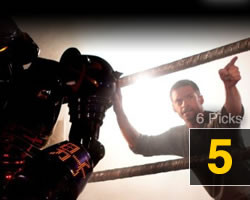 If the Transformers series left you cold because of its lack of heart, then maybe Real Steel is the robot movie for you. The new film, opening Friday, is directed by Night at the Museum's Shawn Levy and takes place in a world where robots have replaced humans in boxing. Hugh Jackson stars as a former boxer who teams with his son (Dakota Goyo) to build and promote a robot. Interestingly, the flick is loosely based on a Richard Matheson short story, "Steel," that was previously adapted into an episode of The Twilight Zone.
It's rock'em sock'em robots at the official website.
George Harrison: Living in the Material World

Two-part documentary debuts Wednesday and Thursday at 9p on HBO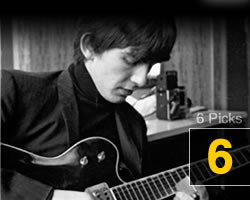 Making its U.S. television debut on Wednesday (and continuing Thursday) on HBO is the Martin Scorsese-directed documentary about former Beatle George Harrison. George Harrison: Living in the Material World is a three-and-a-half hour film that covers Harrison's life in the Fab Four, his solo career, and his spiritual life. The movie has interviews with Paul McCartney, Ringo Starr, Eric Clapton, George Martin, Yoko Ono, Eric Idle, Tom Petty, Harrison's widow Olivia Harrison, and many more.
Celebrate the quiet one at the official website.
Closing the book on last week
Weekend Box Office Champion (Estimated, U.S. only; source: Boxofficemojo.com)
Dolphin Tale

64

$14.2 million; 1st week at #1
#1 Album on Billboard 200 (Source: Billboard.com/Nielsen SoundScan)
Tony Bennett: Duets II

71

1st week at #1
Top-Rated Primetime Broadcast Show (Source: Nielsen)
Two and a Half Men (CBS)
28.7 million viewers; week of 9/19-9/25