The Master Read Reviews

In limited release beginning Friday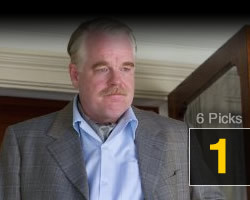 Known early in its development as Paul Thomas Anderson's Scientology movie, this follow-up to his 2007 stunner There Will Be Blood 92 stars Joaquin Phoenix as Freddie Quell, a recently discharged Navy man who's drifting dangerously through life in post-WWII America when he comes under the influence of Philip Seymour Hoffman's Lancaster Dodd, the titular master and charismatic leader of the Cause. Anderson has admitted that Dodd is based on Scientology founder L. Ron Hubbard, but the film, shot in the rarely used 70mm, is far from an exposé of the controversial practice. Instead, the drama offers a character study of two men that need each other more than either wants to admit, and both lead actors already have Oscar buzz coming off their joint best actor prize at the Venice Film Festival where the jury was forced to take the Golden Lion away from the film to award the actors and director Anderson (rules prohibit one film from taking more than two major honors). Also hoping to be remembered around awards time will be Amy Adams as Hoffman's tough-minded wife, and Radiohead's Jonny Greenwood, who scores his second consecutive Anderson film. The film opens in a few theaters this Friday before a wider release on the 21st; try to see it in 70mm if you can.
Get to know The Master at the official website.
Tempest by Bob Dylan Read Reviews

New album out Tuesday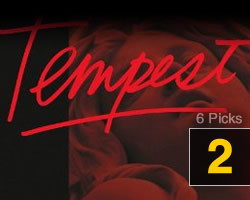 Bob Dylan's 35th album arrives 50 years after his first, and while his voice may have changed in the ensuing years, his influences haven't. Naturally, mortality is a major theme on Tempest, though early buzz has focused on the title track, a 14-minute, chorus-free, epic retelling of the sinking of the Titanic (which has already been topped by Tim Heidecker's 15-minute version). Grateful Dead lyricist Robert Hunter provides the words for lead single "Duquesne Whistle", but the other nine tracks are written by Dylan and performed with his current band, with the addition of David Hidalgo (Los Lobos).
Get more info at the official Bob Dylan site, or listen to the full album for free prior to Tuesday at iTunes.
How Music Works by David Byrne

New book out Tuesday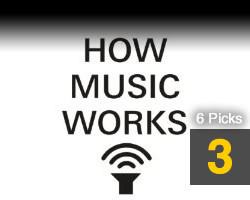 It's a busy week for Talking Heads frontman, solo artist, director, author, and bicycle aficionado David Byrne. Not only does he have a brand new album out—a brass-heavy collaboration with indie artist St. Vincent called Love This Giant—but McSweeney's is also releasing his ninth book, a collection of essays on the nature of music. Already receiving much critical praise, How Music Works finds the 60-year-old Byrne discussing virtually every aspect of music, including recording, performing, selling, and listening to it, touching on subjects ranging from physics to anthropology to economics to history and peppering the book with pie charts and discussions of his own experiences in the studio, revealing a mind filled with ideas. Same as it ever was.
Find out how music works at the official book site, or visit Byrne's official site for his latest musings.
Coexist by The xx Read Reviews

New album out Tuesday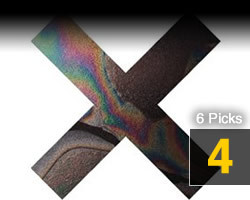 The young London-based indie band released one of the most memorable debut albums of the new century three years ago, with minimalist gem xx 87 winning the Mercury Music Prize in addition to topping various year-end critic lists. This week, they finally return with a follow-up, and if you liked the first album, you should like Coexist too. The new album continues to emphasize haunting, meticulous, stripped-down pop that blends reverby guitars with dubstep-influenced electronics and guy/girl vocals, with the band continuing to sound a bit like a modern-day take on Young Marble Giants or a more electronic Mazzy Star. In fact, Coexist is likely too similar to the first album to inspire the same sort of acclaim that xx did—the house beat of "Swept Away" being one notable exception—but with new songs as good as "Angels" and "Fiction," it might not matter.
Stream the new album prior to its Tuesday release at NPR.
Sons of Anarchy Read Reviews

Season premiere Tuesday at 10p on FX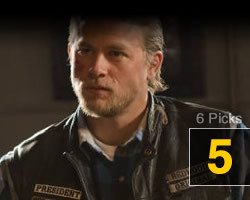 The most successful show in FX history returns for its 13-episode fifth season on Tuesday night, with a sixth year (to air in 2013) already confirmed and possibly others to follow. After the major reset provided by last season's finale, upcoming episodes of the motorcycle melodrama will focus on Jax (Charlie Hunnam) in his new position as leader of SAMCRO. But plenty of new faces will stop by this fall, including Jimmy Smits (playing a pimp), Harold Perrineau (Lost), Ashley Tisdale (High School Musical), and Joel McHale (Community); each will appear in multiple episodes.
Learn more about SAMCRO at the official site, where the cast and crew will be on hand Tuesday for a live chat at 9p ET/6p PT.
Boardwalk Empire Read Reviews

Season premiere Sunday at 9p on HBO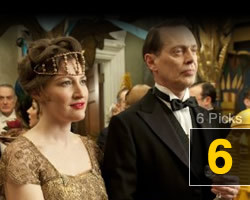 After receiving 30 Emmy nominations for your first two seasons, what do you do for an encore? When HBO's acclaimed drama Boardwalk Empire returns for its third season Sunday at 9p, the action will pick up in 1923—over a year after last season's finale—with Steve Buscemi's Nucky facing a powerful new rival played by Bobby Cannavale (last seen on Nurse Jackie). He and fellow newcomer Stephen Root (NewsRadio) help fill the void created by the departures of series regulars Paz de la Huerta, Dabney Coleman, Michael Pitt, and Aleksa Palladino.
Stroll the boardwalk at HBO's official site.
Closing the book on last week
Most Popular Title on Metacritic
Guild Wars 2 (PC)

93

Week of 9/2-9/8
Weekend Box Office Champion (Estimated, U.S. only; source: Boxofficemojo.com)
The Possession

45

$9.5 million; 2nd week at #1
#1 Album on Billboard 200 (Source: Billboard.com/Nielsen SoundScan)
TobyMac: Eye On It
1st week at #1
Top-Rated Primetime Broadcast Show (Source: Nielsen)
America's Got Talent (NBC) [Tue]
9.9 million viewers; week of 8/27-9/2