Revolution Read Reviews

Series premiere Monday at 10p on NBC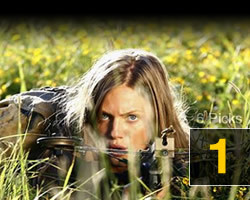 While post-apocalyptic thriller Revolution looks like the most ambitious new drama in NBC's fall lineup, any new serialized network show demands a great deal of trust from viewers—trust that the network will stick with the program, and that the show's creative forces know what they are doing. While we can't guarantee either one, there is at least some notable talent behind the new series: J.J. Abrams produces, Supernatural's Eric Kripke is the creator, and Jon Favreau (Iron Man) directed the pilot. Revolution is set 15 years after a mysterious event permanently disabled all electronics on the planet—that means no cars, no appliances, no internet, and, thanks to new rules, no guns—plunging the world into chaos that is part Jericho, part FlashForward, and part Hunger Games (at least in its reliance on archery). The cast includes Giancarlo Esposito (Breaking Bad), Elizabeth Mitchell (Lost), and Billy Burke (Twilight), and reviews for the pilot ranged from decent to very good, though some critics are at least a little skeptical about the show's ongoing prospects.
Start the Revolution at NBC's official site, where you can watch the entire first episode right now.
64th Annual Primetime Emmy Awards

Live broadcast Sunday at 8p ET / 5p PT on ABC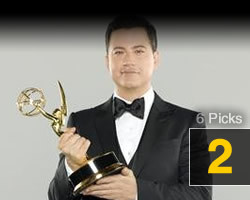 American Horror Story, Mad Men, Breaking Bad, Downton Abbey, Homeland, and Modern Family are among the shows (and—ahem—"miniseries") contending for trophies at this year's Primetime Emmy Awards, which will be presented Sunday evening in a live broadcast hosted by Jimmy Kimmel. Also taking the stage (as presenters) will be Louis CK, Amy Poehler, Jim Parsons, Ricky Gervais, Mindy Kaling, and more. Getting an early boost last night was HBO's Game of Thrones, which collected six awards at the creative arts Emmy ceremony, but if you missed Saturday's festivities, don't worry: there are still 26 statuettes left to hand out on Sunday. Look for our Emmy preview on Thursday, when we'll reveal our users' picks for winners in all the major categories, along with a roundup of expert predictions.
Review the nominees for this year's awards, or see who won in yesterday's creative arts ceremony.
Dredd 3D Read Reviews

In theaters Friday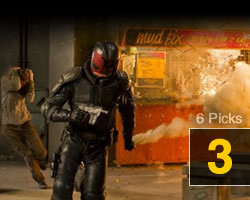 The verdict on 1995's Sylvester Stallone-starring Judge Dredd was not good, pleasing neither film critics nor fans of the British comics on which it was based (though it did have Rob Schneider). Neither Schneider nor Stallone are in this week's new Dredd, but since Judge Dredd creator/writer John Wagner gave approval to the script by Alex Garland (28 Days Later 73, Sunshine 64) and concept art was developed by Jock, who worked on 2000 AD, fans have reason to believe this 3D version will offer a closer representation of the comics, and early reviews are encouraging. Karl Urban stars as Dredd, and Olivia Thirlby plays a rookie with psychic abilities who is paired with Dredd for evaluation until a crime leads them to a 200-story building controlled by Ma-Ma (a scarred and tattooed Lena Headey), a former prostitute turned drug lord out to control the city with a new drug called Slo-Mo. Comparisons to The Raid: Redemption 73 are inevitable, but expect director Pete Travis (Vantage Point 40) to take full advantage of the drug's effect and add plenty of violent, slow-motion shots in gritty, blood-soaked 3D.
Become a judge at the official website.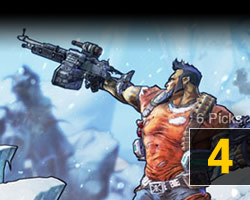 The first major game release of the fall is a sequel to Gearbox's surprise 2009 hit Borderlands. Like the original, Borderlands 2 is a cartoony hybrid of RPG and first-person shooter, in which you play as one of four new characters in a skewed "space western" setting (the game takes place five years after the events of the original). While the sequel doesn't depart too far from the first game's formula, you can expect every aspect of the game to be refined and expanded; the Borderlands 2's development budget was twice as large as the original's. There are only a few reviews in so far, but they suggest that the new game is even better than the original.
Get more information at the official game site.
Kanye West Presents G.O.O.D. Music Cruel Summer

New album in stores Tuesday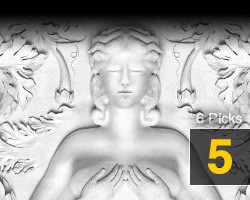 It has now been two years without a proper Kanye West solo album, but fans of the hip-hop star at least have a consolation prize this week in the form of a new compilation featuring artists in his G.O.O.D. Music posse. Kanye shows up on many of the album's tracks, including already released singles "Mercy" (with Big Sean, Pusha T and 2 Chainz), "New God Flow" (with Pusha T again), and "Clique" (with Jay-Z and Big Sean). The roster of talent appearing on the 12-song Cruel Summer (cruelly delayed from its planned release this summer) also includes John Legend, Kid Cudi, Raekwon, Common, R. Kelly, The-Dream, and Ghostface Killah.
Stream tracks from the album at Kanye's official site.
Fantastic Fest 2012

Festival begins Thursday in Austin, Texas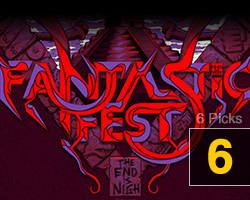 If TIFF, Venice, and Telluride are a little too staid for your tastes, perhaps Fantastic Fest will be more to your liking. A Cannes for the Comic-Con set, FF is now in its eighth year in Austin, Texas, with a genre-heavy lineup of new and upcoming films screening at the great Alamo Drafthouse and other venues from Thursday through September 27. While the best films are typically the secret screenings revealed only at the last second, this year's schedule includes the world premieres of Red Dawn and Tim Burton's Frankenweenie as well as advance screenings of Looper, The ABCs of Death, Holy Motors, Wrong, and many additional films from around the world. There are plenty of non-film events too, including dance parties, a "nerd rap throw down," and an "air sex" competition (which is exactly what you think it is).
Get a full schedule of events at the official site.
Closing the book on last week
Most Popular Title on Metacritic
Guild Wars 2 (PC)

92

Week of 9/9-9/15
Weekend Box Office Champion (Estimated, U.S. only; source: Boxofficemojo.com)
Resident Evil: Retribution

39

$21.1 million; 1st week at #1
#1 Album on Billboard 200 (Source: Billboard.com/Nielsen SoundScan)
Matchbox Twenty: North

58

1st week at #1
Top-Rated Primetime Broadcast Show (Source: Nielsen)
Sunday Night Football (NBC)
27.6 million viewers; week of 9/3-9/9