Gears of War 3 Read Reviews

New Xbox 360 game in stores Tuesday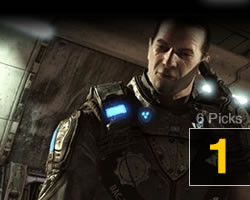 On Tuesday, Epic Games and Microsoft deliver the conclusion to one of the biggest video game franchises of all time. Gears of War 3 takes place 18 months after the events of Gears of War 2 and supposedly closes the book on the current narrative that features thick-necked protagonist Marcus Fenix (Delta Squad leader) and his comrades battling the Locust. The third-person shooter now includes four-player campaign co-op, a multiplayer Beast mode, 3DTV support, and playable female characters. It's also the best-reviewed 360 exclusive of 2011.
Find some cover at the official website.
The X Factor

Series premiere Wednesday at 8p on Fox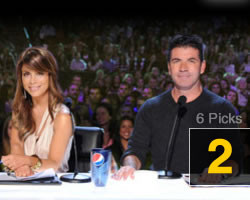 American Idol defectors Simon Cowell and Paula Abdul are bringing the worldwide smash talent show The X Factor to the States for the first time. Premiering Wednesday on Fox (with another episode airing on Thursday), the show will seek out performers via countrywide auditions and will narrow them down to the Los Angeles judge/mentorship challenges that could eventually win the lucky winner a five-million-dollar recording contract with Syco Music and Sony Music Entertainment. Other judges for the show include LaFace Records co-founder and current Epic Records CEO and chairman L.A. Reid, and Pussycat Doll Nicole Scherzinger.
X marks the spot at the official website.
Moneyball Read Reviews

In theaters Friday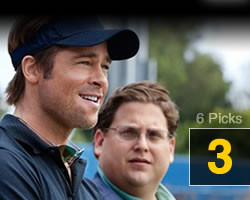 Originally set up to shoot with director Steven Soderbergh before he left to make Contagion, this adaptation of Michael Lewis' novel about Oakland Athletics general manager Billy Beane's analytical attempt to create a competitive team with limited funds looked like it might not happen. Well, it did, and is directed by Bennett Miller (Capote) from a screenplay by Aaron Sorkin (The Social Network) and Steven Zaillian (Schindler's List). Brad Pitt stars as Beane, Jonah Hill plays Beane's assistant general manager, and Philip Seymour Hoffman plays A's skipper Art Howe. Early reviews suggest a home run.
Play the numbers at the official website.
Comedy Central Roast of Charlie Sheen

Premieres Monday at 10p on Comedy Central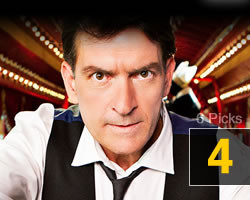 If Charlie Sheen has his way Monday night, he might just have the last laugh. Following the season premiere of the now Ashton Kutcher-starring Two and a Half Men on CBS is the Comedy Central Roast of Charlie Sheen. The roast is led by Family Guy creator Seth MacFarlane and features an eclectic group of speakers that includes William Shatner, Jon Lovitz, Slash, Mike Tyson, Steve-O, Jeff Ross, and Kate Walsh(?!). Guess we'll have to see it to believe it.
Mix tiger blood with roast beef at the official website.
Person of Interest Read Reviews

Series premiere Thursday at 9p on CBS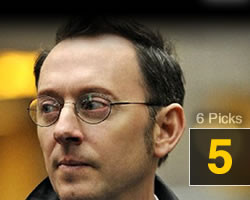 One of two new fall shows from Lost producer J.J. Abrams (Alcatraz debuts mid-season), Person of Interest is tellingly also brought to us by executive producer (and The Dark Knight co-writer) Jonathan Nolan. Debuting Thursday night, the show is about an advanced security program that can predict future crimes and those involved, but frustratingly won't reveal important details like when or where the crime takes place or whether the person is a witness, perpetrator, or crime victim. Lost's Michael Emerson is the program's creator and billionaire-esque Alfred to Jim Caviezel's former CIA agent Batman. Together, they use their brains and brawn to rid the city of evildoers. 
Beat up interesting people at the official website.
2 Broke Girls Read Reviews

Series premiere Monday at 9:30p on CBS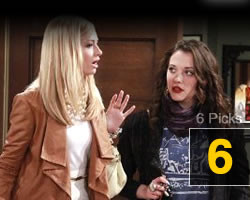 Traditional laugh-tracked sitcoms are uncommon these days, and even more rarely do they arrive on a wave of hype like 2 Broke Girls. The comedy, debuting after Two and a Half Men on Monday, is created by Sex and the City's Michael Patrick King and comedian Whitney Cummings (whose self-titled Whitney also debuts this week, Thursday at 9:30p on NBC), and stars Kat Dennings as Max, a street-smart waitress who teams with the formerly wealthy and somewhat clueless Caroline (Beth Behrs) as they dream about opening a cupcake shop while working the daily grind at a Brooklyn diner. Tune in to see if these two broke girls will become this generation's Laverne & Shirley.
Leave a tip at the official website.
Closing the book on last week
Weekend Box Office Champion (Estimated, U.S. only; source: Boxofficemojo.com)
The Lion King

83

in 3-D
$29.3 million; 1st week at #1
#1 Album on Billboard 200 (Source: Billboard.com/Nielsen SoundScan)
Lil Wayne: Tha Carter IV

60

2nd week at #1
Top-Rated Primetime Broadcast Show (Source: Nielsen)
NFL: Saints vs. Packers (NBC) [Thu]
27.2 million viewers; week of 9/5-9/11