Contagion Read Reviews

In theaters Friday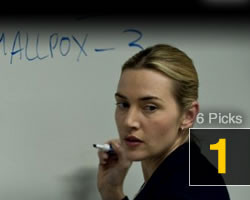 Despite real-world pandemics, it's been a while since the last big Hollywood virus movie (Outbreak came out in 1995), and the team that brought us The Informant! 66 (director Steven Soderbergh and writer Scott Z. Burns) are re-teaming to cure that problem. Contagion, opening Friday, stars Matt Damon as a father whose family is impacted by a lethal airborne virus. The disease and ensuing worldwide panic spread as a stellar cast that includes heavyweights Kate Winslet, Jude Law, Laurence Fishburne, Marion Cotillard, and Bryan Cranston try to do something about it.
Wash your hands before visiting the official website.
Resistance 3 Read Reviews

New PS3 game in stores Tuesday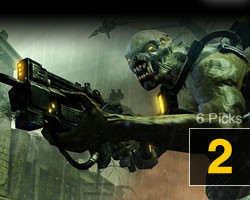 On Tuesday, Ratchet & Clank developers Insomniac Games are releasing the second PlayStation 3 sequel for their more mature first-person shooter franchise that began with Resistance: Fall of Man 86 in 2006. Resistance 3 takes place in 1957, four years after the events of the last game, and has the alien Chimera force taking hold of the United States. The gameplay remains largely the same, but this is the first title in the series to feature 3D gameplay and controls using the PlayStation Move.
Taste alien blood at the official website.
Sons of Anarchy Read Reviews

Season 4 premieres Tuesday at 10p on FX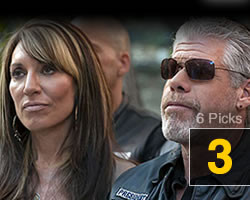 The popular FX motorcycle gang drama Sons of Anarchy returns Tuesday night with a bulked-up 90-minute premiere. The fourth season starts off 14 months after last season's finale, in which Jax (Charlie Hunnam) turned in the SAMCRO crew to save his mom (co-star Katey Sagal, who won a Golden Globe for her role last year) from incarceration. Machete himself (Danny Trejo) joins the cast as a former commando, and Debi Mazar comes on as a federal parole officer.  
Burn rubber at the official website.
2011 Toronto International Film Festival

Begins Thursday and runs through Sept. 18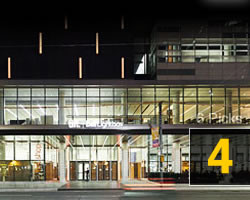 The film critic community and cinephiles are already salivating over festival season as Telluride wraps up and Venice continues. Starting Thursday, the 36th annual Toronto International Film Festival (TIFF) will add to the cinematic repast. This year's TIFF will include several prominent film premieres, including Sarah Polley's relationship drama Take This Waltz starring Michelle Williams, Seth Rogen, and Sarah Silverman; Davis Guggenheim's documentary about the 20th anniversary of U2's Achtung Baby album, From the Sky Down; and Bennett Miller's adaptation of mathematical baseball drama Moneyball, starring Brad Pitt.
Get your film buzz at the official website.
Patton Oswalt: Finest Hour

Stand-up comedy special premieres Monday at 10p on Showtime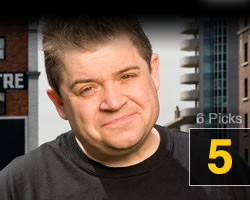 Funnyman Patton Oswalt is back with another comedy special and accompanying album. Finest Hour, debuting Monday night on Showtime (and on CD September 20th), follows Patton's 2009 My Weakness Is Strong material and is said to include content about his daughter, crack addicts in New York, and the greatness of sweatpants, as well as a return to one of KFC's most infamous dishes. 
Await new KFC Famous Bowls material at the official website.
The Love We Make

Documentary premieres Saturday at 9p on Showtime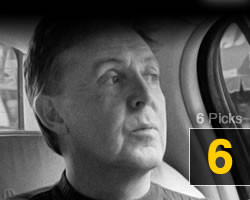 One of the more unique offerings in the plethora of 9/11 specials airing this week is The Love We Make. Airing Saturday night on Showtime, the documentary (co-directed by documentary legend Albert Maysles) features footage of Paul McCartney on the streets of New York after the 9/11 attacks,. It also follows the legendary musician as he plans and subsequently performs at the Concert for New York City one month later—an event that also included performances by the likes of Mick Jagger, David Bowie, and Eric Clapton. Note that VH1 will rebroadcast the original Concert for New York City (with additional footage) on Sunday from 4-10p without commercial interruption.
Feel the love at the official website.
Closing the book on last week
Weekend Box Office Champion (Estimated, U.S. only; source: Boxofficemojo.com)
The Help

62

$14.2 million; 3rd week at #1
#1 Album on Billboard 200 (Source: Billboard.com/Nielsen SoundScan)
Game: The R.E.D. Album

62

1st week at #1
Top-Rated Primetime Broadcast Show (Source: Nielsen)
America's Got Talent (NBC) [Tue]
12.0 million viewers; week of 8/22-8/28