Expect the expected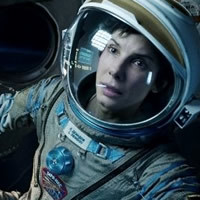 Films With Most 2014 Oscar Wins

| | | |
| --- | --- | --- |
| 1 | Gravity | 7 wins |
| 2 | 12 Years a Slave | 3 wins |
|   | Dallas Buyers Club | 3 wins |
As predicted for months and by nearly everyone, 12 Years a Slave and Gravity were the big winners at the 86th Annual Academy Awards, held Sunday night in Hollywood. The former, capping an awards season in which it was honored more than any other film, took home best picture honors, while Gravity dominated the technical categories to lead all films this year with seven total Oscar wins. As a whole, the night was surprisingly free of surprises, with only the short film categories providing any sort of Oscar pool-busting suspense.
In a moment, we'll reveal how accurate the experts (and our own users) were in making their predictions prior to the ceremony, and we'll also sample the critical response to the broadcast and the performance of host Ellen DeGeneres. First, let's look at the awards themselves.
The winners and losers
Listed below are this year's winners in each of the 24 Academy Award categories, compared to the consensus predictions of industry experts (more on that below).
Category
Predicted Winner
Actual Winner
Best Picture
12 Years a Slave
12 Years a Slave
Director
Alfonso Cuarón
Gravity
Alfonso Cuarón
Gravity
Lead Actress
Cate Blanchett
Blue Jasmine
Cate Blanchett
Blue Jasmine
Lead Actor
Matthew McConaughey
Dallas Buyers Club
Matthew McConaughey
Dallas Buyers Club
Supporting Actress
Lupita Nyong'o
12 Years a Slave
Lupita Nyong'o
12 Years a Slave
Supporting Actor
Jared Leto
Dallas Buyers Club
Jared Leto
Dallas Buyers Club
Original Screenplay
Eric W Singer, David O. Russell
American Hustle

Spike Jonze
Her
Adapted Screenplay
John Ridley
12 Years a Slave
John Ridley
12 Years a Slave
Animated Feature
Frozen
Frozen
Animated Short
Get a Horse!
Mr. Hublot
Documentary Feature
20 Feet From Stardom
20 Feet From Stardom
Documentary Short
The Lady in Number 6
The Lady in Number 6
Foreign-Language Feature
The Great Beauty
The Great Beauty
Live-Action Short
The Voorman Problem
Helium
Original Score
Steven Price
Gravity
Steven Price
Gravity
Original Song
"Let It Go"
Frozen
"Let It Go"
Frozen
Cinematography
Emmanuel Lubezki
Gravity
Emmanuel Lubezki
Gravity
Costume Design
The Great Gatsby
The Great Gatsby
Film Editing
Gravity
Gravity
Makeup & Hairstyling
Dallas Buyers Club
Dallas Buyers Club
Production Design
The Great Gatsby
The Great Gatsby
Sound Editing
Gravity
Gravity
Sound Mixing
Gravity
Gravity
Visual Effects
Gravity
Gravity
How accurate were the predictions?
Experts
As you can see above, the experts we surveyed last week performed almost flawlessly as a group, with their consensus picks proving to be correct in 21 of the 24 (88%) Oscar categories. (Two of those wrong predictions were in the short film categories, and the third was in a category where experts were almost evenly divided, with many actually picking the ultimate winner.) Last year, by comparison, the experts made just 17 correct predictions. Out of the over 60 experts we surveyed, the most accurate were:
Dave Karger (Fandango) and Peter Travers (Rolling Stone), each with 22 of 24 correct
Thelma Adams (Yahoo), Brad Brevet (Rope of Silicon), Kyle Buchanan (Vulture), Gregory Ellwood (HitFix), Peter Hartlaub (San Francisco Chronicle), Tim Hayne (Moviefone), Tariq Khan (Fox News), Mary Milliken (Reuters), Elizabeth Weitzman (NY Daily News), and Glenn Whipp (Los Angeles Times), each with 21 of 24 correct
At the other end of the spectrum, the least accurate experts (among those making picks in all 24 categories) were:
Richard Brody (The New Yorker) and Joe Neumaier (NY Daily News), each with 15 correct guesses out of 24
Metacritic users
As a group, Metacritic users were almost as accurate as the experts, correctly predicting 20 of the 24 (83%) categories. That's a huge improvement over last year, when users had just 15 of 24 picks correct. The most accurate of the over 3,500 Metacritic users submitting picks this year were:
1 anonymous user (we'll just call her "Adele Dazim"), with a perfect 24 of 24 score
Jacek Kopański, Ryan McDermond, and another anonymous user, with 23 of 24 correct
How was the telecast?
Last night's broadcast was again produced by Craig Zadan and Neil Meron, returning from the widely panned 2013 show. And while this year's telecast didn't quite reach the depths of its predecessor—thanks mainly to critics finding Ellen DeGeneres more suited to the task of hosting than Seth MacFarlane—it also won't go down as a memorable entry in Oscars history. Below are some of the comments from TV critics' morning-after reviews; click any link to read the full review.
AP Frazier Moore
It had its high moments and a bare minimum of deficits. ... DeGeneres did what any host should do: Stay involved and make sure everyone has fun.
Boston Globe Sarah Rodman
As is typical, the show ran long but that didn't inspire anyone in the production to edit out any of the elements of bloat.
Contra Costa Times Chuck Barney
Ellen DeGeneres was clearly in her comfort zone as Oscar host Sunday night ... Not everything worked, of course, but overall, it was a winning stint.
The Daily Beast Marlow Stern
The '14 Oscars were actually quite good. In fact, they were better than good. They were excellent, and the best they've been in a decade.
Deadline Lisa de Moraes
When tonight's disjointed show finally ended ... DeGeneres had reminded us she's likeable as all get out, but her improvised bits did not work so well – Amy Poehler and Tina Fey did it much better at the Golden Globes.
Denver Post Joanne Ostrow
The show's sum total was underwhelming.
HitFix Alan Sepinwall
It was a long, disjointed ceremony, and what was fun and likely to endure came entirely from the winners and their speeches.
The Hollywood Reporter Tim Goodman
As a television event, this year's Oscars was more like an endurance test. It was a turgid affair, badly directed, poorly produced and featuring an endless string of either tired or wince-inducing moments by DeGeneres, who, by the last 30 or so minutes, seemed to have given up entirely.
Los Angeles Times Mary McNamara
Watching DeGeneres wander through the audience to pat "Marty" and "Brad" on the shoulder or hand Jennifer Lawrence and Bradley Cooper pieces of pizza was not as hilarious as many people clearly thought it would be. ... The silver lining, or if you're feeling generous, the intent of DeGeneres' low-key-to-the-point-of-flatlining performance was that it provided a backdrop against which the winners, and the musical nominees, could shine.
New York Daily News David Hinckley
DeGeneres took comfort-hosting a step further by repeatedly sacrificing humor for camaraderie.
The New Yorker Richard Brody
I don't entirely blame Ellen DeGeneres for the course of the evening. I don't know enough about the parcelling-out of power backstage to know how guided or vetted she was by the producers—whether the writers were hers or imposed upon her. But, having accepted the job, she seems, at the very least, to have accepted the regulations, and she toed the line with a dutiful eagerness in a desperate cause; she worked hard to maintain a show of good cheer and good times while being denied the free-wheeling disinhibition that goes with real comedy. It was mainly the undue exertions that came through.
Newsday Verne Gay
After 86 years, the Oscars has lost its youthful spark because youthful sparks only seem to get it in trouble; it's Woody Grant, stumbling his way toward Lincoln, Neb., a little bit dazed and a little bit confused in the modern world of annual TV awards presentations, where even the Tonys have more life force.
People Tom Gliatto
The Academy needs to keep Ellen DeGeneres on the short list of stars who really know how to manage this glamorous beast.
Pittsburgh Post-Gazette Rob Owen
Funny but not too mean, willing to joke at the expense of big-name stars but rarely crude, Ms. DeGeneres brought predictable respectability to Sunday's 86th Academy Awards. Too bad this particular brand of predictable respectability was a bore.
Slate Willa Paskin
After the opening monologue, Ellen spent too much time in the audience, often doing a whole lot of nothing: saying hi to famous people, copping their chairs, asking for money. These bits were dull and baggy, as was the show in general.
The Telegraph David Gritten
It may sound like damning with faint praise, but this was certainly the best Oscar telecast in the past four years.
Time James Poniewozik
It was not very risk-taking or memorable, and I'd have a hard time coming up with a line from the host you're likely to remember and quote in years to come, or maybe even tomorrow.
TV Guide Matt Roush
DeGeneres was a friendly, funny and refreshingly grounded host in a classy, though typically overstuffed and overlong, ceremony distinguished by some memorably moving speeches.
USA Today Robert Bianco
Choose a better host, you get a better show. Choose a really good host, as DeGeneres proved to be Sunday, and you get the best Oscar broadcast since, well, the last time she hosted.
Vanity Fair Richard Lawson
Injecting her usually sunny, amiable humor with a curious strain of sarcasm, DeGeneres certainly earned some laughs, but the show was decidedly less goofy and big-hearted than it's been in other years.
Variety Brian Lowry
All told, it was a ho-hum evening, but not an embarrassing one – a long sit, punctuated by occasional moments, and genuine suspense regarding the eventual coronation of "12 Years a Slave." And if that sounds like a small victory, in Oscar terms, it's the equivalent of defying gravity.
Vulture Matt Zoller Seitz
The Academy Awards telecast was too long. It didn't spend its time wisely. The repartee was weak. There were too many montages and too many moments where the stars, the host included, seemed full of themselves. And it was still awesome. Why? Probably because the Oscars telecast is by its nature un-screw-upable.
Washington Post Hank Stuever
By reverting to basic awards-show conviviality and glamour, the show got slightly more classy, but it also overindulged in its reverential Hollywood worship — weighing down the first half with meaningless clip montages, telling us about budding filmmaker awards and taking care of other industry-supporting business that the Academy likes to conduct but nobody likes to watch. ... At 3 1/2 hours, the show ran about as long as usual; it just seemed much longer.
The Wrap Tim Molloy
The Oscars had too many long stretches of oddly paired stars asked to read dull introductions.
What do you think?
Were you happy with the winners? What did you think of the telecast, and DeGeneres as the host? Let us know in the comments section below.