This year's best-reviewed debuts, ranked by Metascore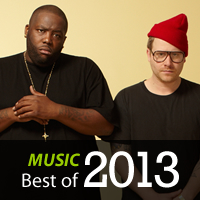 Though our full list of 2013's best albums is still a few days away, our year-end coverage continues this week with a look at the year's best newcomers. Below is a list of the best-reviewed debuts of 2013, ranked by Metascore. Note that albums must have at least 7 reviews—and be a full LP, rather than an EP—to be eligible for inclusion. (Mixtapes are eligible, however, which is why releases like Earl Sweatshirt's Doris isn't listed here; that album was preceded by a mixtape in 2010).
1. Run the Jewels
85

(Fool's Gold)


by Run the Jewels

It might be a bit of a cheat to include this here, but Run the Jewels is technically the debut album from the rap duo of Killer Mike and El-P. The two artists previously collaborated on one of 2012's top hip hop releases, with the latter producing Killer Mike's solo set R.A.P. Music, and the pairing proved so fruitful that they decided to make it permanent. The short but sweet Run the Jewels is available as a free download, and a follow-up is due in 2014.
"The freshest, most exhilarating rap album of 2013."

—Austin Chronicle More reviews...
2. Drone Logic
83

(Because)


by Daniel Avery

The English techno producer followed a series of well-received EPs with this accessible full-length debut that combines new music with some of his best prior tracks. Like Underworld (to whom he has been compared, if a bit undeservedly, by many critics), Avery brings a rock-oriented approach to electronic music, resulting in a dynamic sound.
"With echoes of Caribou, Chemical Brothers and Underworld also fluttering in the mix, Avery's is a compelling, club-friendly debut with crossover appeal to the headphone set."

—Mojo More reviews...
3. Ripely Pine
82

(Ba Da Bing Records)


by Lady Lamb the Beekeeper

Lady Lamb the Beekeeper is actually Maine singer-songwriter Aly Spaltro, who began her career (as a teenager) by distributing home recordings made in the basement of a video store where she worked. After years of growing acclaim, she finally released a proper debut LP in February.
"There's a certain maturity to this material that transcends the author's young age, and you have to simply be in awe of what writing songs over a four year period in a video store could have wrought."

—PopMatters More reviews...
One of the most attention-grabbing new bands to emerge this year, London post-punk revivalists Savages earned a Mercury Prize nomination for this debut album, which reminded most who heard it of prime Siouxsie and the Banshees.
"Silence Yourself may not invent a genre. Silence Yourself may not give you something you didn't have already. But it is so stark, so bold and delivered with such utter belief that you wonder why anyone would possibly care."

—musicOMH More reviews...
5. John Wizards
81

(Planet Mu)


by John Wizards

Like Vampire Weekend—to whom they are often compared—John Wizards combine a variety of world music (mainly African) styles into a poppy whole. The difference is that the John Withers-led project John Wizards actually hail from Africa—Cape Town, South Africa, to be exact.
"One of the most exciting debuts of the year--a consistently surprising and joyous album, which only improves with each listen."

—Under the Radar More reviews...
6. Settle
81

(Island)


by Disclosure

One of the most anticipated debuts of 2013, Settle didn't disappoint. The record, from the English electronica duo Disclosure, made good on the promise of early singles like the AlunaGeorge collaboration "White Noise" and earned both a Mercury Prize nomination and a well-deserved Grammy nomination for best dance album.
"One of the most assured, confident debuts from any genre in recent memory."

—Pitchfork More reviews...
7. Torres
81

(self-released)


by Torres

Torres is 22-year-old Nashville-based artist Mackenzie Scott, whose minimalist debut album—mainly just her voice and a guitar, recorded live to tape—impressed critics on both sides of the Atlantic.
"This sounds like it could be the first flowering of a major talent."

—The Guardian More reviews...
The Glaswegian synth-pop trio features former members of Aereogramme and The Twilight Sad, joined by lawyer-turned-lead-vocalist Lauren Mayberry. Their catchy, polished debut LP reminded critics of artists ranging from Kate Bush to Prince; certainly, there's a strong 1980s influence here.
"An exceptionally strong debut where every track is a potential single."

—Clash More reviews...
The Manchester-based guitar-rock band, signed by former Cocteau Twin Simon Raymonde to his Bella Union label, emerged with a debut that was described by critics as "ethereal" and "haunting," drawing comparisons to early Verve.
"This debut carries you on pillowy reverb and ribboned guitar to places only a handful of bands since Simple Minds have visited."

—NME More reviews...
10. Major Arcana
81

(Carpark)


by Speedy Ortiz

An indie rock band out of Western Massachusetts, Speedy Ortiz is the brainchild of former Quilty member Sadie Dupuis. Fans of early 1990s college rock will find much to like here.
"You may well have to look elsewhere for music that will one day remind you of 2013, but this is still a great, brief blast of noisy, off-kilter rock; a consistent debut which sounds better each time you hear it."

—No Ripcord More reviews...
11. Yours Truly
81

(Island)


by Ariana Grande

Certainly not the first pop star to make the jump from children's television to recording artist, Nickelodeon star Ariana Grande (Victorious) managed to score better reviews than her Disney Channel rival this year with this surprisingly strong R&B album that earned Grande some Mariah Carey comparisons.
"This might be the most inviting pop record of 2013, with a bubbly ebullience that makes even its most familiar moves feel fresh."

—Los Angeles Times More reviews...
12. Engravings
81

(Tri Angle)


by Forest Swords

Three years after his Dagger Paths EP placed highly on some year-end top-10 lists, English performer Matthew Barnes finally released his debut full-length as Forest Swords, and critics swooned again. Engravings combines samples, guitar, hip-hop beats, and electronics into a cinematic whole.
"Forest Swords' debut long-player is electronic mastery at its very finest, because Engravings manages to make electronic music feel tactile, organic, and alive."

—DIY More reviews...
13. Melt Yourself Down
80

(The Leaf Label)


by Melt Yourself Down

The London-based collective Melt Yourself Down—whose members are culled from a variety of other bands—blend jazz and funk (among other styles) on their fun, energetic, Leafcutter John-produced debut.
"The music Melt Yourself Down make on this eight song, 36-minute debut album is insanely full of energy and ideas, a tumultuous barrage of snaky, infectious hooks and punishingly addictive grooves."

—The Quietus More reviews...
Formerly a duo, the New York dream-pop outfit Ex Cops expanded into a five-piece for this shimmering debut album.
"True Hallucinations is an impressive debut and one of the purest, most innocent-sounding pop records anyone is likely to make in the ironic, convoluted era in which they exist."

—AllMusic More reviews...
15. The Blind Hole
80

(Southern Lord)


by Dead in the Dirt

The Atlanta-based grindcore trio Dead in the Dirt followed a pair of EPs with this 22-song debut "full-length" ... that clocked in at all of 24 minutes.
"There's nothing pleasant about this in any way, shape or form, basically. Yeah, Dead In The Dirt are that good."

—Kerrang! More reviews...
What do you think?
Have you enjoyed any of the albums listed above? What were your favorite debuts of 2013? Let us know in the comments section below.