Give it away now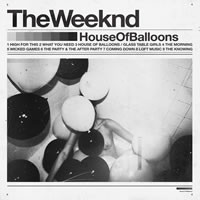 With half of 2011 in the books, it's time to check on the year's best music so far. And while we weren't surprised to see much blogged-about artists like Bon Iver or veterans such as PJ Harvey near the top of our high score chart, the year's best-reviewed album so far is a bit more under the radar for most music fans.
That #1 album, House of Balloons, is the first release from The Weeknd, the recording name of Toronto-based R&B artist Abel Tesfaye. But you won't find House of Balloons on iTunes or at your local record store; instead, Tesfaye gave the album (billed as a mixtape, but at nine tracks and 50 minutes, we consider it his debut album) away for free on his website. The set immediately earned glowing reviews from bloggers and the music press, and also scored a nomination for the 2011 Polaris Music Prize, Canada's top music honor.
House of Balloons is one of two R&B albums in our top ten so far in 2011, while another two of the top four best reviewed releases so far this year are hip hop albums, coming off a year in which a rap album (Kanye West's My Beautiful Dark Twisted Fantasy) finished the year at #1. The rest of this year's top ten is rounded out by electronica, hardcore, indie folk, electronica, and other genres, making for an unusually diverse group. And there are several artists appearing on our top 40 list with their debut albums, including 21-year-old techno artist Nicolas Jaar, the new hip hop group Shabazz Palaces, and Danish teens Iceage. The veterans are well represented too, with 70-year-old Paul Simon capping the other end of the age spectrum.
Below, we look at best- and worst-reviewed albums released through the first half of the year.
The 40 Best-Reviewed Albums of 2011 So Far (Through June 30)
 
Album
Label
Metascore
Users
1
House of Balloons
by The Weeknd
The Weeknd
89
8.1
It's not often that you can legally download the year's best-reviewed album for free, but House of Balloons can be grabbed from the artist's website.
2
The Greatest Story Never Told
by Saigon
Suburban Noize
89
8.5
This long-delayed debut LP from Brooklyn rapper Saigon includes appearances by Jay-Z, Bun B, and Faith Evans, and production from Just Blaze and Kanye West.
3
No Devolucion
by Thursday
Epitaph
88
8.2
Dave Fridmann produced this sixth album for the New Jersey post-hardcore band, resulting in an album more atmospheric and diverse than their usual output.
4
Black Up
by Shabazz Palaces
Sub Pop
87
9.2
The first hip hop group signed to indie rock label Sub Pop, Seattle's Shabazz Palaces are fronted by Ishmael Butler, formerly of Digable Planets.
5
Let England Shake
by PJ Harvey
Island
86
8.3
The English rocker's best album in a decade—with a loose concept about England at war—is a much more musically varied affair than the piano-driven White Chalk.
6
Who Kill
by tUnE-yArDs
4AD
86
7.9
New England's Merrill Garbus returns with an eclectic second album that is more polished and accessible than her debut, but no less playful, original, or exciting.
7
Space Is Only Noise
by Nicolas Jaar
Circus Company
86
8.1
The 21-year-old producer made his debut with this album of experimental electronica, which drew comparisons to James Blake.
8
Stone Rollin'
by Raphael Saadiq
Columbia
86
6.8
The veteran R&B artist continues his obsession with vintage 1960s and 70s soul on a fifth solo album that features members of Earth, Wind, and Fire and Little Dragon.
9
Bon Iver
by Bon Iver
Jagjaguwar
86
7.9
Justin Vernon's sophomore set includes 10 songs each named after—and inspired by—a specific place, backed by a fuller sound with more varied instrumentation.
10
Ravedeath, 1972
by Tim Hecker
Kranky
86
6.9
The Canadian's sixth set of abstract, dark, ambient electronica consists of three multi-part compositions supplemented by several stand-alone tracks.
11
David Comes To Life
by Fucked Up
Matador
86
8.6
The third LP from the Toronto hardcore punk band is a concept album that unfolds its dense narrative across 18 tracks arranged in four acts.
12
Bird Songs
by Joe Lovano / Us Five
Blue Note
86
n/a
Grammy-winning jazz saxophonist Joe Lovano and his band Us Five tackle the Charlie Parker songbook on this 11-track tribute album.
13
When the Heart Emerges Glistening
by Ambrose Akinmusire
Blue Note
85
n/a
28-year-old jazz trumpeter Akinmusire makes his Blue Note debut with a set of 10 originals and two covers performed by his quintet and co-produced by Jason Moran.
14
So Beautiful or So What
by Paul Simon
Hear Music
85
7.9
The 70-year-old Simon's first album in five years, which he produced with Phil Ramone, exhibits a bluegrass influence.
15
Smother
by Wild Beasts
Domino
85
8.5
An unusually restrained outing for the eccentric and distinctive English indie rock band, the mature and subtle Smother opts mainly for synths instead of guitars.
16
Helplessness Blues
by Fleet Foxes
Sub Pop
85
8.5
Two years in the making, the Seattle-based harmonic folk group's second LP offers a greater diversity of instrumentation and a slightly less polished sound.
17
Marissa Nadler
by Marissa Nadler
Box of Cedar
85
n/a
The self-released fifth album for the East Coast folk singer-songwriter was recorded with fan-supplied funds raised through Kickstarter.
18
New Brigade
by Iceage
What's Your Rupture?
85
n/a
A group of four Danish teenagers, Iceage make their debut with this set of a dozen very brief no wave-influenced post-punk tunes, clocking in at just under 25 minutes.
19
As High as the Highest Heavens and from the Center to the Circumference of the Earth
by True Widow
Kemado
84
n/a
Catchy title aside, the Dallas trio's second album blends stoner rock, grunge, and slowcore into a powerful whole.
20
Hot Sauce Committee, Pt. 2
by Beastie Boys
Capitol
84
8.3
There's no Part 1, but Part 2 is the group's first non-instrumental set in seven years and probably their best album since 1998's Hello Nasty.
21
Kaputt
by Destroyer
Merge
84
8.3
Daniel Bejar's ninth Destroyer album is a jazzy, soft-rock affair that wouldn't sound out of place coming out of an AM radio in the early 1980s.
22
Wondervisions
by Delicate Steve
Luaka Bop
84
n/a
Steve Marion's debut album as Delicate Steve features a mix of indie pop and African-influenced sounds.
23
Wounded Rhymes
by Lykke Li
Atlantic
83
8.4
The 25-year-old Swedish pop star recorded this fuller-sounding sophomore set with producer Björn Yttling of Peter Bjorn and John.
24
Build a Rocket Boys!
by Elbow
Polydor
83
7.9
The Mercury Prize-winning Manchester band's fifth album is a set of songs based on frontman Guy Garvey's childhood.
25
Eye Contact
by Gang Gang Dance
4AD
83
8.3
After a drummer switch, the decade-old experimental music outfit from New York return with their most accessible release to date (and their first LP for 4AD).
26
Scandalous
by Black Joe Lewis
Lost Highway
83
n/a
The Austin-based blues and soul band returns with a second album, produced by Spoon's Jim Eno.
27
Nine Types of Light
by TV on the Radio
Interscope
82
8.2
After a three-year break, TVOTR reunited to record their fourth album; the result, unexpectedly, is an album full of accessible— if still a bit arty— love songs.
28
The Harrow and the Harvest
by Gillian Welch
Acony Records
82
n/a
The bluegrass singer-songwriter's first album in eight years finds her teamed once again with longtime collaborator David Rawlings.
29
Canary
by Southeast Engine
Misra
82
n/a
The Ohio-based indie rockers return with a concept album about the Great Depression.
30
We're New Here
by Gil Scott-Heron and Jamie xx
XL Recordings
82
7.6
Jamie Smith of The xx drastically reconfigured the late Gil Scott-Heron's 2010 minimalist comeback album I'm New Here, resulting in a completely new record.
31
Angels of Darkness, Demons of Light, Vol. 1
by Earth
Southern Lord Records
82
n/a
The Seattle drone-rock band returns with its sixth album of lengthy, heavy, slow-paced instrumental tracks; Volume 2 arrives next year.
32
This Is Country Music
by Brad Paisley
RCA
82
7.4
Country superstar Paisley is joined by guests ranging from Don Henley to Carrie Underwood to Alabama on his ninth studio album.
33
The Dreaming Fields
by Matraca Berg
Dualtone Music
82
n/a
A country singer-songwriter best known best known for penning tracks for many country stars, Berg returns with her first solo album in more than a decade.
34
Channel Pressure
by Ford & Lopatin
Software
82
n/a
The electronica duo Games change their name for this first full-length set, which mixes instrumentals with vocal-driven tracks reminiscent of 1980s alt-pop.
35
The Magic Place
by Julianna Barwick
Asthmatic Kitty
82
5.3
The first true LP for the Brooklyn-based performer is a hazy, minimalist, reverb- and drone-heavy affair, with vocals that are drawing comparisons to Enya.
36
Everything's Getting Older
by Bill Wells & Aidan Moffat
Chemikal Underground
82
n/a
Scottish composer Wells teams with former Arab Strap frontman Moffat for a gloomy and unsettling album that has been under development for the past eight years.
37
City of Refuge
by Abigail Washburn
Rounder
82
n/a
Washburn's Rounder debut is folk and bluegrass with an indie-rock edge, with members of The Decemberists and My Morning Jacket guesting.
38
Smoke Ring for My Halo
by Kurt Vile
Matador
82
7.6
Incorporating folk and American roots rock, this second Matador release for the Philadelphia artist was produced by John Agnello (The Hold Steady).
39
Past Life Martyred Saints
by EMA
Souterrain Transmissions
82
n/a
This short set of art rock marks the solo debut for Erika M. Anderson, formerly of the band Gowns.
40
Tirtha
by Vijay Iyer with Prasanna and Nitin Mitta
Act Music + Vision
81
n/a
Grammy nominated jazz pianist Iyer debuts his new band, which combines jazz with Indian music.
What are your favorites?
What are your picks for the best albums of 2011 so far? Let us know in the discussion section below.