Last updated on November 21.
History in the making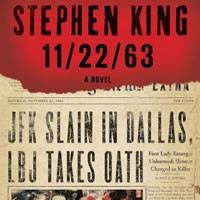 Critic Reviews

| | |
| --- | --- |
| Positive | 30 |
| Mixed | 4 |
| Negative | 2 |
Stephen King's latest super-sized novel is not a horror story; rather, it's an extensively researched work of historical fiction ... with a twist. High school teacher Jake Epping, the protagonist of 11/22/63, uses a time machine (probably the same one King himself uses to write so many massive books in such a short period of time) to travel to the late 1950s and early '60s in an attempt to prevent the assassination of President Kennedy. As was the case with his previous novel, Under the Dome, King first started writing 11/22/63 in the 1970s, only to abandon the book for decades before finally completing it.
Collected below are the professional reviews published for 11/22/63. Click on any linked publication name to go to that site to read the full review. (Some reviews may not be available online; those publication names are not linked.)
Associated Press / Rob Merrill
 
The book is a delightful blend of history and fantasy. ... King's eye for period detail is sharp.
A.V. Club / Zack Handlen
 
11/22/63 is King's best novel in years, minimizing his flaws and embracing the haunting, melancholic tone that has come to define his work. [Grade: A-]
Bloomberg / Andrew Dunn
 
In the age of "Mad Men" and "Pan Am" it's refreshing to see a take on the era of sexism, segregation and cigarettes that's not decked out in stylish suits, cocktail shakers and jumbo jets. King specializes in quotidian horror: the dull job, the brutal spouse, the monster in the tract home behind the Montgomery Ward warehouse.
Booklist / Daniel Kraus
September 15, 2011
This doesn't loom as large as some King epics; on the other hand, did we appreciate It in 1986 as much as we do now? Leave it at this: fans will love it.
BookPage / Trisha Ping
 
This quietly moving and thought-provoking book, with its unexpectedly poignant ending, is a compelling tale.
Chicago Tribune / Julia Keller
 
Many writers have undertaken time-travel stories, but what's marvelous and enthralling about "11/22/63" is that you really feel that Jake's in a new place — that is, in an old place, the past. There is a beautiful, unsettling strangeness about everything, from the clothes to the music to the cars — yet it is also familiar, because we know it. ... [But] it's true that after the novel's midpoint, things begin to drag.
Cleveland Plain Dealer / Michelle Jarboe McFee
 
Like many of King's recent works -- "Lisey's Story" and "Duma Key," in particular -- "11/22/63" has a sweetness that will surprise readers who think of him as a horror scribe.
The Columbus Dispatch [Ohio] / Alan Johnson
 
It's impossible not to enjoy Stephen King's new "What if?" book, 11/22/63, about the assassination of John F. Kennedy. ... It is possible, however, to feel a little hollow after finishing King's latest novel. ... That said, 11/22/63 is an enjoyable blend of time travel, history, romance and '60s nostalgia in which the suspense is muted but ever present. Few writers could pull this off without the stitches showing, but King manages.
Financial Times / Adam LeBor
 
The key to any novel set in an alternate reality is credible world-building, the steady accumulation of detail – preferably lightly distributed – that brings the story alive. King succeeds in this, partly by drawing on his own memories. ... The tension flags in the middle section while Epping is stalking Oswald during the early 1960s, even though King drops in several sub-plots and a love interest in an attempt to keep the narrative going.
Fort Worth Star-Telegram / David Martindale
 
Essentially, King has taken a familiar Twilight Zone premise and breathed fresh new life into it by exploring not just an intriguing time-travel fantasy scenario, but by fleshing everything out to its fullest and reacquainting us with an era radically different from today.
The Globe and Mail (Toronto) / Robert J. Wiersema
 
You don't have to be a King fan to be delighted by 11/22/63, though. You don't have to be a horror fan, even. The novel is a narratively thrilling, thoughtful, character-centred journey into the heart of the American dream. It will have you laughing and leaning breathlessly over the pages. It will make you stay up past bedtime, and it will make you cry. What more can you ask of a book?
The Guardian / Mark Lawson
 
Going backwards proves to be another step forward for the most remarkable storyteller in modern American literature.
Houston Chronicle (Bookish blog) / Dwight Silverman
 
As is usually the case with King's longer books, there's a lot of self-indulgent fat in 11/22/63 that could have trimmed. ... Still, this is one of King's best books in a long time, certainly a better read than his last overlong work, Under the Dome, which I found to be unnecessarily mean. King often scores better when he's eschewing shock and gore for a rollicking plot, sympathetic characters and cultural musings. He does it so well here that you won't even notice that 850 pages have flown by.
Kirkus Reviews
 
Though his scenarios aren't always plausible in strictest terms, King's imagination, as always, yields a most satisfying yarn.
London Evening Standard / David Sexton
 
This book is not exciting and it goes on vastly too long. It's an over-explicit 740 pages, when it could better have been a suggestive novella. We only ever have the time to read a limited number of novels of such length and this one doesn't make the cut.
Los Angeles Times / David L. Ulin
 
"11/22/63" reads like two books welded together.
Maine Sunday Telegram / Frank O Smith
 
This is classic King, one of the great imaginative storytellers of our time. His talent is less about being the prince of fright and more truly about being the king of surprise and story craft. And he doesn't fail his readers here. ... The book is riveting and entertaining.
Miami Herald / Rene Rodriguez
 
This addictive, heart-stopping and ultimately moving novel is really a distillation of what King has always done so well, without the third-act problems that have plagued so many of his recent books and featuring a monster — time — that is most certainly not make-believe.
Milwaukee Journal Sentinel / Mike Fischer
 
Oswald is a punk, and even a master storyteller like King can't make him - or the contrived plot twists through which Jake eventually concludes there was no conspiracy - very compelling. But as Kennedy's trip to Dallas grows closer, the pace of the novel quickens, culminating in a great set piece that it wouldn't be fair to disclose.
National Post (Canada) / Philip Marchand
 
I wish the writing had more grace.
New York Post / Billy Heller
 
King spends an awful lot of time on the mundane daily life of Oswald and his family. ... But the days and hours leading up to events we now know as unfortunate history read like a great thriller.
The New York Times / Janet Maslin
 
Mr. King pulls off a sustained high-wire act of storytelling trickery. ... The pages of "11/22/63" fly by, filled with immediacy, pathos and suspense. It takes great brazenness to go anywhere near this subject matter. But it takes great skill to make this story even remotely credible. Mr. King makes it all look easy, which is surely his book's fanciest trick.
NPR (All Things Considered) / Alan Cheuse
 
The combination of King's love of the '50s and his deeper search into the Kennedy assassination make this novel a terrifically entertaining work of fiction. ... If I could go back in time, I wouldn't have him change a single page.
The Oregonian / Douglas Perry
 
King's ability to place us in mid-20th-century America is uncanny.
Publishers Weekly / Peter Cannon
September 19, 2011
King ... does a fine job evoking the sights, sounds, and smells of the late '50s and early '60s. The root beer even tastes better back then.
San Diego Union-Tribune / Peter Rowe
 
Our reigning emperor of dread has pulled off an impressive feat. At nearly 850 pages, "11 /22 /63" is [hard] to pick up, but it's even harder to put down. ... It's true that no ghosts, vampires or killer clowns stalk "11 /22 /63." Yet this may be his most haunted, and haunting, work.
San Francisco Chronicle / Michael Berry
 
Among King's other novels, "11/22/63" most resembles 1979's "The Dead Zone," another story of a character with foreknowledge of a terrible future attempting to prevent disaster, while paying a great personal cost. The earlier book is among King's best - lean, tight and unforgiving - and this new novel, despite its undeniable suspense, sometimes feels like a bloated shadow. Maybe it's better not to revisit what worked well enough the first time.
St. Louis Post-Dispatch / Amanda St. Amand
 
One of the most ambitious tales he's crafted.
St. Petersburg Times / Colette Bancroft
 
In 11/22/63, King has written a splendid combination of dark fantasy, hold-your-breath thriller and sweetly moving romance. ... Harrowing, heroic and heartbreaking, 11/22/63 is a trip into the past you won't want to miss.
The Star-Ledger [Newark] / Victoria Truslow
 
The overwhelming impression: A book impeccably researched, but lazily put together.
Star Tribune [Minneapolis] / Carole E. Barrowman
 
It pains me (truly) to have to write this next sentence. King's "11/22/63" is a boring read. ... OK, the book's not all dull. ... [But] the pages and pages of Oswald's domestic dramas and the chapters and chapters of the comings and goings of others involved in shaping his twisted psyche were just not that interesting.
Time (Magazine) / Gilbert Cruz
November 14, 2011
Like the author's last several novels (Under the Dome, Duma Key), 11/22/63 succeeds mostly because of its masterly structure and plot.
Time (Website) / Lev Grossman
 
11/22/63 isn't your typical King outing ... But whatever it is, it's obviously the work of a master craftsman. ... The build-up is better than the payoff, as it almost always is. But there's a lot to be said for a good build-up, and it's not a cop-out. 11/22/63 asks a good question: what if this world—as cruel, tragic and horrifying as it is—really is the best of all possible worlds?  If there's no good answer to that question, it's not King's fault.
Toronto Star / Sarah Murdoch
 
I confess, what with the minutiae of the Oswalds' day-to-day lives and George's rich personal life, I got bogged down around page 400. 11/22/63 is a great place to visit, but I don't want to live there — brilliant though this book is, it would have been better had it been 300 pages shorter.
USA Today / Don Oldenburg
 
Readers will be reminded of the suspenseful tension of King's horror tales. But 11/22/63 is no nightmare. It is not typical Stephen King. It is extraordinary Stephen King.
The Washington Post / Jeff Greenfield
 
A tale richly layered with the pleasures we've come to expect: characters of good heart and wounded lives, whose adventures into the fantastic are made plausible because they are anchored in reality, in the conversations and sense of place that take us effortlessly into the story. ... But the piling on of detail after detail slows the pace and the pull of the story. In contrast to very long books like "The Stand" and "Under the Dome," this work could have benefited from some serious paring.
What do you think?
Have you read 11/22/63? Leave us a comment below to let us know what you think of the book.