Breaking Bad, Episode 413: "Face Off"

Original airdate: October 9, 2011
Spoiler warning: This page contains descriptions of events in the finale and previous episodes.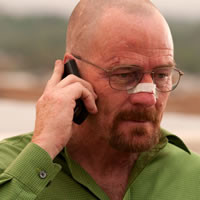 In its four seasons on the air, AMC's Breaking Bad has become one of the most critically acclaimed dramas on television—both currently, and in recent memory. Thus, expectations were high heading into last night's season ender, which gave Bryan Cranston's Walter White a rare "win" as he took out Gus Fring (Giancarlo Esposito) in an hour that took its title quite literally, and was intended to serve as an informal series finale had AMC not renewed the program for a fifth year. What did critics think?
Below, we have collected comments about last night's season finale from over two dozen professional reviewers and recappers. (If you prefer a one-word summary, it's "wow.") At the bottom of the page, you can also find a few of their impressions about the fourth season as a whole. In addition, the New York Times' Dave Itzkoff and HitFix's Alan Sepinwall have informative interviews with show creator Vince Gilligan about the episode and season that are worth a read, while Maria Elena Fernandez talks to Esposito at The Daily Beast. Finally, critics Mo Ryan, Ryan McGee, and James Poniewozik have recorded a podcast in which they discuss the show.
Reviews for This Episode
AOL TV / Maureen Ryan
This gripping finale had an absolute mastery of rhythm and pacing -- it was like a great piece of music with a spellbinding central melody.
A.V. Club / Donna Bowman
A fantastically fitting end for a season that ran in slow motion, starting and continuing with so many crises begging for resolution week after week. ... I'm sure some will take issue with the fantastic depiction of Gus's demise, but I loved it. A character this iconic deserves a mythic death, realism be damned. [Grade:

A

]
Collider.com / Scott Wampler
My jaw didn't just hit the floor this evening: it broke through my floorboards and burrowed into the foundation of my house.
Cultural Learnings / Myles A. McNutt
As the culmination of the season's story arcs, and as an hour of television, "Face Off" was indeed satisfying, visceral and suspenseful without relying on surprise or twists.
Daemon's TV
If [the bombing] was not one of the greatest moments in Breaking Bad history, then you and me are watching different shows.
Entertainment Weekly / Melissa Maerz
Say what you will about the cartoonish violence in that scene, but a villain this monstrous deserves a death that makes him look like he's not human.
Grantland / Steve Kandell
Breaking Bad may not quite have The Wire or Deadwood's ear for elevated dialogue (it's close, though) but neither of those shows displayed this kind of command of visual language.
HitFix / Alan Sepinwall
"Face Off" was another tremendous finale for the show - in many ways more satisfying than last year's "Full Measure."
Hollywood.com
This episode, which was a little lighter on the dramatic elements and more interested in just wrapping things up, might have paled a little in comparison [to recent episodes]. But it was still very, very good. Just not edge-of-your-seat good.
The Hollywood Reporter / Tim Goodman
The fourth season finale of Breaking Bad did a lot of things right, course-correcting most of my worries and giving viewers not only an action-packed, satisfying episode but putting the show on the path to finish its final 16 episodes in a nearly perfect dramatic state.
IGN / Seth Amitin
'Face Off' was the perfect blend of Breaking Bad. It was funny and silly and serious and jarring and nuts-and-bolts tight on the little stuff: explosions, poisons, murders, storyline and characters. [Grade:

9.5

/10]
Los Angeles Times (Show Tracker) / Todd VanDerWerff
I'm impressed by just how many story points this finale closes off.
NPR / David Bianculli
I was blown away by the season ender of Breaking Bad.
Paste Magazine / Brent Koepp
Breaking Bad is proof that a show can take its time fleshing out all the various plot elements throughout an entire season, and conclude in a way that brings it all together all while still being entertaining and gripping.
Pittsburgh Post-Gazette / Rob Owen
I've long maintained that "Breaking Bad" is that rare show that has never jumped the shark and I still feel that way. I do think Gus' final scene --straightening his tie, post-explosion -- was a bit much but it was so perfect for the character I was willing to forgive the excess.
Salon / Matt Zoller Seitz
This was a great episode, expertly constructed and executed.
Slate / June Thomas
I do have a few complaints about the resolution. There are some things that I loved: the masterful pacing (the spelling board!), the wonderful acting (I wish there were an Emmy category for silent performances; Mark Margolis would be a shoo-in for his portrayal of Hector Salamanca), and the great little details like Hector's neighbor saying hello to Walt as he crouched outside her window. All that was superb. So what's my objection? For me, there were too many bombshells.
The Star-Ledger [Newark] / Mark Maurer
The finale was thrilling, it challenged the audience and the narrative continues to push the boundaries of protecting one's family. In lesser hands, Walt would have sat alone in his car and cried like Jack Bauer.
Time / James Poniewozik
A stunning, morally searing and, well, explosive season finale—with a few holy-crap moments for the ages.
TV.com / Tim Surette
When everything came together, it created moments that sent hearts jumping out of people's chests. The slow deliberate pacing and sound, whether it's the sizzling score or silence, was a blueprint for others to copy for generations to come.
TV Fanatic / Matt Richenthal
Overall, "Face Off" told a very simple story. It was the story of Walt actually coming up with, and following through with, a careful, intelligent, winning plan. [Grade:

4.8

/5]
TV Guide / Matt Roush
This episode — written and directed by Vince Gilligan with a superior blend of suspense and pitch-black humor — is a textbook example of how to provide resolution for a spectacular season while leaving us anxiously wondering "what next?"
TVLine / Matt Webb Mitovich
Breaking Bad pulled off the seemingly impossible with its Season 4 finale on Sunday night, by finding a way for Walt to extricate himself and loved ones from the death sentence they had all but been assigned, while serving up two big jaw-droppers along the way.
Variety / Brian Lowry
In a job like this, you really try to maintain a sense of cool detachment, or at least professionalism. The last thing you want to do is come across like some slavering fanboy. Yet after watching the "Breaking Bad" fourth-season finale, about all I can say is "Wow." (Actually, my initial email to a colleague offered this two-word review: "Holy crap.")
Vulture / Logan Hill
We knew Gus would end up dead and Walt would grow more powerful. Maybe that's why this episode was so startlingly good: At a certain point, you knew what was going to go down, but the show is so surprising, shot-to-shot, that it barely mattered whether you predicted the "Gus Dies" spoiler.
Wall Street Journal (Speakeasy Blog) / Chris Simmons
With suspense ratcheted up for the past five episodes, you just knew "Face Off" had to deliver.
Zap2It / Rick Porter
Wow, on several fronts.
What about Season 4 as a whole?
A few reviewers also weighed in with their impressions of Breaking Bad's just-concluded fourth season as a whole and how it compares to previous years of the series.
"Four seasons in, 'Breaking Bad' remains one of TV's most enthralling series. ... Off the top of my head, I can think of 10 sequences from this season alone that were dramatic gems ... These suspended moments are written so efficiently, performed so seamlessly, and filmed with such savvy formal flourishes that they could double as self-standing shorts."

—Matthew Gilbert, Boston Globe
"The show's fourth season has cemented its status as one of the best TV dramas ever, and, we might even argue, the best TV show ever, period."

—Kimberly Potts, The Wrap
"Where would I rank that season in Breaking Bad's history? Right after the end of a season is probably the worst time to make this call, but offhand I would put season 4 just a shade under season 3--more as a matter of what was right about season 3 than of anything wrong about season 4."

—James Poniewozik, Time
"Was this a perfect season? No, not remotely; in fact, in retrospect I think it was too long, stretching maybe nine or 10 episodes' worth of plot over 13 episodes, and indulging in some flourishes that were only acceptable if you viewed them through the prism of individual characters' apparently boundless stupidity ... But all in all, the show's consistently high level of quality continued into a fourth year, which is no small accomplishment, and the plotlines changed both the characters and the series' tone in fascinating ways."

—Matt Zoller Seitz, Salon
"As a season, this unrelentingly tense show just seemed to up the difficulty level episode-to-episode, and, in this live wire finale, Gilligan stuck the landing. ... Was The Sopranos really ever any better than this show? I'd say no."

—Logan Hill, Vulture
What do you think?
What did you think of the finale? Let us know in the comments section below, and also let us know which of the four seasons is your favorite so far.