Marvel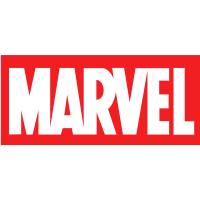 DC Comics might have started first, but it's Marvel Comics that's made a better transition to filmed entertainment. Their success, unlike DC's film output, depends on a wide variety of characters (and groups of characters) instead of two icons.
Despite having been around almost as long as DC, and creating Sub-Mariner, Human Torch, and Captain America in the late '30s and early '40s, Marvel's best film brands come from a period in the '60s, when Stan Lee, Jack Kirby and Steve Ditko worked to introduce Spider-Man, The Fantastic Four, X-Men, Iron Man, Hulk, Thor, Daredevil and Ant-Man. All of these characters have produced multiple films with the exception of Ant-Man, though a film based on the latter property has a script, written by Edgar Wright and Joe Cornish, and is waiting for Wright to find time to direct it. Thor has a planned sequel (without director Kenneth Branagh), and Daredevil will get the reboot treatment with director David Slade basing the film on the "Born Again" storyline from Frank Miller and David Mazzucchelli. There might even be an additional X-Men spin-off with Deadpool as there was with Wolverine (whose sequel now has James Mangold taking over for Darren Aronofsky).
Though Marvel has such a diverse array of characters, one has shone a little brighter than the others. Since Spider-Man exploded onto screens in 2002, summers have never been the same. That film held almost every box office record for a comic book movie until 2008's The Dark Knight, and the Spider-Man series as a whole is currently the highest grossing comic book franchise in history from a one director/star combination. We'll have to wait and see if Sam Raimi and Tobey Maguire can hold off Nolan and Bale next year, and if director Marc Webb and star Andrew Garfield can match their success when they reboot the Spider-Man franchise with The Amazing Spider-Man next summer.
During a financial rough patch in the mid-1990s, Marvel created its own film company, Marvel Studios, to maximize the potential of its characters by licensing them to other film studios. That strategy paid off handsomely; in 1998, Blade started a string of box office success that rarely faltered. Then, as 2009 drew to a close, The Walt Disney Company bought Marvel Entertainment for $4 billion, with plans to expand film production in the future. Does this mean the likes of Nighthawk, Iron Fist, Black Panther, and Cable could get their own films? Possibly, but they might be of the low-budget variety. The real prize for all Marvel lovers comes next summer, when Joss Whedon finally unveils The Avengers on May 4, 2012.
Marvel's best movies

"Spider-Man 2 is smarter, hipper, faster, funnier, and flat-out more electrifying than the original, swinging to new summer-movie heights as the greatest comic-book adaptation yet made."

—Aaron Hillis, Premiere
Another sequel that critics regard as better than the original, this 2004 film builds upon Spider-Man by improving the special effects and the action set pieces (Spider-Man stopping a train derailment) while adding a strong and complex villain in Alfred Molina's Doc Ock and deepening the relationships between Tobey Maguire's Spider-Man, Kirsten Dunst's Mary Jane Watson and James Franco's Harry Osborn.

"As big-budget comic book adaptations go, this one's a gratifying freak--the right kind of conflicted, as well as quick-witted. It's a lot of fun."

—Michael Phillips, Chicago Tribune
Marvel's first non-Spider-Man hit surprised everyone in the summer of 2008. All the factors that seemed to be possible negatives—based on a less well-known character, starring an actor still trying to put his career back together, directed by an actor with very little action movie experience—turned out to be positives as audiences embraced a fresh take on the superhero genre. Downey and Favreau couldn't quite capture that magic a second time (Iron Man 2 57), but maybe new writer/director Shane Black (Kiss Kiss Bang Bang) can revitalize the franchise when Iron Man 3 hits theaters May 3, 2013.

"Spider-Man is an almost-perfect extension of the experience of reading comic-book adventures."

—Jack Mathews, New York Daily News
After twenty-five years in development, Marvel finally got its signature character to the big screen. It was worth the wait. The film was a critical and financial success, and provided pop culture with the defining image of Spider-Man hanging upside down, kissing a rain-soaked Mary Jane. Though this film and its sequels have barely faded from memory, the franchise is already getting a reboot. The Amazing Spider-Man, starring Andrew Garfield as Peter Parker and Emma Stone as Gwen Stacy, will try to recapture the magic starting July 3, 2012.
Marvel's worst movies
1. Captain America
n/a

(1990)


"The movie isn't merely wrong for kids — it opens in prewar Italy with a sequence in Italian with subtitles, and a machine-gun slaughter — it's just all wrong."

—Frank Lovece, Entertainment Weekly
How bad is this film? Not even Ronny Cox and Ned Beatty can save it; nor can J.D. Salinger's son Matt in the title role. (Yes, that J.D. Salinger.) Originally intended as a 1990 theatrical release, Captain America sat on the shelf for two years, until the studio gave up on the film and dumped it in video stores (though it did get a theatrical release outside the U.S.). Just watch the trailer below, then go see Captain America: The First Avenger.

"Does it have to be so witless, so stupid, so openly contemptuous of the very audience it's supposed to be pandering to?"

—A.O. Scott (writing about Punisher: War Zone), The New York Times
It's hard to believe that the most enjoyable film made from the Punisher comic books is probably Dolph Lundgren's The Punisher (1989), but it's true, and that's not a slight against Dolph, just a statement on how poorly executed the other Punisher films are. Sure, they go for gritty realism, but too much explicit violence, a lack of originality, poor pacing, and ridiculous villains (played by Dominic West in War Zone and John Travolta in 2004's The Punisher) derail these serious efforts to translate the grim comic to celluloid. Maybe some characters just don't work on screen.

"When a movie makes you wish you were watching Halle Berry in 'Catwoman,' something is most definitely wrong."

—Kim Morgan, L.A. Weekly
Daredevil 42 was a disappointment, so attempting a spin-off with Jennifer Garner's Elektra character was risky. And that risk didn't pay-off. Critics found Garner lacking the steely, cold-hearted glare of an assassin, and moviegoers tired quickly of the dull, humorless, and narratively weak picture —the second weekend gross was a 69% drop from the first.
On the next page ...
Our look at comic book adaptations concludes with a focus on indie publishers ...