Dexter, Episode 612: "This Is The Way The World Ends"

Original airdate: December 18, 2011 on Showtime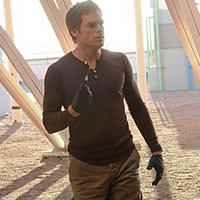 Spoiler warning: This page contains descriptions of events in this and previous episodes.
The sixth season of Showtime's serial killer drama Dexter has been the subject of a great deal of criticism from TV critics and longtime fans. Did the season finale—and it's shocking cliffhanger—do anything to change their opinion? Below, we sample the reaction of the TV community to the season-ending episode.
The Atlantic Wire / Richard Lawson
The personal stuff really resonated this season, particularly Deb's big awakening. ... Whatever happens, the reveal scene was terrifically done and was a bang-up way to help repair the damage of an otherwise unnecessary seeming collection of episodes.
A.V. Club / Joshua Alston
After a dismal dozen episodes, Dexter has convinced me that perhaps it's got a few gasps left in its lungs, and that's not a minor accomplishment. [Grade: C]
Cinema Blend / Kelly West
For a season that seemed low on bodies and a bit draggy, things certainly finished big ... [but] the big finish to the relationship between Dexter and Travis felt kind of empty.
CliqueClack TV / Keith McDuffee
The wowness of the final sene of the episode doesn't erase the fact that there were a few flaws in this episode.
Daemon's TV / Luke Gelineau
After one of the worst seasons in this show's history, we get one of the best final scenes.
Entertainment Weekly / Ken Tucker
The hour let the red herrings pile up until they stank like the corpses in the house in which Travis had killed two people.
FEARnet / Alyse Wax
The majority of this episode was engrossing but surprisingly calm. ... But those last 15 seconds fucking killed me.
IGN / Matt Fowler
The events of "This is the Way the World Ends" played out somewhat-predictably, but it still had some genuinely fun moments. The fact that it mostly focused on the Dexter/Travis "cat n' mouse" game was a good thing, even though there were still a bit of loose bits here and there. ... This episode was fine if you just focused on the Dexter/Travis stuff and covered your ears and went "la la la" any time Deb make awkward googly eyes at Dexter. [Grade: 8.5/10]
Los Angeles Times / Claire Zulkey
The Travis Marshall story line ended on a rather predictable note, as the cat-and-mouse game between Dexter and his prey was practically spelled out in the episode's previews. ... [But] I loved the shocking twist and can't wait to see what happens next between Dexter and Deb. This season flagged in the last few weeks and the finale certainly poured some life back into it.
Salon / Ian Grey
What makes this idiocy work at all is Carpenter's total commitment to Deb's terror. Because me? I don't buy the incest thing here — it doesn't jibe with the people we've been presented with all these years. Worse, it suggests a radical rewrite of Deb which renders her pitiful. It steals power from a very powerful woman — and it gives it all to her increasingly despicable brother. Dexter is now a witless, heartless jerk, dispensing his own brand of justice. Deb, smarter, more in charge of herself and her voice, is slowly being demoted to a nervous, weeping wreck begging for a taste of that manliness for no true dramatic reason.
Screen Rant / Kevin Yeoman
It all seemed eerily reminiscent of every season that had come before, until Deb walked in on Dexter plunging a knife into Travis' chest. ... Was the ending enough to save what has been a dismal season? The answer is unequivocally no. ... What the finale does do is give Dexter the fresh start that season 6 promised.
TV Fanatic / Matt Richenthal
All anyone will be discussing is The Moment. Let me state this: I'm glad it finally took place. I am VERY curious to see how the show will handle this discovery going forward. But, my goodness, I'm appalled at how it got there. [Grade: 3.5/5]
TV Guide / Matt Roush
The finale was 95 percent routine, a charge that could be aimed at the season as a whole, capped by the uninspired end of the Doomsday storyline.
TV Overmind / Kevin Fitzpatrick
It's not an earned development, something the characters (and the audience) deserve after six years. With most every character surviving the season even with their jobs intact, it's as if the Dexter writers simply caved in giving us something they knew we'd been expecting, rather than a finale that really kept us guessing.
Variety / Brian Lowry
"Dexter" capped what had been a subpar season in lackluster fashion -- except for the last 10 seconds.
What do you think?
What did you think of the finale, and of this entire sixth season? Let us know in the comments section below.