Boardwalk Empire, Episode 212: "To the Lost"

Original airdate: December 11, 2011 on HBO
Spoiler warning: This page contains descriptions of events in this and previous episodes.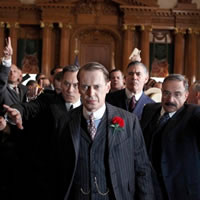 Boardwalk Empire's game-changing season 2 finale ended with a major character (and most critics' favorite character and actor on the show) dead, a gutsy move by showrunner Terence Winter but one that leaves many people wondering what the series will be like when its third season arrives next fall. Despite bemoaning the loss of a beloved character, however, most critics greatly enjoyed last night's finale. A sampling of their reviews is below; click on any publication name to read the full article.
The Atlantic Wire / Richard Lawson
it was a thrilling way to end an already plenty exciting season. We'll miss Michael Pitt's tortured Jimmy, but his character had basically run his tragic course and this was a fittingly grim and final way to say goodbye to him.
A.V. Club / Noel Murray
I want to take a moment to stand back and admire "To The Lost" for the crisply written, beautifully shot, superbly acted and—most importantly—brilliantly edited hour of television that it was. [Grade: A-]
Entertainment Weekly / Lanford Beard
This episode was very likely Michael Pitt's finest hour. From his haggard hollowness during the meet-up with Nucky to the simple, sorrowful moment when Jimmy took little Tommy for a horse ride and, finally, his unflinching statement, "I died back in the trenches," Pitt was brilliant tonight.
HitFix / Alan Sepinwall
Well, that was not at all what I expected. And several days after seeing it, I'm still processing exactly how I feel about it. I respect the hell out of it; I'm just not sure it's what I wanted. ... [But]if we're judging "To the Last" just as an episode, and also as the conclusion to this season, then it was terrific. If anything, Jimmy's death gives this whole season much greater weight.
IGN / Matt Fowler
But even though I'm a bit confused about the killing of the show's second lead, it was still very well done. [Grade: 8.5/10]
Newsday / Verne Gay
I expected a very different finale last night, and am not entirely pleased with what we got.
Screen Rant / Kevin Yeoman
Given the events of the last two episodes, the finale 'To the Lost' had a lot to live up to, and it dutifully and eloquently delivered the end to what has been a masterful season.
Slate / June Thomas
I've had my issues with Boardwalk Empire—six weeks ago I called the show "thoroughly inessential"—but, as so often happens on premium cable, the final two episodes of the season were spectacular. And the final twist was absolutely brilliant—one of the best y'all come back nows I've ever seen. ... I can't think of a smarter season-finale cliffhanger.
Time / James Poniewozik
I can just say with you: Holy crap almighty, they actually did that. ... OK, I'll venture an initial thought, which I reserve the right to change: it feels like Boardwalk Empire just aired an excellent series finale. It just happened to do it, very likely, several seasons before the show will actually have to conclude.
TV Fanatic / Teresa L
Unfortunately, this episode was not the best representation of the drama as a whole. For the most part, there were no surprises. Yes, Jimmy's death was shocking, but it wasn't unexpected... not even for Jimmy. [Grade: 4/5]
TV Overmind / Kevin Fitzpatrick
"To the Lost" doesn't move quite as quickly as last week's "Under God's Power She Flourishes," but offers up one hell of a game-changing finale that will undoubtedly go down in TV history for its shocking character death.
Variety / Brian Lowry
Pity the season finale of "Boardwalk Empire." The penultimate episode was so good, the payoff -- while still outstanding -- felt like a bit of a letdown by comparison.
In addition to the above reviews, both Alan Sepinwall (at HitFix) and James Hibberd (at Entertainment Weekly) have interviews with Terence Winter about the finale.
What do you think?
What did you think of last night's episode, and of the entire second season? Let us know in the comments section below.