This page may contain spoilers about this and previous episodes.
The Walking Dead, Episode 213: "Beside the Dying Fire"

Original airdate: March 18, 2012 on AMC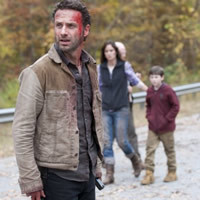 What did critics think of last night's action-filled season finale of The Walking Dead? Below, we've collected a sampling of the reviews published over the last 12 hours. You can also see how many of these same critics felt about the show back at the season's midway point.
In addition to the reviews quoted below, Entertainment Weekly has an interview with co-creator Robert Kirkman discussing the finale, while The Hollywood Reporter has a similar interview with showrunner Glen Mazzara. And if you want to know the identity of the actor who will be playing the mysterious hooded figure who appears at the end of the episode, get the details at The Futon Critic.
A.V. Club / Zack Handlen
I found this episode frustrating at times ... Yet there's something in this episode that made it work overall, beyond just the well-choreographed carnage, and the more I go over it in my mind, the more I appreciate it.
Boston Herald / Mark A. Perigard
It was the closest basic cable's No. 1 show has ever resembled the climax of a George Romero film.
Collider / Scott Wampler
I had my fingers crossed for a truly kick-ass episode, something that would build upon the goodwill that the show's writers earned last week and that would honor the show's own tradition of delivering great endings and beginnings. So, did it live up to that expectation? In a word, yes. [Grade: A-]
Den of Geek / Ron Hogan
This week's episode, the season finale, had some incredible moments contained within it. ...

What they did nicely with this week's episode is end the farm on a high note, while setting the state for the future thanks to the sudden appearance of a new cast member, and the sudden appearance of where the show is probably going to be set in season three.

Grantland / Andy Greenwald
The problem, as ever, for The Walking Dead is that when these well-choreographed ballets of blood and adrenaline finally arrive, they feel less earned and more like an attempt to distract from the RV-sized plot holes that preceded them.
HitFix / Alan Sepinwall
Despite various good action beats, and a palpable sense of desperation throughout, I worry that my enduring thoughts of this episode are going to be of my irritation throughout with Lori Grimes. ... "The Walking Dead" continues to do just enough right for me to stick with it, and just enough wrong to irritate me several times a week.
Huffington Post / Maureen Ryan
For more than a third of the season finale, nobody had a philosophical conversation or stood around debating what to do next. People killed freakin' zombies. They killed a lot of zombies. ... Having now watched the Season 2 finale, which did a lot right and not much wrong, I'm not as worried as I had been [about the show's future].
IGN / Eric Goldman
I loved so much of the finale... And no, that's not based on the mere presence of zombie hordes. It's because the scenes with those zombie hordes were truly exciting, compelling and tense and had the characters reacting in interesting ways. And it's because many of the other character beats – both during and after the action at the barn -- were good ones. [Grade: 9/10]
Paste / Josh Jackson
The show's biggest criticisms have come from two fronts: first, that there wasn't enough action on the farm. And second, that the big post-apocalyptic themes its been tackling instead have been hurt by weak writing. The finale signals a response to the former. [Grade: 8.8/10]
Screen Rant / Kevin Yeoman
'Beside the Dying Fire' works primarily because it keeps the most unattractive part of the program, and its characters, on hold until after it has done the work needed to keep the audience enthralled and excited.
Time / Nate Rawlings
The nearly half-hour Battle of Greene Farm was so well executed, it removed a bit (but just a tiny bit) of my anger over the almost zombie-free weeks of the endless Sophia Hunt.
TV Fanatic / Sean McKenna
Ultimately, "Beside the Dying Fire" had a mixture of everything: all the zombie fun you could love, a few surprising twists and some truly confounding moments. [Grade: 4/5]
What about the season as a whole?
Several critics also provided some analysis for the just concluded second season (in addition to the finale episode). Here is a sampling of their comments:
"Mainly, though, this year feels like it was a big learning experience for the people who make the show. ... And I'd like to think that, based on things Glen Mazzara has said in various interviews, on Twitter, etc., that everyone is very much aware of the pacing problems this season had, and that they'll go into season 3 much wiser about how much mileage any one story idea has in it. The characterization of virtually everyone but Rick is just as big a problem, and one that's not as easily solved, but maybe with a full hiatus, more stability at the top, etc., season 3 will be stronger, tighter, and deeper than the season we just finished. "

—Alan Sepinwall, HitFix
"Too often in its second season, The Walking Dead revisited the same old topics again and again and drained scenes and storylines of subtlety by being obvious and contrived. We often talk about whether we like TV characters enough to follow their exploits, but The Walking Dead made me realize how important respect is when it comes to my ongoing interest in a drama. If I can't respect a character's decision-making and/or motives, it's all but impossible for me to get behind them and root for them to achieve their individual or group goals."

—Maureen Ryan, Huffington Post
"The second season of The Walking Dead has been filled with ups and downs... tense nail bitters and simply stupid decisions... characters you care about and the ones you don't... exciting twists and contrived cliches... and pacing and storylines that often stopped and started like a driver who wasn't comfortable handling stick shift."

—Sean McKenna, TV Fanatic
"That first batch of [S2] episodes started strong, ended stronger, but there seemed to be a helluva lot of water-treading there in the middle. The second-half of the season, on the other hand, seemed far more intense, more interesting, better written. It really does seem like the show's writers are fine-tuning their craft as they go along, and if the rumors I've heard about season three turn out to be correct, I think we might have something really special in store for us when the show picks up again."

—Scott Wampler, Collider
"Far too much of this meandering, face-slapping second season of The Walking Dead has seemed like an uncomfortable mash-up of other shows. At times, its slavish devotion to Lost was evident, with the insistence on factionalism, disquisitions on the burden of leadership rarely seen outside the work of Doris Kearns Goodwin, and spending numerous episodes locked in a supremely dull but no doubt budget-saving location. But mostly it reminded me of a rural spin-off of The McLaughlin Group, in which a gaggle of unpleasant alphas shout at one another incoherently, lazily circling an argument without ever landing on one, like backed-up 747s in a holding pattern at JFK. ... My only wish is that when The Walking Dead returns in the fall, it manages to locate what a zombie so desperately craves and what the show itself so desperately needs: brains."

—Andy Greenwald, Grantland
What do you think?
What did you think of last night's episode, and of the entire second season? Are you optimistic headed into the third season, or has the end of season 2 failed to overcome the slump that set in earlier this year? Let us know in the comments section below.