House, Episode 822(B): "Everybody Dies"

Original airdate: May 21, 2012 on Fox
Spoiler warning: This page contains descriptions of events in this and previous episodes.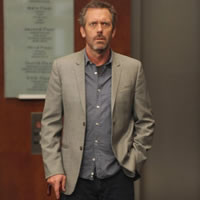 After eight seasons, Fox's medical procedural House drew to a close Monday night with a finale that served as a bookend—in title, at least—to the series pilot "Everybody Lies." Preceded by a one-hour clip show ("Swan Song"), the finale—directed by series creator David Shore—returned many of the show's departed actors, including one-time regulars Jennifer Morrison (Cameron), Olivia Wilde (Thirteen), Amber Tamblyn (Masters), and Kal Penn (Kutner), as well as Andre Braugher, Anne Dudek, and Sela Ward. (Lisa Edelstein's Cuddy, however, was not among them.)
How did critics respond to an episode that was relatively light on the team-based medical diagnostic work and heavy on imaginary conversations, and found House faking his own death to spend time with Wilson during his final months? A sampling of their responses appears below.
Entertainment Weekly / Sandra Gonzalez
My take? Perfect from start to finish.
TV Fanatic / Lisa Palmer
Satisfaction. I feel satisfaction at this ending. [Grade: 4.8/5]
CliqueClack TV / Debbie McDuffee
It was everything the series finale of House should have been.
Den of Geek / Caroline Preece
A flawed, yet hugely satisfying series ender that wraps things up where needed while leaving enough open for fans to ponder.
E! Online / Jenna Mullins
A fitting end to a wonderful series, don't you think?
Entertainment Weekly / Ken Tucker
It was an unabashedly sappy ending, and yet a satisfying one, since House had, in its final seasons, become a rather sentimental show anyway. A fitting ending, in other words.
IGN / Chris Carle
For a show that often pushes buttons and boundaries (or at least features a title character that does), the series finale played things very safe. It didn't ultimately betray the time investment of its audience, but it didn't take any risks, either. [Grade: 7/10]
NY Daily News / David Hinckley
The final episode didn't bother a whole lot with precise, linear plot logic. Instead, it leapt nimbly between fantasies and realities, truths and evasions — that is, what the show has done for the last eight years — until at the end it isolated House and Wilson in a bubble.
Zap2It / Rick Porter
"Everybody Dies" was an ambitious episode, both thematically and in terms of production, and it's hard not to respect the show for going for it in its last episode. But for about 53 minutes, it was also kind of depressing.
HitFix / Alan Sepinwall
Watching "Everybody Dies" felt like a class reunion. I was reminded why we were so close once upon a time, but I never felt regret about losing touch in the interim. Nostalgia, but not a new connection.
Pittsburgh Post-Gazette / Rob Owen
It's an OK ending, I suppose. Not really memorable but probably appropriate to the show.
TV Overmind / Sam McPherson
"Everybody Dies" was everything I hated about House, mixed with just enough of what I loved to make it meaningful. ... It won't go down in the books as a memorable television finale, [but] the wider context doesn't matter. "Everybody Dies" was a satisfying ending for House.
A.V. Club / Zack Handlen
The pacing is absurd, the emotional palate is, at best, insultingly manipulative, and the dialogue continues the trend established in the past few weeks of spelling out everything in the flattest way possible, all in the service of a story with the barest of justifications for existence. There's no effective drama, beyond those few moments when House's life appears in danger; House barely talks with his team, and, apart from him and Wilson, everyone in the episode exists purely to move the plot along, or to remind us that hey, that character existed. [Grade: D+]
Toronto Star / Rob Salem
Had House himself been watching, he would have rolled his eyes and said something incredibly snide and dismissive.
TV Guide / Matt Roush
Forget cancer. "Everybody Dies" was so ponderous I figured if the fire raging around House didn't kill him, all the hot air would.
What do you think?
What did you think of last night's episode, and of the way the series wrapped up? Let us know in the comments section below.