Mad Men, Episode 513: "The Phantom"

Original airdate: June 10, 2012 on AMC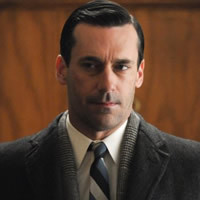 Spoiler warning: This page contains descriptions of events in this and previous episodes.
Somewhat disappointing by Mad Men standards, but still a good episode of television. That seems to be the predominant reaction to last night's season-ending episode of Mad Men (despite not one but two punches in the face for Pete Campbell), which was directed and co-written by series creator Matthew Weiner and marks the last new episode of the show until 2013. Below, we sample comments from TV critics about the episode, followed by their feelings about the fifth season as a whole.
A.V. Club / Todd VanDerWerff
I thought this episode was solid, if not up to the standards of the last four season finales, all of which suggested daring new directions forward for the show. This episode suggests a new direction forward, all right, but it's one that says the rot has taken hold and might be spreading, that all is emptiness and pointless struggle, and everything you really want will always be held just in front of you, a carrot to keep you marching in a straight line. In short, it's a direction that loops right back around to where we've always been. [Grade: B+]
Cinema Blend / Zac Oldenburg
Much like the season as a whole, the season finale of Mad Men didn't really go anywhere plot wise, but it made tying up loose ends fairly entertaining.
Cultural Learnings / Myles McNutt
I've seen some chatter that suggests this finale wasn't particularly eventful, but I'd argue it was very effective at emphasizing how eventful the season was.
Entertainment Weekly / Ken Tucker
The general mopping-up was, all in all, quite entertaining.
IGN / Eric Goldman
It was a decent episode. We had some nice character pieces. But it didn't really add up to a super-compelling whole, like most Mad Men episodes do. [Grade: 7.5/10]
The New York Times / Mike Hale
After the high drama of ... the previous week, the season finale was relatively low key.
Televisionary / Jace Lacob
To me, however, "The Phantom" offers a necessary coda for the fifth season, paying off the season's diverse themes and allowing the viewer to see the after-effects of the suicide of Lane Pryce (Jared Harris) on both Don Draper (Jon Hamm) and the firm as a whole, exploring the ways in which we seek out what we believe will offer us happiness--however temporary or fleeting--in order to assuage the rot inside us.
Time / James Poniewozik
Like much of season 5, "The Phantom" gave us a blaring metaphor for Don's moral condition, then drew arrows with a Telestrator around it lest we miss it. ... All that said, there was plenty in "The Phantom" of what makes me love Mad Men in the first place and makes me hold it to such a high standard to begin with.
TV Fanatic / Dan Forcella
There were a lot of interesting stories told about our favorite Mad Men characters. It just didn't seem to add up to much. [Grade: 4/5]
TV Overmind / Emma Fraser
Strong thematic concepts have been prevalent all season and "The Phantom" is probably the most overt example of this with characters spelling out reasons for their unhappiness, though this doesn't overly diminish the quality of the episode.
Vulture / Matt Zoller Seitz
I found it riveting, though not in as obvious a way as other recent chapters.
CliqueClack TV / Bob Degon
This season's finale of Mad Men didn't have quite the pop of the seasons before it.
Entertainment Weekly / Adam B. Vary
For long stretches, the final episode of the fifth season felt instead like it fell somewhere towards the middle, content to finish out this most momentous year without the sense of culminating momentum that has charged most every other Mad Men season finale .... There's a part of me that can't help but feel a little bit let down. With all the stuff that's happened over this season, I wanted to feel like we landed somewhere new. Instead, the show dangled the possibility that Don Draper had returned to pretty much the same point in his life that he was at by the end of season 3. That may be realistic; it may even be daring. But in the context of this season, it was not exactly satisfying.
Esquire / Sloane Crosley
This whole episode was like watching a bunch of human-shaped booze-soaked cotton balls and about as interesting. Apparently, the show intentionally blew its drama wad in the previous two episodes, and for the finale, not a huge amount happened. Everyone just kind of wandered around, being themselves, chatting about the future, not so much moving forward as wrapping up.
HitFix / Alan Sepinwall
"The Phantom" was an episode that seemed to take some of the smaller earlier missteps and magnify them. If not for a great final 10 minutes or so (from Don and Peggy in the movie theater until the last close-up of Don), I'd be going into that hiatus feeling much more sour about the season than I should.
Newsday / Verne Gay
This really was just another episode... What was lacking however has been much the same as the rest of the season - a certain passion, or emotional resonance. It all felt terribly chilly and remote - characters in service of Matt Weiner's grand overarching themes, as opposed to an episode in service of their hearts.
Huffington Post / Maureen Ryan
As was the case last week, when Glen had to state the theme to Don at the end of the episode, "Mad Men" didn't trust us to get the meaning, so it hit us over the head with it. And that is just so damned odd, because "Mad Men" used to be the show that avoided obviousness like the plague.
What about the season as a whole?
Several critics have also expressed opinions about Mad Men's fifth season in its entirety, now that it is complete (which you can compare to their comments at the beginning of the season), with many reviewers noting a lack of subtlety compared to previous seasons:
"It's not that 'Mad Men' is no longer a worthy show, but it's hard to avoid the feeling that 'Mad Men' didn't live up to its enormous potential this season. I still love these characters and this world, but, let's face it, this year, as least for a subset of Sterling Cooper Draper Pryce fans, something was a little off. Or, at times, a lot off. "

—Maureen Ryan, Huffington Post
"[The show's] formal, structural, visual ambition has gotten bigger than ever—but at the same time, it hasn't had the same sense of being driven by one compelling story, as season 4 was by Don's breakdown, season 3 was by the crack-up of the Draper marriage, and so on. When I look back on season 5, I'm almost sure that I will remember more individual images from it than any other season than the first. But that's not the same as being the show's best season."

—James Poniewozik, Time
"To me, Mad Men has always been at its best when it's a series about mystique. ... In its fifth season, however, Mad Men went out of its way to make nearly all of its themes explicit, then underlined them five or six additional times, just to make sure we were paying attention."

—Todd VanDerWerff, A.V. Club
"More than ever before, Mad Men removed the auspices of workplace drama to embrace its soap operatic essence, creating the kinds of developments that you sense these characters will not soon forget."

—Myles McNutt, Cultural Learnings
"Because of these changes in content and style, this has felt like a more divisive season of the show than the previous ones. If you didn't like Megan as much as Matt Weiner obviously did, or if you thought some of the more high-concept episodes were too far out there, or if you felt the subtext wasn't being quite as submerged as it used to be, then it's easy to imagine you finding parts or all of the season to be off."

—Alan Sepinwall, HitFix
"Ultimately, the fifth season of Mad Men was a dark and complex one, filled with as many quotable lines as unforgettable watercooler moments."

—Kevin Yeoman, Screen Rant
What do you think?
What did you think of last night's episode, and of the entire fifth season? Let us know in the comments section below.