It's time for Metacritic's 4th Annual Oscar Prediction Poll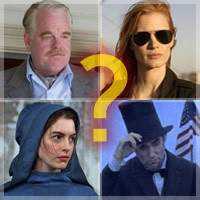 It's that time of year again. Once again, we invite you to demonstrate your movie awards savvy by predicting the winners of the 85th Annual Academy Awards. As a group, Metacritic users correctly picked just 14 of the 24 Oscar winners last year, while our top individual participant in 2012 forecast 20 of the 24 winners. Can you do better this year? Can you at least score higher than the so-called Oscar experts who (theoretically) get paid to do this each year? Give it your best shot below. And make sure you brush up on this year's nominees before diving in.
Some rules and notes: You may vote only once. Voting will close at noon PST on Wednesday, February 20, 2013. We'll reveal our users' consensus picks (as well as those made by a selection of industry experts) on this site the following day, and, after the Oscars ceremony airs on February 24th, we'll determine how accurate your picks were.

If the poll does not appear above, please go here to enter your picks.