The results are in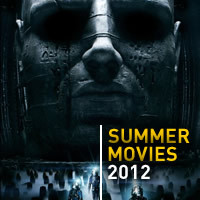 How will critics respond to this year's crop of summer films? Over the past week, we have been collecting predictions from our users for the Metascores for 30 summer movies, including all of the major event films as well as the most notable indies. The results are displayed in the table below.
Apparently, we aren't alone in thinking that the coming summer seems more promising than normal; our users predicted over half of the 30 films (17, to be exact) to wind up with positive reviews from critics (with Metascores of 61 or greater). While some of that may have to do with our selection of which 30 films to feature, that number is significantly higher than the previous two years in which we've done this survey.
The films receiving the highest median guesses were Christopher Nolan's The Dark Knight Rises (84), Pixar's Brave (81), and Ridley Scott's Prometheus (78). In fact, 100% of Metacritic users participated in the survey expected a positive critical reception for the Batman sequel, and the other two films weren't far behind. While it is rather unsurprising that these films topped the list, users also predicted that some less obvious choices—including the Tom Cruise musical Rock of Ages (61) and Snow White and the Huntsman (62)—to also wind up with generally good reviews.
Users predicted just one of the 30 films to receive overwhelmingly negative reviews from critics: the Adam Sandler-starring That's My Boy (30). But voters also gave Battleship (41), What to Expect When You're Expecting (42), The Expendables 2 (42.5), and G.I. Joe: Retaliation (41) extremely slim chances of scoring positive notices. Our users were also bearish about one of the summer's most expensive movies, Men in Black 3 (55); only a quarter of voters expected that film to perform well with critics.
Of course, we won't know how accurate these predictions are until summer is over, and we'll check back during the first week in September to see how well you performed. In the meantime, you can see how accurate Metacritic users were in 2010 and 2011, or find out more about all of the season's upcoming films in our Summer Movie Preview.