Below, we take a look at the notable shows premiering over the next few months. Be sure to visit our handy Midseason TV Premiere Calendar for a quick list of premiere dates for the coming months.
Broadcast networks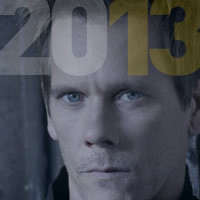 You'll definitely want to skip ahead to the second page of this article, which covers the cable networks; many of midseason's better programs look to be on cable rather than broadcast networks. Yet there are some fairly promising newcomers here, led by the Kevin Bacon-starring The Following, as well as the returns of critical favorites like Downton Abbey and Community. Below, we look at the most notable new and returning series debuting on the broadcast networks between now and summer. Note that we provided review quotes for a few key shows, but keep in mind that these observations are based solely on the original pilots for each series, and that some of these shows may be retooled before their official premieres.
ABC
Zero Hour Watch trailer

Thursdays at 8p starting February 14

The title's a little misleading; ABC's new conspiracy drama should air for at least one hour this winter, though we cannot guarantee much more than that. In other words, we wouldn't be surprised if, as with last year's Ashley Judd vehicle Missing, the network ultimately submits it to the "miniseries" category at the Emmy Awards to disguise an early cancellation. Looking every bit in early trailers like the Da Vinci Code/National Treasure knock-off it no doubt aspires to be, this conspiracy thriller comes from Taken director Pierre Morel and Transformers producer Lorenza di Bonaventura, and the series will take over Last Resort's early Thursday time slot. But it is most notable as the television return for Anthony Edwards, who has been mostly invisible since departing ER in 2002. Here, he plays the editor of Modern Skeptic Magazine who gets caught up in a complex global mystery (Nazis! Rosicrucians! clocks!) even he cannot debunk. Scott Michael Foster, Michael Nyqvist, Carmen Ejogo, and Jacinda Barrett also star.
Also:
The Dana Delany-led procedural Body of Proof (Tuesday 2/5 at 10p) returns for a shortened third season with major casting changes, including the departures of John Carroll Lynch and Sonja Sohn and the arrival of Mark Valley ... Expected to define both of its title's terms loosely, the splashy competition
Celebrity Diving (Tuesday 3/19 at 8p) arrives a few months after Fox's own diving-stars special (Stars in Danger, January 9). ... With its debut-season order slashed to 10 episodes and its premiere bumped to May, the future of sitcom
Family Tools (Wednesday 5/1 at 8:30p) already appears dim; Kyle Bornheimer, J.K. Simmons and Leah Remini star ... A slightly more promising new comedy,
How to Live with Your Parents (For the Rest of Your Life) (Wednesday 4/3 at 9:30p) stars Sarah Chalke (Scrubs) as a recently divorced single mom who moves back in with her eccentric parents (Elizabeth Perkins of Weeds and Brad Garrett, the former Everybody Loves Raymond co-star who returns to TV for the first time since 'Til Death); Stephanie Hunt (Friday Night Lights) also stars. ...
Red Widow (Sunday 3/3 at 9p; shifts to 10p on 3/10) is an adaptation of the Dutch organized crime drama Penoza starring Radha Mitchell and ER's Goran Visnjic. ... The mentoring/judging panel for amateur cooking competition
The Taste (Tuesday 1/22 at 8p) includes Anthony Bourdain and Nigella Lawson.
What's changing:
For the month of January, new episodes of Happy Endings and Don't Trust the B---- in Apt. 23 will air on Sunday nights (at 10p and 10:30p) in addition to Tuesdays. ... The few remaining episodes of the canceled 666 Park Avenue will be televised, but not until summer. ... Suburgatory will shift to 8:30p on Wednesdays in April.
Still unscheduled:
Summer soap
Mistresses is based on the British series of the same name, and revolves around the personal and professional lives of four female friends played by Alyssa Milano (Charmed), Yunjin Kim (Lost), Rochelle Aytes (Detroit 1-8-7, The Forgotten), and relative newcomer Jes Macallan, while Penelope Ann Miller will also have a recurring role. ... Note that the previously announced X-Files-esque summer series
Weird Desk has been canceled without filming even one episode, though it still has a tiny chance of being revived at a later date for next season.
CBS
Golden Boy

Tuesdays at 10p starting February 26

With the fewest holes in its primetime lineup, CBS has very few new shows arriving at midseason. The most promising is this drama created by Nick Wootton (NYPD Blue, Chuck), and produced by Greg Berlanti (Brothers & Sisters); English actor Theo James (Underworld Awakening) stars as an ambitious cop who goes on to become the youngest police commissioner in NYPD history, a role originally targeted for Ryan Phillippe. Based on the pilot episode, there's potential here for something slightly deeper than the typical CBS procedural. The show will temporarily displace Vegas on Tuesdays before shifting to Fridays (at 9p) on March 8 after CSI: NY concludes its season.
Also:
Mark Burnett's latest reality competition
The Job (Friday 2/8 at 8p) finally brings the fun and excitement of job interviews to the small screen; The View's Lisa Ling hosts ... The show that just won't go away (unaired episodes are presumably kept in a red box at CBS labeled "In case of unexpected cancellation break glass"), Rules of Engagement (Monday 2/4 at 8:30p) will enter its seventh season next month.
Still unscheduled:
Sitcom
Friend Me stars Christopher Mintz-Plasse (you know him better as McLovin) and Nicholas Braun (10 Things I Hate About You) as two 20-something friends from the Midwest who move to L.A. to take new jobs. ... A 13-episode adaptation of Stephen King's
Under the Dome will air this summer under the guidance of former Lost writer and comic book author Brian K. Vaughan and director Niels Arden Oplev (who helmed the Swedish version of The Girl with the Dragon Tattoo) ... The entirely forgettable procedural Unforgettable managed the rare feat of receiving a second season after officially being canceled; new episodes are targeted for the summer months.
The CW
The Carrie Diaries Watch trailer

Mondays at 8p starting January 14

Based on Candace Bushnell's novel, The Carrie Diaries loosely serves a prequel to HBO's long-running comedy Sex and the City, though the new series is a teen drama rather than a frothy adult comedy. The hour-long show centers on a 16-year-old Carrie Bradshaw as a high school student in 1980s New York City; taking on the iconic role is AnnaSophia Robb of Charlie and the Chocolate Factory and Soul Surfer, though the show's other characters will be new to fans of the HBO series. Critics found the pilot episode to be better than they were expecting (that should not be confused with "great"), and the series is executive produced and co-created by Josh Schwartz, who has plenty of experience in the genre (Gossip Girl, The OC). The network is so eager for Carrie to be a hit that it will be airing the first episode three times during its premiere week.
Also:
Created by TV sci-fi veteran Rockne S. O'Bannon (Farscape) and in development for over five years,
Cult (Tuesday 2/19 at 9p) centers on an investigative reporter who begins researching a popular TV show about cults (also called Cult) that itself may be inspiring some cult-like behavior, and could be related to the mysterious disappearance of his own brother. Matt Davis (The Vampire Diaries), Jessica Lucas (Melrose Place) and Robert Knepper (Prison Break) star.
What's changing:
90210 will shift back an hour to 9p on Mondays ... The final episodes of canceled newcomer Emily Owens MD will continue to air on Tuesdays through the season finale on February 5.
Still unscheduled:
Almost a reality-show version of The Hunger Games (except—we think—without the killing)
The Hunt asks ordinary people to survive in the wilderness without food, water, or shelter while capturing their fellow competitors ... Dating competition
Perfect Score gives contestants a cash bonus if they can pick their ideal mate (based on compatibility tests) from a group of singles.
Fox
The Following Watch trailer

Mondays at 9p starting January 21

Likely to become the darkest drama airing on broadcast television, Fox's high-profile newcomer will run for 15 consecutive Monday nights without interruption. Created by Kevin Williamson (Scream, The Vampire Diaries), The Following marks the first regular series television role for Kevin Bacon. He stars as former FBI agent Ryan Hardy, who is reluctantly drawn back into duty when a notorious serial killer (Rome's James Purefoy) escapes from death row and begins a new killing spree nine years after Hardy originally caught him. Natalie Zea (Justified) also stars as the escaped killer's ex-wife, while Annie Parisse (Law & Order) and Marin Ireland round out the cast. (Dexter's David Zayas will also appear in a guest role in the second half of the season.) A half-hour preview of the series called Inside the Following airs Saturday, January 19 at midnight.
Also:
Gone are judges Steven Tyler and Jennifer Lopez; in are Nicki Minaj, Mariah Carey, and Keith Urban when American Idol (Wednesday 1/16 at 8p & Thursday 1/17 at 8p) returns for a 12th season ... A retooled Touch (Friday 2/8 at 8p; shifts to 9p on 2/15) moves Kiefer Sutherland & co. to Los Angeles for season 2, while Maria Bello, Lukas Haas, Mykelti Williamson, D.B. Sweeney, and Frances Fisher are among the numerous cast additions.
What's changing:
American Dad will be bumped from Fox's Sunday schedule in March so that the network can reshuffle its lineup. During that period, Bob's Burgers will shift to 9:30p, and The Cleveland Show will air at 8:30p. Consider it the latter show's last and best chance to earn a renewal for next season, as it is the only Animation Domination regular that hasn't already been renewed.
Still unscheduled:
Expectations for
The Goodwin Games, a new comedy about feuding siblings from the producers of How I Met Your Mother, were lowered when the order was sliced from 13 episodes to 7; Scott Foley, Becki Newton, T.J. Miller, and Kat Foster star.
NBC
Community Watch trailer

Thursdays at 8p starting February 7

What an offseason it has been for NBC's critically adored but low-rated cult sitcom. First, series creator Dan Harmon was stripped of his showrunner duties in a much publicized firing; he'll have nothing to do with Community going forward, with the creative direction now falling to series newcomers David Guarascio and Moses Port (Aliens in America), who have promised to try to retain Harmon's distinctive style. (Writer/producer Dino "Starburns" Stamatopoulos and producer/director duo Anthony and Joe Russo also will not return.) The series was then given a reduced 13-episode order and banished to Friday nights, only to be pulled from NBC's fall schedule at the last minute and delayed until February. Finally, co-star Chevy Chase, who had feuded with producers throughout the show's first three seasons, was finally fired near the end of filming for season four, though he will still appear in all but two episodes, and, since the cliffhanger finale already left his status up in the air, the episode will not need to be re-shot. Yet somehow, through all of this turmoil, a fourth season did get produced, and we are just weeks away now from the return of the Greendale gang, back on Thursdays where they belong. Upcoming episodes will feature guest appearances by Jason Alexander, Malcolm McDowell, James Brolin (playing dad to Joel McHale's Jeff Winger), Tricia Helfer (Battlestar Galactica), and Matt Lucas (Little Britain).
Hannibal

Day/time tbd

Is broadcast television ready for two new serial killer dramas in the same season? Fox's buzzy The Following may have its one degree of Kevin Bacon (as well as an important head start in scheduling), but NBC's Hannibal has built-in name recognition thanks to its source material: Thomas Harris' series of Hannibal Lecter novels that have given rise to films such as Silence of the Lambs. The series comes from Pushing Daisies creator Bryan Fuller, who is using a five-page description of Lecter's back story from the novel Red Dragon as the basis for at least the first few seasons (though NBC has only committed to the first season—of 13 episodes—so far). Mads Mikkelsen (Casino Royale) becomes the latest actor to play the iconic Dr. Lecter, while Hugh Dancy stars as an FBI profiler who consults with the good doctor on his toughest cases but doesn't yet know that Lecter himself is a criminal. Laurence Fishburne will co-star as an FBI boss, and Gillian Anderson (in her first series TV role since The X-Files) will recur as Lecter's therapist. Also in the cast are Scott Thompson (The Kids in the Hall), Caroline Dhavernas (Wonderfalls), and Gina Torres (Suits), while Eddie Izzard, Molly Shannon, and Anna Chlumsky (Veep) are slated to guest on the show, which has the potential to be NBC's strongest newcomer this season.
Smash Watch trailer

Tuesdays at 10p starting February 5 (special two-hour premiere at 9p)

After getting off to a strong start in its debut season, NBC's musical drama ultimately proved to be a mixed bag at best (a kind way of saying that much of its remaining audience seemed to be hate-watching the show), and the network has tinkered heavily with the series heading into season 2 in an effort to fix what went wrong. Gone is showrunner Theresa Rebeck; replacing her is Joshua Safran (Gossip Girl), who has indicated he will eliminate some of the sillier fantasy sequences and Debra Messing's scarf-heavy wardrobe. There will be even more changes in front of the camera as the series shifts from Mondays to Tuesdays: four regulars (including Will Chase's Michael Swift) are gone, Jennifer Hudson (Dreamgirls) and Sean Hayes (Will & Grace) have been added in multi-episode guest arcs, and Jeremy Jordan, a Tony nominee for Newsies, is one of three new full-time cast members. Liza Minnelli will also appear as herself (and perform a musical number) in at least one episode.
Also:
Described by the New York Post as "Animal House in the White House,"
1600 Penn (Thursday 1/10 at 9:30p) stars Bill Pullman and Jenna Elfman as the First Couple and Book of Mormon's Josh Gad as their misbehaving son; critics didn't love the pilot (which had a sneak preview last month and repeats next Thursday at 8:30p), but some noted an improvement in the second and third episodes. ... Celebrity Apprentice (Sunday 3/3 at 9p) is the latest reality competition to offer an "all-stars" (aka "returning losers") season, with Stephen Baldwin, Gary Busey, Dee Snider, La Toya Jackson, Penn Jillette, Omarosa, and Dennis Rodman among the second-timers ... Formerly known as Infamous, and temporarily displacing first-year hit Revolution from NBC's lineup, the Revenge-esque murder mystery soap
Deception (Monday 1/7 at 10p) stars Meagan Good (Think Like a Man), Tate Donovan (Damages), and Victor Garber (also Damages); you can watch the first episode now for free via iTunes. ... Jekyll & Hyde tale
Do No Harm (Thursday 1/31 at 10p) stars Rescue Me's Steven Pasquale as a successful neurosurgeon with an alternate personality who emerges every night to wreak havoc on his personal and professional lives after being suppressed for years with an experimental drug. ... Louise Roe replaces Elle Macpherson as host for the second season of Fashion Star (Friday 3/8 at 8p) ... Eva Longoria-produced dating competition
Ready for Love (Sunday 3/31 at 8p) is like The Bachelor with three times as many bachelors and the assistance of professional matchmakers. ... When The Voice (Monday 3/25 at 8p & Tuesday 3/26 at 8p) returns for its fourth cycle, it will be with new coaches Usher and Shakira subbing for Cee Lo Green and Christina Aguilera.
What's changing:
In February, newsmagazine Rock Center with Brian Williams will shift to Fridays at 10p, where it will follow back-to-back episodes of Dateline for a month; in March, Grimm will return from its hiatus in the 9p slot. ... When it returns this spring (at an unspecified day and time), a completely different Up All Night will undergo a rare transformation from a single-camera, shot-on-location comedy to a multi-camera, filmed-before-a-live-studio-audience sitcom, with a new showrunner (Nurse Jackie's Linda Wallem) overseeing the process; Happy Days is one of the few shows in TV history to successfully pull off such a change.
Still unscheduled:
An 18th-century pirate drama from Luther creator Neil Cross,
Crossbones is expected to star House's Hugh Laurie as the infamous Blackbeard ... Jonathan Rhys Meyers (The Tudors) stars as a London-based
Dracula in the latest adaptation of Bram Stoker's novel, a co-production with British network Sky Living with Carnivàle creator Daniel Knauf serving as showrunner ... Hard-to-describe comedy
Save Me stars Anne Heche as an ordinary suburban housewife who nearly chokes to death on a sandwich and recovers to find out that she can talk to god ... Nick Lachey hosts primetime television's 832nd singing competition,
The Winner Is, which will determine its victors solely through audience voting rather than using judges.
PBS

For a few months a year, public television stations in the U.S. get the kind of buzz usually reserved for the top cable networks, thanks to this soapy British costume drama, a major hit with viewers and reviewers. As Downton Abbey enters its third season, the action jumps ahead to the early 1920s, where storylines revolve around Matthew and Mary's wedding, financial problems for Lord Grantham, and Bates' ongoing legal troubles. Shirley MacLaine joins the cast as Cora's mother, and the series will return next year for a fourth season—though when it does, it will be without star Dan Stevens (Matthew), who has opted out of the program. (Avoid looking at the internet for the next few months if you don't want to be spoiled about the fate of his character, which is revealed in the season 3 finale.) Reviews for the third season from American critics are fairly strong so far.
Mr. Selfridge Watch trailer

Sundays at 9p starting March 31

Yes, it's another British miniseries set in early 20th century England, though this one features an American actor in the lead role. The creation of writer Andrew Davies (who also penned the recent Bleak House and Little Dorrit adaptations that also aired on PBS to great acclaim from critics), Mr. Selfridge stars Entourage's Jeremy Piven as the title character, the pioneering American founder of the famed Selfridges department store. The action takes place in 1909, a period when women were gaining increasing freedom in London society, and when Selfridge willing to try anything to "dazzle" his shoppers and create a historic commercial enterprise.
Also:
Among the upcoming installments of the network's occasional American Masters documentary series is a look at filmmaker/funnyman Mel Brooks scheduled for May ... Yet another UK import, Call the Midwife (Sunday 3/31 at 8p) returns in the spring for a second series of eight episodes ... The third season of Pioneers of Television (Tuesday 1/15 at 8p), PBS' occasional look back at memorable shows and personalities in television history, includes segments on funny ladies ranging from Lucille Ball and Mary Tyler Moore to Tina Fey and Margaret Cho), superheroes, primetime soaps, and notable miniseries.
More shows on the next page ...
Continue reading for a look at new and returning cable and streaming shows, including critical hits Girls and Justified, a pair of promising Showtime dramas, the return of Arrested Development, and much more.