(No) spoiler(s) alert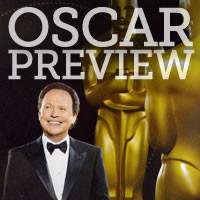 Well, there's not much suspense heading into this year's ceremony. The Artist will win best picture, best director, and duke it out with Hugo in the technical categories, while The Help will help itself to a pair of acting Oscars. At least, that is the overwhelming opinion of nearly every expert heading into the home stretch. With so many pundits predicting the same outcome in so many races this year, it makes any surprises that much more unlikely.
Sunday's 84th Annual Academy Awards ceremony will be televised live on ABC from the venue formerly known as the Kodak Theatre at 8:30pm ET / 5:30pm PT (with a red carpet pre-show beginning at 7 ET / 4 PT). Billy Crystal—a late replacement for Eddie Murphy—hosts this year's ceremony, returning to the gig he last held in 2004. Presenters will include Meryl Streep, Tom Cruise, Angelina Jolie, Will Ferrell, Zach Galifianakis, Tom Hanks, Tina Fey, Halle Berry, Bradley Cooper, Michael Douglas, Melissa McCarthy, Kristen Wiig, Maya Rudolph, Christian Bale, and Natalie Portman. (You won't be seeing Sacha Baron Cohen in any capacity, though; he's been banned from the show.)
Below, we've aggregated the predictions of 45 entertainment writers and awards experts, and compared them to the votes cast by the more than 2,100 Metacritic visitors who voted in our 3rd annual poll. Monday morning, we'll be back to see how accurate these guesses turned out to be, and we'll also have reviews of the broadcast.
Best picture and director
It's quite a challenge to find anyone who doesn't think that silent film The Artist is going to collect the best picture trophy on Sunday; every one of the 45 experts we surveyed picked that film to win, as did a huge majority of Metacritic users. According to betting website easyodds.com, the film with the next best chance at best picture glory is The Descendants, but even that title is listed as a 9-to-1 longshot. The Artist's dominance looks likely to extend into the directing category as well, with Michel Hazanavicius all but certain to take home his first Oscar. It should be noted, however, that most experts failed in their director predictions last year; if that happens again this year, expect either Alexander Payne or our users' second-favorite pick, Martin Scorsese, to win.
Best Director
 
Experts
 
Users
Woody Allen
Midnight in Paris
 
 
2%
 
4%
Michel Hazanavicius
The Artist
 
95%
 
48%
Terrence Malick
The Tree of Life
 
 
0%
 
 
10%
Alexander Payne
The Descendants
 
 
2%
 
9%
Martin Scorsese
Hugo
 
 
0%
 
 
28%
Acting
While there is absolutely no suspense in either supporting actor category—Christopher Plummer and Octavia Spencer are probably rehearsing their speeches as you read this—the lead acting categories are each down to a pair of finalists. Experts give The Artist's Jean Dujardin a 2-to-1 edge over George Clooney, while Viola Davis has an even bigger lead over Margaret Thatcher impersonator Meryl Streep. If an Oscar presenter opens the envelope and reads a name other than one of those four on Sunday night, then consider anything possible in any of the other categories.
Lead Actor
 
Experts
 
Users
Demián Bichir
A Better Life
 
 
0%
 
 
1%
George Clooney
The Descendants
 
 
32%
 
40%
Jean Dujardin
The Artist
 
66%
 
41%
Gary Oldman
Tinker Tailor Soldier Spy
 
 
0%
 
 
10%
Brad Pitt
Moneyball
 
 
2%
 
8%
Lead Actress
 
Experts
 
Users
Glenn Close
Albert Nobbs
 
 
2%
 
3%
Viola Davis
The Help
 
77%
 
41%
Rooney Mara
The Girl with the Dragon Tattoo
 
0%
 
 
14%
Meryl Streep
The Iron Lady
 
 
18%
 
32%
Michelle Williams
My Week with Marilyn
 
2%
 
11%
Supporting Actor
 
Experts
 
Users
Kenneth Branagh
My Week with Marilyn
 
 
0%
 
 
5%
Jonah Hill
Moneyball
 
 
0%
 
 
11%
Nick Nolte
Warrior
 
 
0%
 
 
8%
Christopher Plummer
Beginners
 
100%
 
70%
Max von Sydow
Extremely Loud & Incredibly Close
 
 
0%
 
 
5%
Supporting Actress
 
Experts
 
Users
Bérénice Bejo
The Artist
 
 
2%
 
18%
Jessica Chastain
The Help
 
 
0%
 
 
11%
Melissa McCarthy
Bridesmaids
 
 
0%
 
 
10%
Janet McTeer
Albert Nobbs
 
 
0%
 
 
1%
Octavia Spencer
The Help
 
98%
 
60%
Writing
While last year's adapted screenplay winner Aaron Sorkin (The Social Network) has a slim chance of repeating as part of the team behind Moneyball, look for the overwhelming favorite The Descendants to get the win, as it did last weekend at both the WGA Awards and the USC Scripter Awards. In the original screenplay category, while The Artist could slip in here too as part of its overall domination, look for Woody Allen both to win and to fail to show up to collect the trophy.
Original Screenplay
 
Experts
 
Users
Michel Hazanavicius
The Artist
 
 
9%
 
29%
Annie Mumolo & Kristen Wiig
Bridesmaids
 
2%
 
6%
JC Chandor
Margin Call
 
0%
 
 
1%
Woody Allen
Midnight in Paris
 
86%
 
53%
Asghar Farhadi
A Separation
 
2%
 
11%
Adapted Screenplay
 
Experts
 
Users
Alexander Payne and Nat Faxon & Jim Rash The Descendants
 
84%
 
49%
John Logan
Hugo
 
5%
 
11%
George Clooney & Grant Heslov and Beau Willimon
The Ides of March
 
0%
 
 
4%
Steven Zaillian & Aaron Sorkin and Stan Chervin
Moneyball
 
11%
 
25%
Bridget O'Connor & Peter Straughan
Tinker Tailor Soldier Spy
 
0%
 
 
11%
Animation
The Johnny Depp-starring Rango is the overwhelming favorite among a weak field of contenders to win the animated feature trophy. Last year, not a single expert correctly predicted the animated short category, so their pick of The Fantastic Flying Books of Mr. Morris Lessmore should be taken with a grain of salt. Still, that dialogue-free, New Orleans-set short film (which you can watch online) with allusions to classic cinema has already won numerous awards on the festival circuit, and seems to best represent the Academy's preferences this year. The animated short category is one of only four where our users diverged from the expert picks; their choice of La Luna is a Pixar creation, so it, too, is a solid choice. The wildcard is A Morning Stroll, which won the category at this year's BAFTAs.
Animated Feature
 
Experts
 
Users
A Cat in Paris
 
 
2%
 
4%
Chico & Rita
 
 
2%
 
5%
Kung Fu Panda 2
 
 
0%
 
 
7%
Puss in Boots
 
 
4%
 
6%
Rango
 
 
91%
 
78%
Animated Short
 
Experts
 
Users
Dimanche/Sunday
 
 
9%
 
10%
The Fantastic Flying Books of Mr. Morris Lessmore
 
 
60%
 
24%
La Luna
 
 
19%
 
35%
A Morning Stroll
 
 
12%
 
14%
Wild Life
 
 
0%
 
 
17%
Documentaries
Documentary feature is another category where experts and Metacritic users offered differing predictions. While the latter group preferred Wim Wenders' unconventional 3D look at the work of choreographer Pina Bausch, a plurality of experts forecast HBO's West Memphis Three doc Paradise Lost 3 (which was given a last-minute theatrical premiere with the intention of securing an Oscar nomination) to win the statuette. Those two films, incidentally, are also the favorites with bookmakers, followed by The Weinstein Company's Undefeated, which plays like a real-life Friday Night Lights. The documentary short category is not an easy one to predict, though experts were correct last year, and this year they (and our users) have settled on The Tsunami and the Cherry Blossom (from one of the directors of Waste Land), which examines the recent earthquake and tsunami in Japan. The other frontrunner, Saving Face, looks at Pakistani women who have been disfigured by acid attacks, which is a bit more uplifting than it sounds, though still mostly horrifying.
Documentary Feature
 
Experts
 
Users
Hell and Back Again
 
 
11%
 
13%
If a Tree Falls: A Story of the Earth Liberation Front
 
2%
 
12%
Paradise Lost 3: Purgatory
 
 
42%
 

26%

Pina
 
 
20%
 
32%
Undefeated
 
 
24%
 
17%
Documentary Short Subject
 
Experts
 
Users
The Barber of Birmingham
 
5%
 
16%
God Is the Bigger Elvis
 
 
10%
 
18%
Incident in New Baghdad
 
 
7%
 
20%
Saving Face
 
 
38%
 
18%
The Tsunami and the Cherry Blossom
 
 
40%
 
28%
Other films
Critical acclaim and Oscar trophies don't always go hand in hand, but 2011's best-reviewed film, the Iranian drama A Separation, is the overwhelming favorite to win the foreign-language category. The live-action short category is another Oscar pool-buster, though this year appears to have a relatively clear frontrunner: The Shore, which boasts the biggest names of any of the entrants in two-time Oscar-nominated writer writer Terry George (Hotel Rwanda, In the Name of the Father) and star Ciaran Hinds. However, note that the recent trend is for humorous films to win in this category, which could hurt chances for both The Shore and Raju (and could really help Pentecost, the funniest of the bunch). Also making this category harder to predict this year is an expansion of the voting pool thanks to screenings of the five shorts at over 200 theaters nationwide. (Previously, just four screenings were held.)
Foreign-Language Film
 
Experts
 
Users
Bullhead
 
 
2%
 
3%
Footnote
 
 
0%
 
 
2%
In Darkness
 
 
4%
 
5%
Monsieur Lazhar
 
 
0%
 
 
3%
A Separation
 
 
93%
 
87%
Live-Action Short Film
 
Experts
 
Users
Pentecost
 
 
12%
 
17%
Raju
 
 
15%
 
20%
The Shore
 
 
54%
 
29%
Time Freak
 
 
5%
 
21%
Tuba Atlantic
 
 
15%
 
12%
Music
The music playing throughout a silent film might be a bit easier to notice and remember thanks to not having all that pesky dialogue get in the way; at any rate, most experts feel that the Academy will recognize The Artist composer Ludovic Bource on Sunday. And while no Muppets will be performing during the broadcast (though a few will present an award), their song "Man or Muppet" (penned by Flight of the Conchords member Bret McKenzie) is the expected winner in a depleted field. A few dissenters, however, think that music industry veteran Sergio Mendes could sneak in with his song from the animated film Rio.
Original Score
 
Experts
 
Users
John Williams
The Adventures of Tintin
 
 
2%
 
7%
Ludovic Bource
The Artist
 
84%
 
59%
Howard Shore
Hugo
 
 
9%
 
14%
Alberto Iglesias
Tinker Tailor Soldier Spy
 
 
0%
 
 
6%
John Williams
War Horse
 
 
5%
 
14%
Original Song
 
Experts
 
Users
"Man or Muppet"
The Muppets
 
88%
 
82%
"Real in Rio"
Rio
 
 
12%
 
18%
Technical categories
Many of the remaining categories are shaping up to be a head-to-head battle between Hugo and The Artist, though the sound categories have War Horse as the closest competitor to Scorsese's film (both have already received awards from other organizations for their sound work), and experts give Rise of the Planet of the Apes the edge over Hugo in the visual effects category. In addition, Emmanuel Lubezki looks likely to win the Oscar for best cinematography for the first time in five tries for his work on The Tree of Life (even people who hated the film agreed that it looked great), while makeup artists on The Iron Lady are expected to be rewarded for transforming Meryl Streep into former British Prime Minister Margaret Thatcher. The experts usually get a few of these categories wrong, so to succeed in your Oscar pool you'll need to take a chance on an underdog or two; then again, there seems to be more of a consensus in these categories than is typical.
Art Direction
 
Experts
 
Users
The Artist
 
 
7%
 
27%
Harry Potter and the Deathly Hallows Part 2
 
0%
 
 
15%
Hugo
 
 
93%
 
47%
Midnight in Paris
 
 
0%
 
 
6%
War Horse
 
 
0%
 
 
4%
Cinematography
 
Experts
 
Users
Guillaume Schiffman
The Artist
 
 
16%
 
15%
Jeff Cronenweth
The Girl with the Dragon Tattoo
 
0%
 
 
9%
Robert Richardson
Hugo
 
 
14%
 
14%
Emmanuel Lubezki
The Tree of Life
 
70%
 
53%
Janusz Kaminski
War Horse
 
 
0%
 
 
8%
Costume Design
 
Experts
 
Users
Anonymous
 
 
12%
 
8%
The Artist
 
 
49%
 
45%
Hugo
 
 
23%
 
30%
Jane Eyre
 
 
14%
 
14%
W.E.
 
 
2%
 
4%
Film Editing
 
Experts
 
Users
The Artist
 
 
72%
 
34%
The Descendants
 
 
0%
 
 
7%
The Girl with the Dragon Tattoo
 
5%
 
28%
Hugo
 
 
21%
 
22%
Moneyball
 
 
2%
 
9%
Makeup
 
Experts
 
Users
Albert Nobbs
 
 
9%
 
20%
Harry Potter and the Deathly Hallows Part 2
 
30%
 
51%
The Iron Lady
 
 
60%
 
29%
Sound Editing
 
Experts
 
Users
Drive
 
 
5%
 
35%
The Girl with the Dragon Tattoo
 
 
7%
 
15%
Hugo
 
 
60%
 
25%
Transformers: Dark of the Moon
 
 
7%
 
12%
War Horse
 
 
21%
 
13%
Sound Mixing
 
Experts
 
Users
The Girl with the Dragon Tattoo
 
 
2%
 
26%
Hugo
 
 
79%
 
35%
Moneyball
 
 
0%
 
 
6%
Transformers: Dark of the Moon
 
 
5%
 
18%
War Horse
 
 
14%
 
16%
Visual Effects
 
Experts
 
Users
Harry Potter and the Deathly Hallows Part 2
 
7%
 
27%
Hugo
 
 
21%
 
21%
Real Steel
 
 
0%
 
 
2%
Rise of the Planet of the Apes
 
 
72%
 
42%
Transformers: Dark of the Moon
 
 
0%
 
 
9%
List of experts
The expert predictions listed above come from the following sources:
Thelma Adams, Yahoo**
Brad Brevet, Rope of Silicon
Anthony Breznican, USA Today*
Kyle Buchanan and Bilge Ebiri, Vulture
Ty Burr, Boston Globe
JD Cargill, CNN**
Richard Corliss, Time
Edward Douglas, ComingSoon.net
Gregory Ellwood, HitFix*
Kevin Fallon, The Atlantic
Scott Feinberg, The Hollywood Reporter
Pete Hammond, Deadline Hollywood
Mark Harris, Grantland
Peter Hartlaub, San Francisco Chronicle
Elena Howe, Los Angeles Times**
Peter Howell, Toronto Star*
Bradley Jacobs, US Magazine**
Dave Karger, Entertainment Weekly
Tariq Khan, Fox News**
Peter Knegt, Indiewire
Mick LaSalle, San Francisco Chronicle
Kevin Lewin, WENN**
Guy Lodge, In Contention**
Wesley Morris, Boston Globe
Michael Musto, Village Voice**
Tom O'Neil, Gold Derby**
Mark Olsen, Los Angeles Times*
David Poland, Movie City News*
Kevin Polowy, Next Movie**
Steve Pond, The Wrap
Christopher Rosen, Moviefone**
Richard Rushfield, The Daily Beast**
Mike Scott, New Orleans Times-Picayune
Paul Sheehan, Gold Derby**
Keith Simanton, IMDb**
Jim Slotek, Toronto Sun
Sasha Stone, Awards Daily**
Kris Tapley, In Contention*
Anne Thompson, Thompson on Hollywood/Indiewire
Peter Travers, Rolling Stone**
S.T. VanAirsdale, MovieLine*
Chuck Walton, Fandango**
Jeff Wells, Hollywood Elsewhere**
Dave White, Movies.com**
Susan Wloszczyna, USA Today**