Match wits with the Emmy experts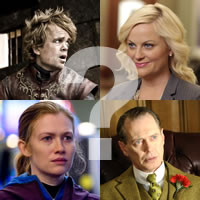 Once again, it's time to show off your TV knowledge by predicting the winners of the 63rd Primetime Emmy Awards. Enter your predictions in 24 major categories below; you may guess the winner in as many or as few of those categories as you like. We'll tally your picks to come up with the consensus prediction in each category. After the awards ceremony (Sunday, September 18), we'll compare the Metacritic user consensus to the selections made by a variety of industry experts, to see who had the most accurate predictions.
Some rules
Please vote only once! Voting will close at 3:00p EDT on September 10, 2011.
Need help?
Read more about this year's nominees.
Need to say more?
Do you want to defend your choices, or discuss one or more nominees? Feel free to do so in the comments section below.